Imagine waking up to a glorious sunrise casting pink hues on a blue Caribbean Sea with the sound of waves lapping near your window. Imagine taking a moonlit walk down a secluded beach. Imagine being alone, just the two of you, in a tropical paradise. We experienced all that and more at Guana's North Beach Cottage, its only accommodation hidden away on a secluded corner of the island.



Guana Island is best known for its 15 lovely cottage rooms set high on a saddleback ridge, each with some of the most astounding views and vistas in the British Virgin Islands. North Beach Cottage is the only one residing on a beach far from the rest of the resort complex - a perfect hideaway for those who desire seclusion and complete privacy.

The cottage is perfectly planned for comfort and ocean views - a spacious bedroom and separate living room face the Caribbean Sea and flow into two large terraces - one shaded and the other open to the sky for catching sun rays. The kitchen leads to an al fresco dining area; the bathroom features a shower large enough for two.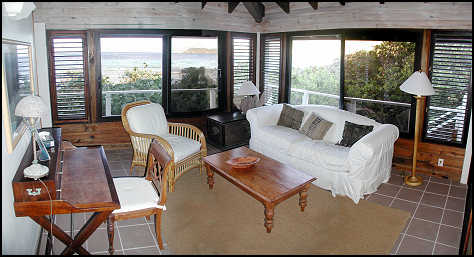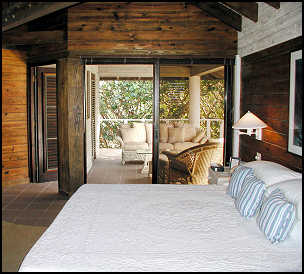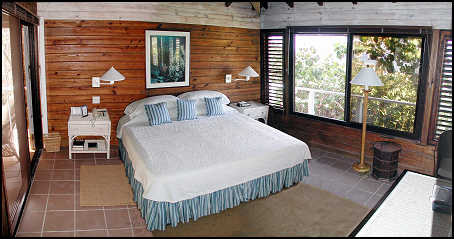 Every wall (except the one behind the king-size bed) has large windows and sliding glass doors which provide a open air atmosphere and outdoor views in every direction. The cottage is surrounded by tropical forest on three sides with the forth overlooking the ocean.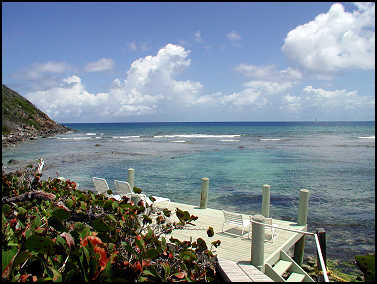 A 40' boardwalk leads down to a waterside deck with lounge chairs - a wonderful place to start the day with morning coffee while watching pelicans floating on rolling waves.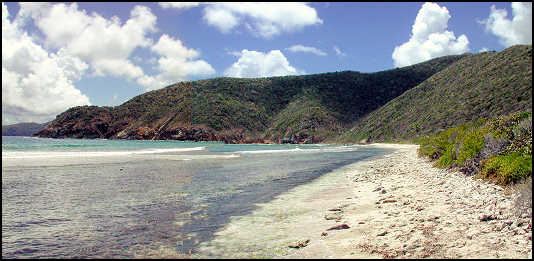 The long white sand beach stretches to the right, past a palm tree, and wraps along a high mountain. While most of North Beach has rolling waves along its shoreline, a calm sea pool protected by a shallow reef is next to the cottage pier for swimming. An outdoor "jungle" shower is near the boardwalk for rinsing off sand and salt water. Just beyond that is a deck with an oceanside freshwater pool.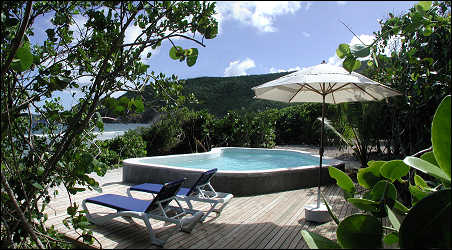 We spent much of our time relaxing in deck chairs, reading books, walking the beach, and when the mood struck, joining the other guests at the clubhouse and White Bay beach.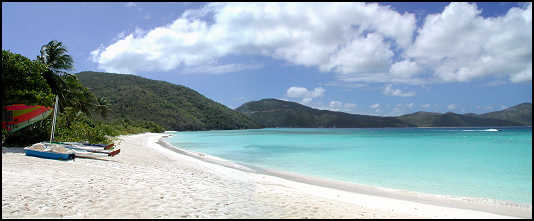 The watersports beach and valley is only a short golf cart ride (or 15 minute walk) away which provides the best of both worlds - seclusion when we wanted it and access to all the resort amenities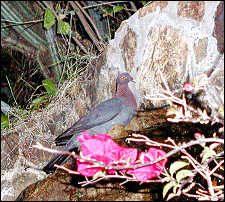 too. The cottage comes with a cart which makes exploring this tropical wonderland convenient when we were too lazy to walk or hike. We'd ride over to the main beach for a while, visit the resort orchard which grows some of the fresh fruit and vegetables served at meals, explore historic ruins, hike some of the nature trails, and then return to our cottage for quiet relaxation. Each afternoon as the sun dipped over a mountain, we'd stretch out in our oceanside lounge chairs and watch the waves roll in under pelicans and sea gulls searching for dinner. Sailboats drifted by in the distance and clouds passed slowly overhead.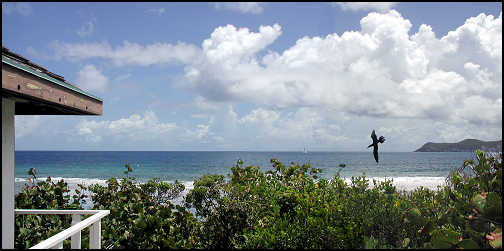 The resort will provide room service at extra charge, however, we enjoyed wandering up to the main complex for breakfast, lunch, and dinner - a nice diversion from all that privacy we were enjoying at the cottage.

Our cottage was stocked with a fresh fruit platter, orange juice, home-baked bread, coffee, tea, cereals, and a cheese platter with crackers each day. It also had a fully stocked bar with wine, liquors, beer, sodas, mixers, and juices of every kind and flavor. Guests who choose to prepare any of their own meals (breakfast, lunch, and/or dinner) can have supplies delivered to the cottage during housekeeping.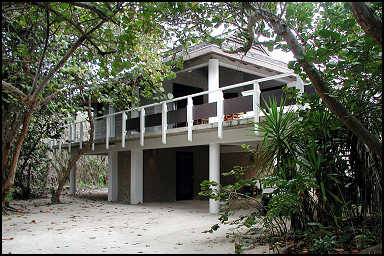 Kenny took the cart to roam over to White Bay each afternoon for windsurfing, while I sat on our private pier and relaxed with books and our camera (hoping to snap a few more pictures of pelicans). Since the road to the upper cottages is very steep, a resort car would meet us at the cottage or beach hut to provide transportation to the saddleback ridge and dining room.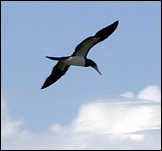 Several guests asked if we felt "too isolated" and we did not at all. The cottage has a telephone, and the cart also provided a quick link to "civilization". We felt quite cozy in our lovely corner of Guana Island and had all the interesting sea birds for companions.

North Beach Cottage is by far one of the most relaxing and romantic hideaways we've ever discovered in our Caribbean travels.