Rooms at Guana Island are in cottages scattered along a high saddle-back ridge dividing two mountain peaks. They are named after Caribbean islands - Anegada, Barbados, Camanoe, and Dominica (the main house), Eleuthera, Fallen Jerusalem, and Grenada at the highest point on the left in the picture above.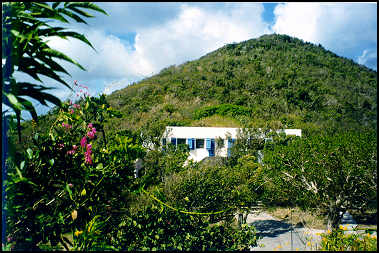 Some of the cottages contain several rooms, each with a separate entry. One has a living room which can be used if all three bedrooms are rented by a family or group.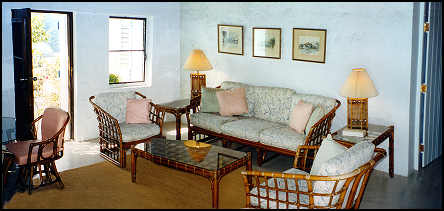 The room below is an example of some having an adjoining sitting area and a day bed which can accommodate an extra person.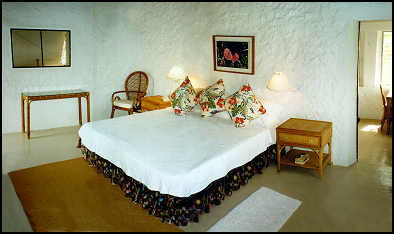 The main house, called Dominica, holds the dining verandahs, lounge/bar, living room, and cozy library. The living room is a wonderful afternoon retreat to browse books, listen to the stereo, and enjoy the view and breeze coming off White Bay.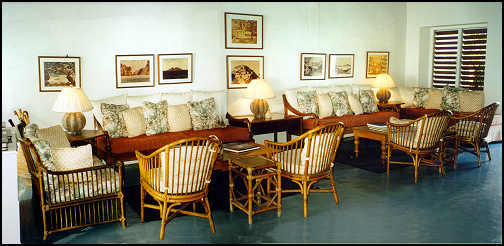 The self-serve bar is fully equipped with cocktail mixes, liquors of all kinds and flavors, a refrigerator full of beer, wine, and sodas. It's a fun place to sit and chat when someone offers to be bartender.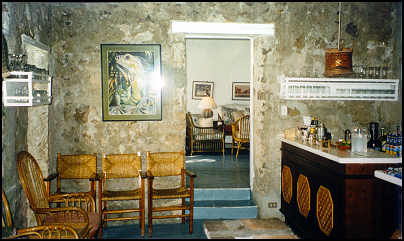 The big house also holds the manager's office and three guest rooms which overlook White Bay and the island of Tortola.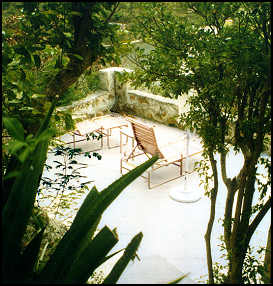 Some of the rooms have private sun patios or porches; others have covered verandahs. Since we live in South Texas "land of the continuous sunburn", we usually request a room with a shaded terrace.
You might wonder which is the "best room"? They are ALL nice. Each, of course, has a different spectacular view of the island and vistas.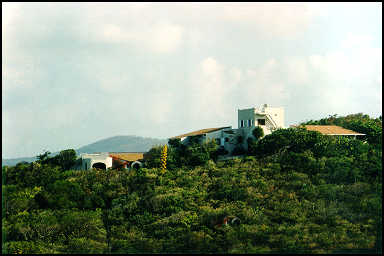 Some cottages are on a hillside. One perches above sunset terrace and has a split level floor plan containing a bedroom and sitting area with a day bed. A large covered porch with two comfortable wicker chairs extends across the front of the cottage.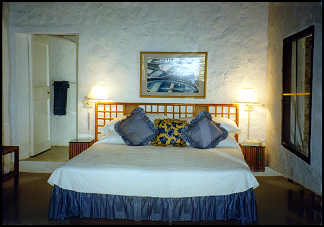 A winding path leads upward to more cottages. One has three spacious bedrooms surrounding a lovely terrace with a wonderful view of Muskmelon Bay and Long Man's Point.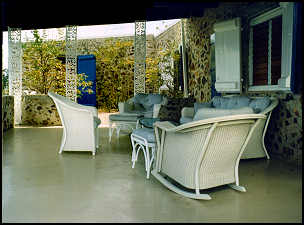 Notice that Guana has thoughtfully provided a rocker - a delightful addition to most porches. My husband and I have to flip a coin each day to see who gets to sit in ours!
All the rooms have a desk, chair, and chest of drawers plus patio lounge chairs on the deck or patios. Beds have reading lamps on either side and plenty of flluffy pillows.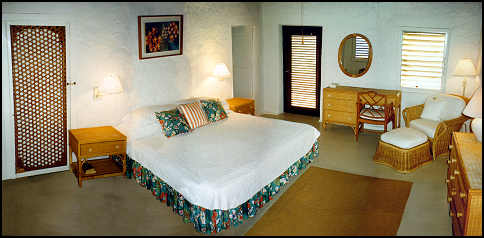 Guests will find Guana Island's rooms comfortable and a perfect way to spend your vacation surrounded by bright sunrises, gorgeous sunsets and relaxing vistas.