Guana Island has been expanding their orchard into a botanical wonder full of herbs, vegetables, and fruit bountiful enough to supply the kitchen and cuisine. Tucked into the east side of the valley, an addition of a patio and fire pit creates a special setting for guests and events. Tours can be easily arranged with one of the highlights being offered fresh fruit such as mangos or coconut. Guests will also savor the island-grown organic produce with each meal they have at Guana.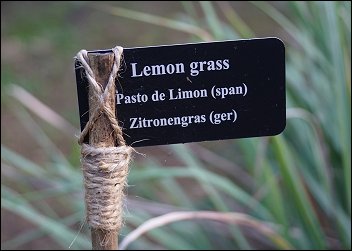 Dining at Guana is a delectable experience! All meals are served under covered verandahs on either side of the main house and on Sunset Terrace. The menu changes daily under the direction of very talented chefs.
Breakfast is from 8:00 - 10:00 a.m. and begins with a fruit, cereal, and pastry buffet. Guests also have a choice of juices and eggs cooked any style or "the special of the day" which can include pancakes, waffles, eggs florentine omelets, or french toast.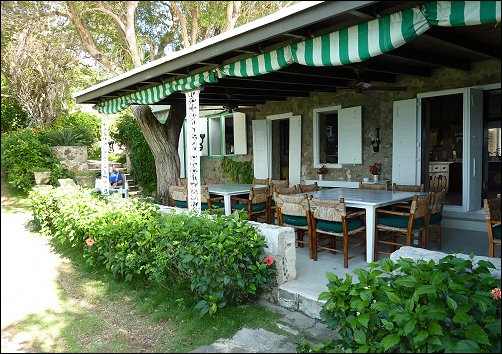 A buffet lunch at 1:00 p.m. has delightful choices which always include two entrees. One of our meals offered Wahoo, Jerk Chicken, Bok Choy salad, Broccoli salad, Black Bean salad, Fruit Platter, followed by Passion Fruit Sorbet. Another lunch had choices of Snapper, Lamb Chops, Stuffed Zucchini, Grilled Breadfruit, Fresh Fruits, and a special dessert. A fresh garden salad and dressings were always available. In late afternoon, guests will find a nice selection of teas and cookies or cake on the buffet table.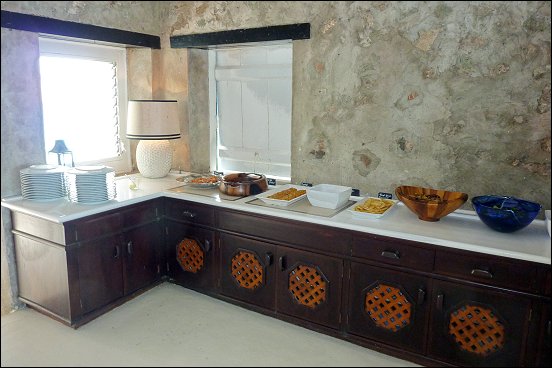 Lunch Buffet
Appetizers such as smoked Salmon dip and delicious egg rolls can be found in the living area at 6:30 p.m. A seated candlelight dinner with a fixed menu begins at 7:30 p.m. and guests are served such gastronomic treasures as Caribben Chicken Soup, Tomato & Mango Tartar with Avacado Mousse, Beef Short Ribs or Mahi Mahi.. Another dinner might consist of Butternut squash soup, Caesar salad, Waygu beef with roasted beetroot and mushrooms, Lion fish with mushrooms, sweet peas, and cauliflower, followed by White chocolate mousee with yogurt ice cream for dessert. The evening menu can be previewed in the afternoon, and alternative entrees can be requested. Complimentary house wines are available at lunch and dinner.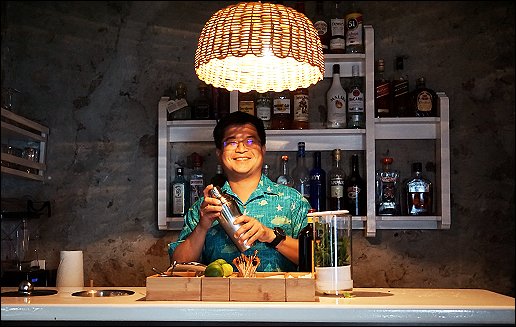 Each evening, guests gather for cocktails at the fully stocked self-serve bar and conversation in the living room or on the terrace. A seating chart is posted by the manager and guests can dine at several tables set for six or eight which have a view of the gardens, Sunset Terrace, and Muskmelon Bay.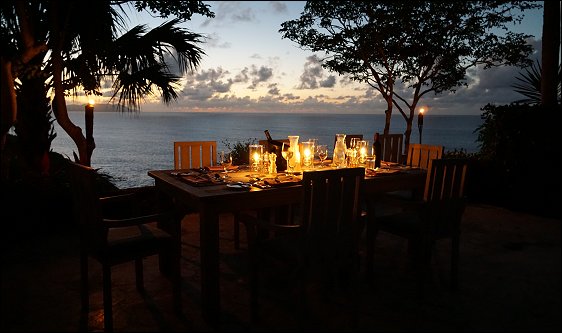 Couples or families who prefer their own table are seated on a small cozy porch overlooking White Bay and Tortola, or on romantic Camino and Sunset Terraces which have views of Jost Van Dyke and St. Thomas night lights glowing in the distance. Once in a while, a glorious sunset accompanies dinner.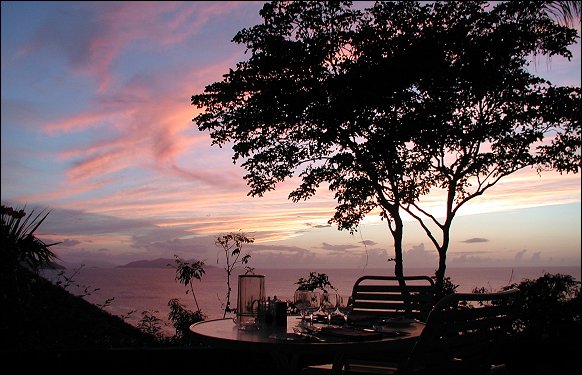 A small hillside museum displays artifacts and information about Guana's wildlife. Guests also are provided with a twenty page natural history guide to the island. It describes many different species which may be observed - birds, reptiles (non-poisonous!), insects, amphibians, bats, trees, plants, palms, tropical fish and reef creatures. Most of the incredible array of flora and fauna are indigenous to the West Indies, except for a majestic "Australian Pine" on the beach.
Some species, such as Iguana pinguis, the great 6' long 70 pound iguana once found throughout the Virgin Islands, have become rare and endangered; a few years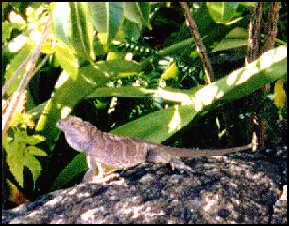 ago, only a small number remained on remote Anegada until eight pairs were transferred and reintroduced to Guana. Other "lost" species are slowly being brought to the island in hopes that they will thrive and multiply in a protected, natural environment.
My husband explored many of the trails, but the great iguanas were elusive. No problem - most mornings, we observed one of these shy giants on the Iguana Trail at "feeding time" when they are offered fresh fruits from the kitchen. I happily discovered a baby iguana posing on a nearby rock while moma enjoyed her breakfast. Kenny found one of the large "critters" on the way to the Guana Museum near Sunset Terrace.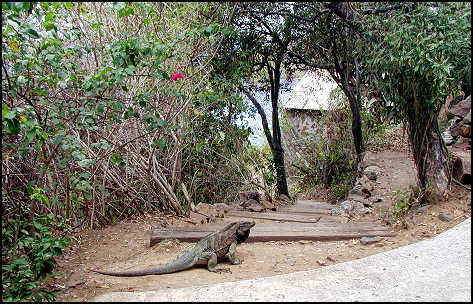 What is there to do on Guana besides relax and enjoy the peaceful surroundings? One couple, serious "birders", spent their week seeking and photographing Guana's feathered friends, while another couple played tennis each day.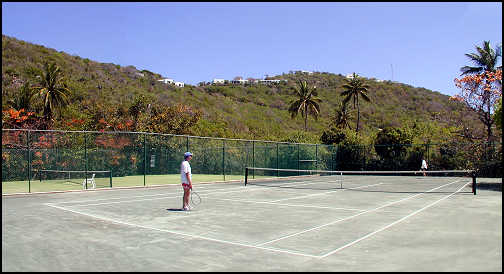 One guest spent most of his time sight casting for bonefish while his wife floated around White Bay and gained a beautiful tan. Several took a sunset cruise around the island, followed by a moonlight walk on the beach. The resort also has yoga some mornings in the Garden of Eden.
Some guests enjoyed kayaking to the bays and coves - one guest (who was in her 70s!) kayaked completely around the island each morning. Hikers will be rewarded with many types of trails, vistas, and places to explore. A detailed trail map is available in the office along with a 2-way radio, water bottles, and knapsacks.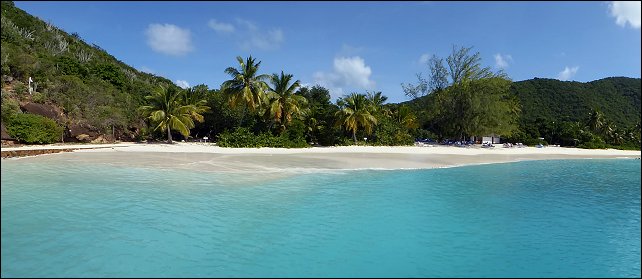 While snorkeling White Bay reefs, we found an enormous brain coral and saw lots of tropical fish of all colors, shapes, and sizes. A large barracuda followed us around while we swam through several schools of friendly fish and we saw a small sting-ray near the dock. Crab Cove, on the other side of the island, is the best place to observe all kinds of marine life. Monkey Point, another exceptional snorkeling spot, can be reached by a very strenuous hike or a short boat ride to the small beach there.
After a day of all these activities, many of us enjoyed a professional massage in our cottage room or at the seaside "massage tent" conveniently located near White Bay Beach. A full array of treatments are available.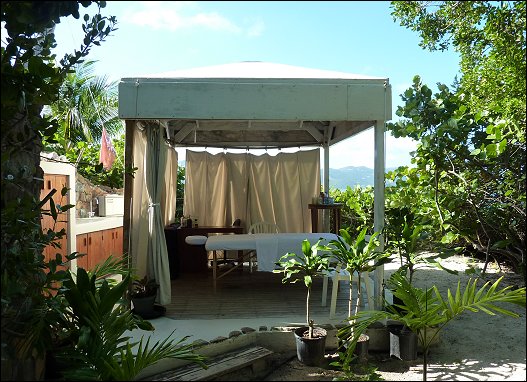 Guana island has the delightful ambiance of a large bed and breakfast or small inn where guests are generally on their own to enjoy nature at its finest. The Dominica and Beach House bars are self serve - guests record their drinks in small books and are charged accordingly. The boutique also has a booklet for listing purchases. However, if guests need anything from extra towels to a special menu, the staff will graciously try to accommodate.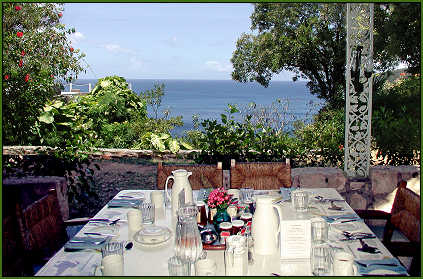 The resort managers can arrange off-island activities such as scuba diving, deep sea fishing, trips to Tortola, day sails, and castaway picnics to remote beaches. One of our special adventures was having a helicopter tour of Guana and the BVI.
A staff member is usually near the Beach House and will help set up small sailboats, windsurfers, provide tennis rackets and snorkeling equipment or fishing rods. He or she will also arrange a ride from White Bay Beach up the steep hill to the cottages for those who would rather not walk.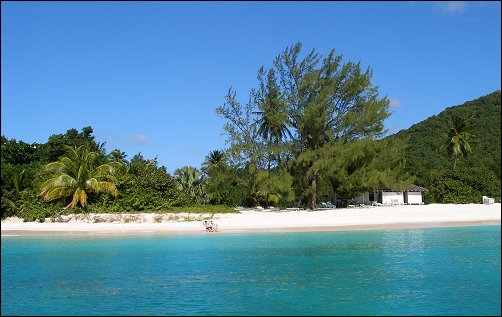 Dress is casual during the day and casually elegant in the evening. Bathing suits with cover-ups and shoes or sandals are acceptable at breakfast and lunch. In the evening, ladies wear dresses, skirts, or pants and tops while men wear slacks with collared shirts.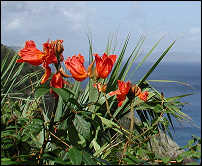 The island has 110 volt, 60 cycle power and a water treatment system, however guests are encouraged to help conserve water. Each room has hand soap, shampoo, and rinse - more is available in the office. Internet Wi-Fi is available for those who bring their electronics.. A telephone and computer with an internet connection is near the office and fax is available. Wash and fold laundry service is provided at no charge. Currency in the islands is the U.S. Dollar.
Visitors to Guana are mainly from North America and Europe. Most guests are couples searching for a quiet, magical retreat - far away from businesses and "civilization". The island is also a special haven for honeymooners of all ages, family reunions, and small conferences for up to 30 people. Island rentals which include Harbour House Villa and Jost House Villa can accommodate up to 42 guests.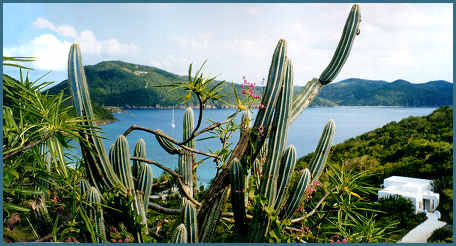 The resort is generally closed to guests during September when scientists pursue research and studies in marine biology, entomology, ornithology, herpetology, archeology, and botany.
Guana Island accepts personal, travelers, or business checks and cash in U.S. currency, Visa and MasterCard.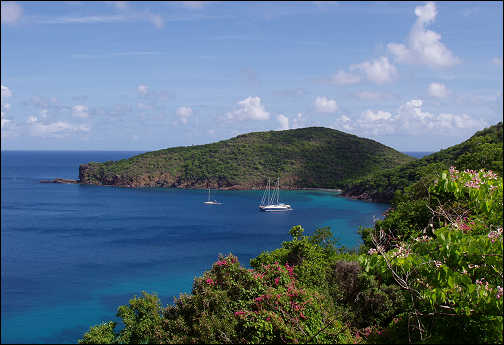 GETTING THERE: Fly to the Beef Island Airport (EIS) on Tortola. A resort representative will meet you at customs and arrange a taxi for a short ride to the dock. A Guana boat will then provide a 10 minute cruise to the island. If possible, plan to arrive and depart between 9 a.m. and 5 p.m. If your schedule allows only late evening arrival, Guana Island will be happy to accommodate you. Other options are available, check with the resort reservations.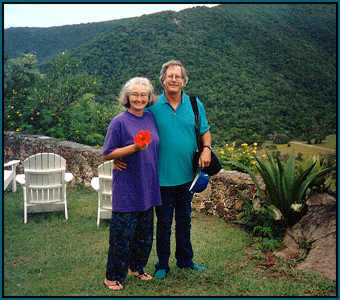 Lynn and Kenneth McKamey at the Dominica terrace overlook.
When guests are ready to depart the island and return home, they are given a bright tropical flower which is tossed from the boat as it leaves the dock. The legend says that if the flower floats to Guana's beach, the visitors will come back. My flower has always returned to the island, as have we ... to enjoy a few more days in total relaxation surrounded by the joys of nature.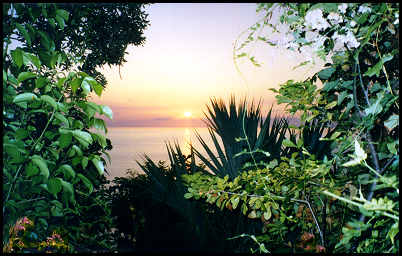 By Lynn McKamey (ScubaMom)