For 30 years, Haze and Lynn Richardson have welcomed guests to their tropical paradise which offers two coveted and desirable features -- privacy and service. Haze carefully chose prime locations of the 22 cottages to give guests maximum seclusion. Some are high on hills and quite isolated, others are along beaches and separated by tropical foliage.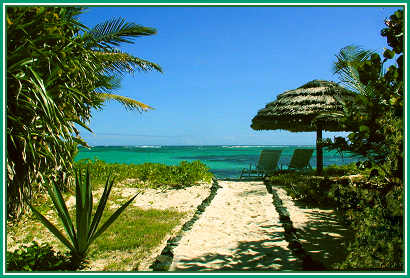 Cottage Details


Guests will find cottages at PSV spacious and inviting. Stone walls warmly surround the living room and bedroom filled with tropical touches. Small delights such as a reading light on both sides of the beds, lots of sliding glass doors for bright cheerful light, and fresh colorful flowers add to the island atmosphere. Cool tropical breezes float through the rooms while ceiling fans whirl overhead.

All the cottages are basically the same size, but have several configurations to conform to shapes of hillsides or beach terrain. Patios and terraces also flow into surroundings, some with stone walls and/or thick tropical foliage providing privacy, so every cottage is very unique.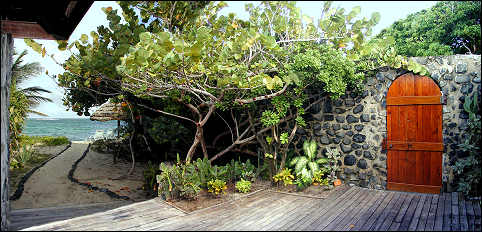 Most cottages have a big, heavy door, such as the one shown above, that separates the entry path from the privacy of the patio or cottage. A wooden shelf outside the door provides a place where early morning coffee is quietly left - we never heard a motorized cart or figured out how the tray seemed to magically appear when we unlocked the door each morning. A bell outside each door is used by staff members to announce their arrival, so you'll never have anyone "just walk through the door" - yet another way to assure your privacy.
Each cottage has a large living room with two day beds, a table & chairs, plus mini-bar which offers a variety of sodas, liquors, perrier water, bottled water, mixers, and snacks. Guests can also select and order from a huge wine and champagne list. Ice in coolers is brought each morning.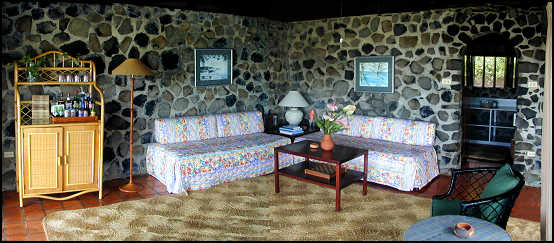 The bedroom contains two queen beds and two chairs. A dressing area provides ample closets and shelves; the bathroom features a large shower with stone non-slip flooring. Wooden window louvers can be opened or closed - ours stayed open except when brief tropical showers drifted by. Ceiling fans and breezes kept us cool.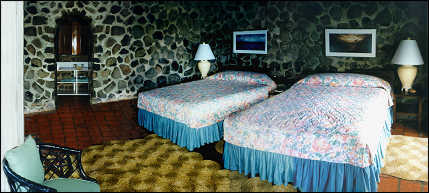 Beachside cottages are set within steps of the ocean. Some are surrounded by thick tropical foliage; others are more open for incredible vistas of turquoise Caribbean waters.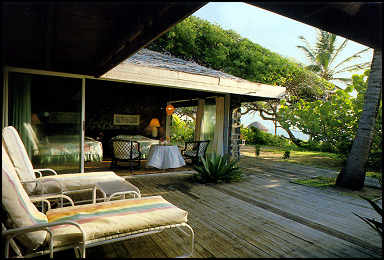 Two duplexes, 12 & 13 and 14 & 15, are near the end of the beach and would be a good choice for large families or two couples who want to be near each other. Duplex 14 & 15 has thick stone walls and tropical plants separating the two patios and beach paths and creates complete privacy between the units.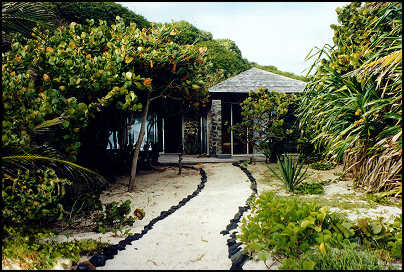 Below, you will find some examples of the cottages types; remember that patios vary in size and shape to fit into the natural surroundings. Click on each floorplan to view a larger image.

Most hillside cottages have a living room connecting to a bedroom and bathroom complex. Some have a huge patio with a hammock hanging under a covered section of the porch. Others have cliff side terraces.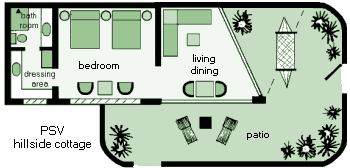 Duplex units have a thick stone wall separating the patios as shown below. We stayed in one of these cottages and never knew we had "next door neighbors".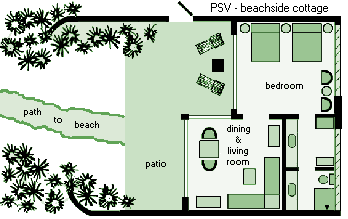 Some of the beachside cottages are "double doubles" and have a split configuration of a covered patio separating the living room and bedroom. These feature two bathrooms and are popular with families.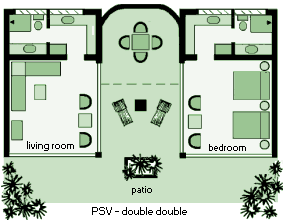 Beachside cottages are only 50 to 100 steps from the beach - close enough for wonderful ocean views, but far enough to provide privacy from guests taking shoreline walks. Most are surrounded by shrubs and palms, others are more open with wide-angle views of the sea as shown below.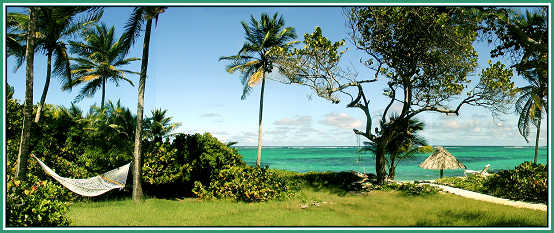 Most hillside cottages offer absolute privacy and seclusion if that is what you want (with the bonus of great views of the island and ocean). Many are set at the end of a pathway (meaning no one will walk by) and some are totally isolated. Beaches are only a short stroll away or you can easily arrange a ride by filling out a form and raising your yellow flag.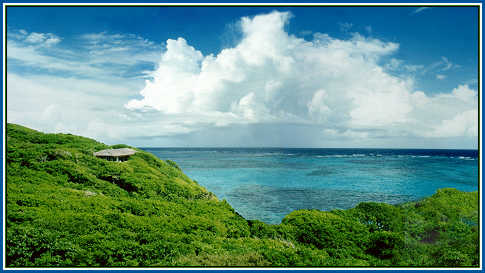 If you've never been to PSV and are not sure which type you want, just tell reservations whether you want hillside or beachside - super seclusion or semi-secluded with vast beachfront views. I'm sure they will choose just the right one as they have for us the last four years. We loved the vistas from our hillside cottages and the complete isolation (like being in a miniature castle in the sky); we also enjoyed being beachside with the ocean right out our front door. It's a hard choice! Long returning guests have their favorite cottage, but we find it fun to keep trying out different locations.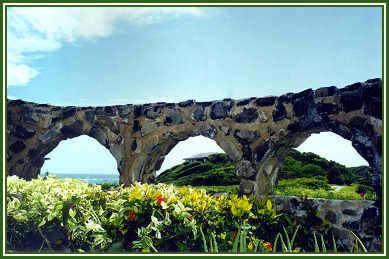 GETTING THERE: Most guests fly to Barbados where PSV will book an afternoon shared charter flight to Union Island. If you can't reach Barbados until evening, then the resort will suggest several hotels for you to stay on Barbados and fly you to Union the next day. We overnighted at the lovely and luxurious Villa Nova Hotel in Barbados on our last trip.

Some guests fly to St. Vincent and take a scheduled flight to Union on Mustique Airways, SVG Air, or a shared charter flight.

PSV reservations will give you "best way" recommendations when you book your vacation.

Upon arrival at Union Island, PSV will arrange your 25 minute boat transfer to Petit St. Vincent. Often, Haze and Lynn provide transportation for guests in their yacht "Zeus II".