The resort on Petit St. Vincent is a member of the Leading Hotels of the World along with the Ritz Carltons, Beverly Hills Hotel, and Waldorf Towers, but if you go there expecting to find marble floors, gold plated fixtures, and the latest telecommunications in your room, you might be disappointed.

On the other hand, if you are looking for a remote, picture perfect island with hills surrounded by gorgeous white beaches and coral reefs, then this is the place for you. You will also have total privacy in your cottage plus impeccable service from a gracious staff. PSV is truly the "complete escape".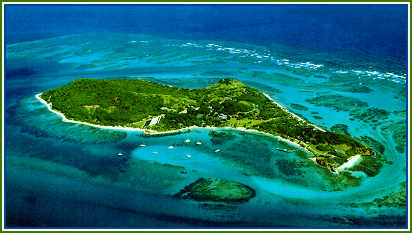 My husband, Kenneth, and I thought about going to Petit St. Vincent for years, but since it is in "deep Caribbean", getting there would take more than a day from South Texas. We weren't sure about what to expect either since it is quite a distance (over 40 miles) from large islands such as St. Vincent, Barbados, and Grenada and the experience of being "vacation shipwrecked" on a remote island can either be flawless or a calamity. It turned out perfectly and we should not have waited so long to discover and savor all that this private island resort has to offer!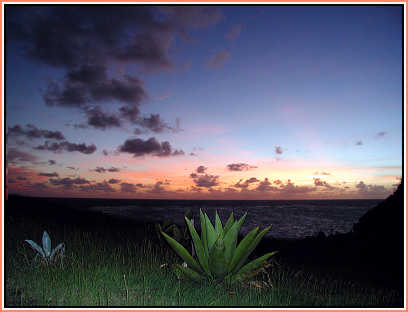 We've vacationed at PSV seven years in a row, once flying from St. Vincent to Union Island on Mustique Airways - a 20 minute flight, the other times flying from Barbados on TIA and SVG Air which takes about 1 hour. A resort representative at the tiny Union airport promptly drove us to a pier for the 25 minute boat ride to PSV. Upon arrival, a staff member took us by motorized cart to our cottage. One year we stayed beachside, the other years we were high on hills overlooking a beach and the interior of the island with Union in the distance.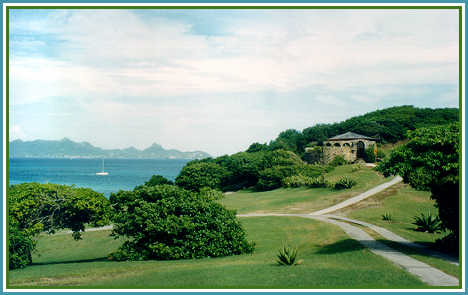 On our first visit, the staff member explained the clever guest requests signaling system with the flagpole outside our front door. All we had to do was fill out a form, roll it up, tuck it into the hollow bamboo mailbox and raise the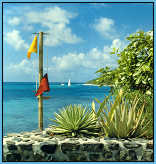 yellow flag. Within a short while, a staff member roving around the island in a cart would see the flag, retrieve the request, then bring or provide whatever we needed at whatever time we wanted. We found an endless array of forms - early morning coffee request, breakfast menu, a ride to the beach or dining room or destination of our choice, picnic lunch menu, and they will happily bring a full lunch or dinner menu. If we wanted complete privacy, all we had to do was raise the red flag. This sounded like heaven on earth and we'd never need to leave our room. But of course, we did -- PSV offers too much do to stay inside. We found a map in our room packet and set off to explore the island.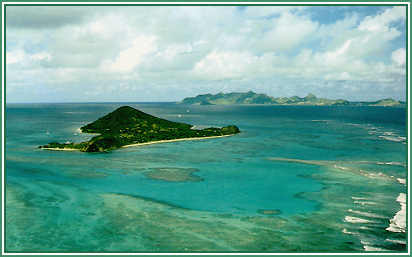 PSV has several towering hills divided by wide grassy fields and tropical forests. Twenty two separate resort cottages are sprinkled along the Atlantic shoreline and on hillsides. Small paved lanes connect them with the pier and the dining pavilion, bar, and gift shop. Below, you can see cottages 3 and 5 on the hill to the left, and the roofs of cottages 6 through 10 on the palm lined beach to the right. We took this photo from Telescope Hill.



We found a fitness trail, several footpaths along the almost 2 miles of beaches, and two which led to the top of Marni Hill that rises 275' above the sea. The huge West End Beach has 13 separate "beach nooks" each featuring a hammock under a thatched roof, two lounge chairs, thermos of cold water, and picnic table nestled into the thick foliage. These are numbered A through M and a service flag pole is near Hut D for those who would like to request lunch on the beach, a ride, or a bar beverage. A "summer relief" cottage near Hut K has restrooms and showers. Some guests spend the whole day in a hut alternating sun bathing with swimming and snorkeling while enjoying a beachside lunch.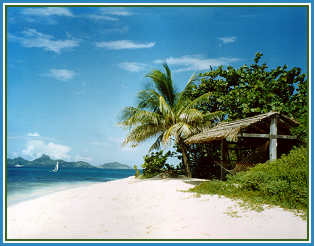 We had our first breakfast in the dining room, but thereafter had early morning coffee (quietly delivered to a small shelf outside our door between 6:30 and 7:00 a.m.) followed by breakfast in our cottage. This gave us bright and early starts on our days exploring the island, windsurfing, and snorkeling the reefs.

We enjoyed lunch each day in the dining room; while it could be served in our cottage or on the beach, we wouldn't have missed browsing the huge luncheon buffet and selecting from the extensive salads, stuffed avocados, soup, entrees, and other delights!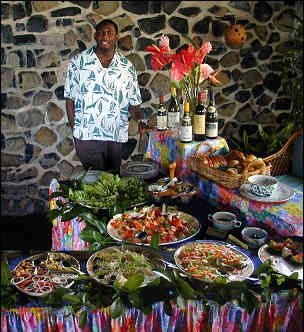 One day we had lobster salad for lunch; another day Beef Wellington was featured. (I DO believe it's the first time I've found that selection on an island luncheon buffet! Little wonder why PSV is one of the Leading Hotels of the World!)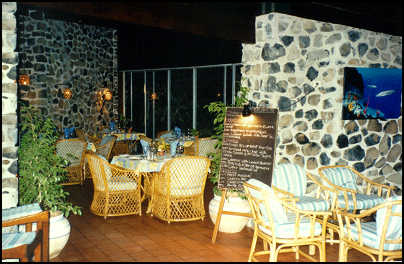 Each afternoon, a new dinner menu was posted on a large chalk board between the bar and dining room. The selections offered salads, soup, and entrees followed by dessert - all were excellent and made with fresh local fruits & vegetables, plus fish, lobster (in season), and a variety of meats. PSV cuisine rates an A in my book.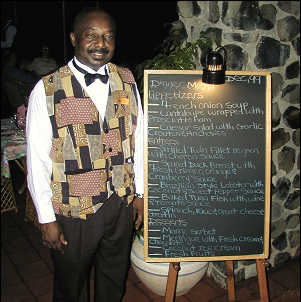 Click on the picture to see some dinner menus.


Guests and visiting yachtsmen mingled at the bar which featured a huge array of tropical drinks, wines, and beers. A nearby terrace provided a good spot to have a drink while enjoying flowering gardens and ocean views.


Guests will often see owner Haze Richardson sitting at the bar busily scribbling in a notebook (no doubt planning the next day menu or yet another something he can do to improve on his already perfect resort!) His wife Lynn can be seen puttering around on her cute little motorbike.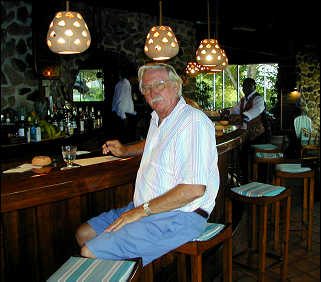 A beach barbecue was featured on Saturday night. Oil lanterns lit the way to the beach where tables and chairs were scattered along the shoreline and a steel drum band set the festive spirit. We feasted on grilled chicken, steak, lobster, and fish. A smorgasbord of vegetables, salads, and fruits accompanied the grilled selections followed by dessert. A beachside barbecue is often served for Wednesday lunch.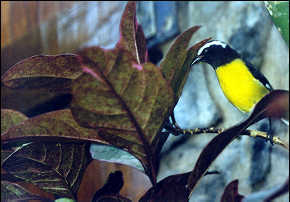 We ordered "Afternoon Tea" to be delivered to our cottage each day and I deemed it "afternoon delight" - an array of cookies and pastries to satisfy anyone's sweet tooth whims! A little Bananaquit bird and his friends showed up each day hoping for a crumb or two. We must have taken a zillion pictures and finally snapped a nice picture of one.

The first day, we decided to spend the morning at a West Side beach nook. Our cottage that year was high on Little Bluff overlooking Conch Bay, so we walked down the hillside toward the beach and found a "shortcut" through a gateway rather than going toward the main complex and taking the forest path. The beach walk was fun and we spent some time deciding which beach nook was right for us. Some are open to the sky for sun lovers, others are in shaded areas.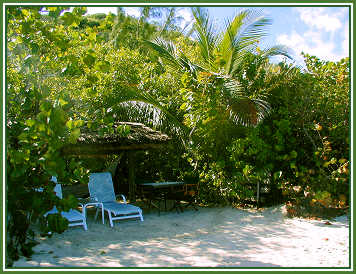 Snorkeling along West End Beach is incredible - almost the entire island is surrounded by reefs, many very close to shore if not right at the shoreline. In fact, some reefs are so continuous that you need to walk a short distance along the beach to find a sandy area between the coral gardens as a place to enter the water.

We found big sandy entry points near beach hut A, F and M. Since a gentle current usually runs through the reefs, we liked doing "drift snorkels" by entering the long sand spit at the last beach hut M and swimming out past the coral, then going left along a mini wall. A nice large staghorn is between the coral gardens in this area. We passed a large sandy area near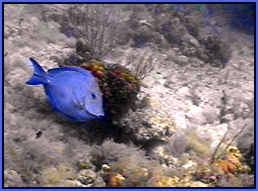 Hut F and saw a perfectly formed brain coral shaped like a man's head and neck!

The amount of fish is almost mind boggling - schools of juvenile tang, lots of damsel fish including babies with their bright metallic spots, parrot fish, the biggest trunk fish I've ever seen, wrasse, hamlets, trumpet fish, and a ray. A few barracuda even showed up. I saw a "flock" of Palometa, which we'd never seen in the upper Caribbean. They are related to Pompano but somewhat resemble small Atlantic Spadefish with their long dorsal fins. We floated through clusters of tiny harmless jellyfish and schools of silversides.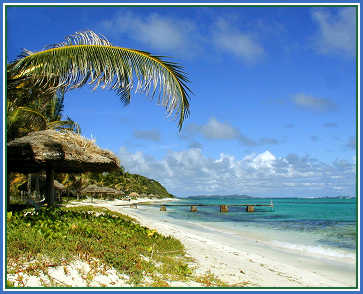 That afternoon, we snorkeled some of the reefs along the Atlantic beach between cottages 10 and 13 near a small pier. The "surf was up" so visibility was a little cloudy, but on calm days, we found the snorkeling as exciting as West End. Kenny enjoyed windsurfing each afternoon while I hung around in our patio hammock and read books. PSV has an excellent "fleet" of windsurfers for beginners to experts.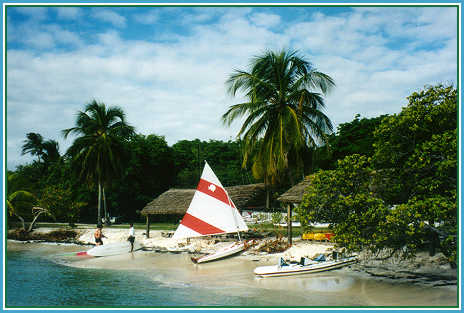 We only stayed a few days at PSV during our visits, so did not have time for day trips off the island, but many are available to adventurous guests. The resort can arrange outings by fast speed boat or slow leisurely sailboat to the Tobago Cays or other islands such as Mayreau, Carriacou, or Union. Guests can also ask to be taken to PSV's tiny "castaway" island with only a shade hut and one of the famous flagpoles (do you suppose they have a telescope on Telescope Hill to see if the flag is raised?). One couple spent a morning there and had a picnic lunch delivered to enjoy... just the two of them alone in paradise.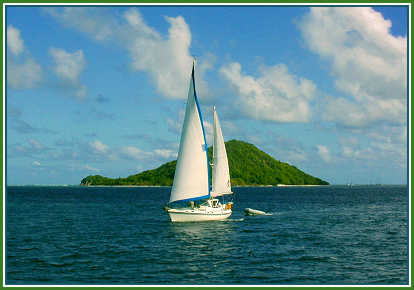 Guests are primarily from North America with some Europeans and a few from other countries. While most are couples seeking a romantic get-away, families also come to PSV. Each cottage has 2 day beds in the living room and some have 2 bathrooms. Those with small children enjoy having meals in their cottage and the lunch menu thoughtfully lists hot dogs and hamburgers along with the lobster rolls and dining room buffet selections. A shallow "children's beach" is near the harbor area and is a good choice for those with tottlers.

Besides having our own secluded cottage, superb service, and excellent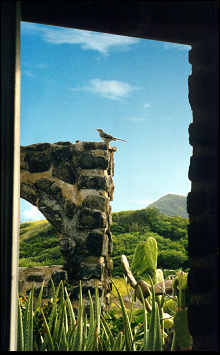 cuisine, other things made PSV special. At dusk, lightning bugs (fireflies) added a glow to the star studded evening. Each morning the same bird would perch on our patio and sing to us. Sailboats drifted by in the distance. Our vacation at PSV was full of total relaxation and tranquility.

"A private island for private people" is a perfect description of Petit St. Vincent.


Go to PSV Island Tour

Go to Resort Cottages

Go to PSV Introduction and Map