The island of St. Lucia is deep in the Caribbean, just a few miles north of St. Vincent and the Grenadines. Being only 14 degrees north of the equator, it has a tropical climate with lush rain forests surrounding coconut and banana plantations. Considered one of the larger Windward Islands, St. Lucia is 27 miles long and 14 miles wide with a slumbering volcano, mountains plunging to deep valleys, and lovely dark sand beaches. It is best known for having twin volcanic peaks, called the Pitons, which dramatically rise 2400' and 2600' out of blue tropical waters edged with colorful coral reefs.

St. Lucia gained independence from Britain in 1979, however the town and regional names reflect its earlier French ownership. While the official language is English, the natives also speak french patois. Most of the population of 80,000 live in Castries, with the rest scattered in small villages throughout the island, linked by either boats or a few narrow roads which twist and turn through the rugged terrain. St. Lucia has two airports - Hewanorra (UVF), a large jet port in the southern part of the island at Vieux Fort and Vigie (SLU), a small commuter airport at Castries in the northwest.

Most of the hotels and tourist developments are in the more "modern" north side, whereas some such as Anse Chastanet, Ladera, and the Jalousie Hilton resort are in the more "old Caribbean" southern section. A new resort, Ti Kaye Village is midway down the western coast at Anse Cochon cove.

Beaches along the west coast vary from powdery white sand in the north to sparkeling silver volcanic sands in the south, many tucked away in pretty little coves.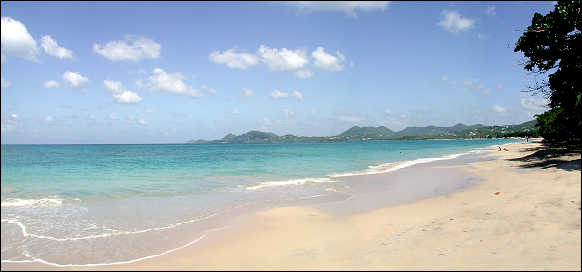 No matter where visitors stay, day trips can be easily arranged to visit tropical rain forests, nature reserves, mineral baths, the volcano, plantations, and to enjoy many other activities such as sailing and scuba diving. The truly adventurous can even climb the Pitons (not for the out of shape!). Castries offers interesting shops and visitors will find that St. Lucia specializes in producing sporty Windjammer clothing, unique batik resort wear at Caribelle, and hand-printed fabric products at Bagshaws. Caribelle and Bagshaws are both well worth a visit if for only the picturesque views overlooking Castries and the deep blue sea!

Our first visit to St. Lucia was in 1987 when our cruiseship docked for the day. We returned for a second visit and stayed at Anse Chastanet Resort near the Pitons, and our third vacation was at Ti Kaye Village. Take the links at the bottom of this page to read my reviews.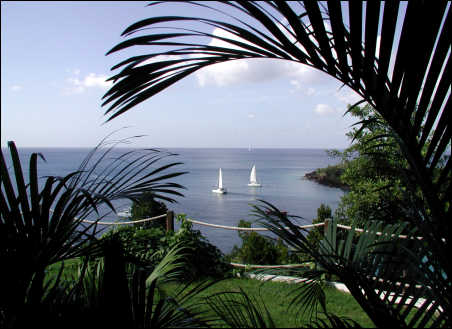 GETTING THERE: Unless you are staying near Castries, in the north, pretend you are on a jungle safari, which is half the fun of "getting there". The St. Lucian roads are about one and a half cars wide and full of hairpin turns. Add numerous potholes and in some cases, no road at all because last nights rain washed it out. On the positive side, this makes for a slow trip which gives you plenty of time to see all the sites, the mountains, the valleys, the delightful villages - don't forget, this is one of the most beautiful islands in the Caribbean. What I am leading up to is - do yourself a favor and don't rent a car - arrange for a driver or catch a cab which will probably be cheaper in the long run, and you can leave the driving to them; after all, they know all the crooks and crannies, not to mention every pothole. Better yet, take a boat when possible. As an example, it takes over two hours to drive from Anse Chastanet to Castries, but only 30 minutes on a boat.

American Airlines schedule to St. Lucia keeps changing. It used to have direct jets from Miami to the Hewanorra airport, then changed to commuters to Virgie SLU from San Juan, but may soon start flying into the big airport again. Other airlines are now offering flights from East Coast cities into both airports.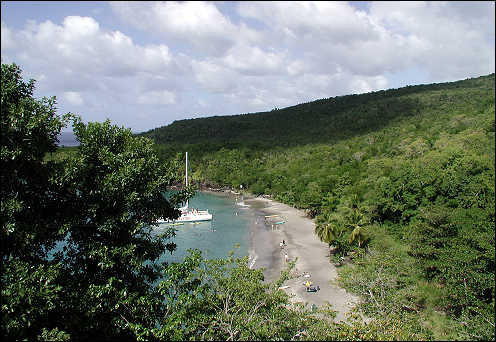 CLIMATE: The dry season with cool tropical breezes is the first of December to end of April. The wet season (meaning short tropical showers unless a hurricane blows through) is May to November and it can be hot and humid at times. We found that Anse Chastanet in the southern part of the island seemed to be slightly cooler than Castries in the north. Scuba divers probably won't notice the summer heat since much of their time will be spent under water. Water temperature runs from high 70s in the winter to mid 80s in the summer.



Read the Ti Kaye Village Vacation Review

Read the Anse Chastanet Resort Review

Map of St. Lucia
---