Santa Fe is truly unique and calls itself "the city different". That's quite true - no other place in the world offers such a concentration of Native American arts, culture, and Southwestern history.

The city is 7,300' above sea level and has a cool, dry desert climate. Set near the gorgeous foothills of the Sangre de Cristo Mountains, some of the nearby mountain peaks are over 12,000 feet and local ski areas often have snow pack in excess of 100 inches. In the summer, nights are cool and days are warm. Travelers are often treated to some glorious sunsets such as the one below.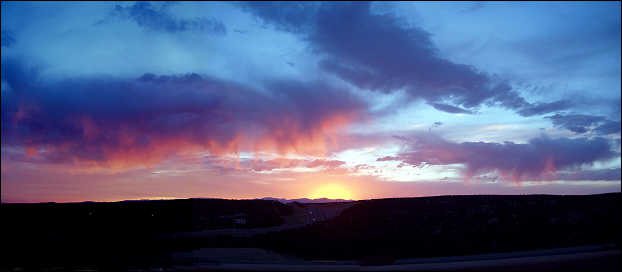 We've been vacationing in Santa Fe for years, but had never been there during the winter season. Our family chose it for our holiday vacation with hopes that snow might be on the mountains so that we could combine skiing with sightseeing and shopping.

We were joined by friends which brought our group total to 14 with ages from 24 to 56 coming from all over the country - Vermont, Boston, Durango, and Texas. Half drove to Santa Fe, the others flew to Albuquerque. In past years, we've spent our holidays in Lake Tahoe, Jackson Hole, Banff, and Salt Lake City - quite a distance from our home towns, so I had thought that Santa Fe would be easy to reach via airlines and buses - I was quite wrong! More about that later.

When planning this trip, I looked for condominiums near the center of town and found only a few which could accommodate large families. Fort Marcy Condos north of the Plaza was a possibility, but was booked for our time period, however the Eldorado Hotel manages the Zona Rosa Condominiums and had 3 bedroom units available. Only 4 blocks from the Plaza, they were an excellent choice! At the last minute, our youngest daughter and her friend decided to join us, so Eldorado reservations booked them a cute room at the Las Palomas Casitas, another property it manages, and just a half block from our condos. For more information, go to my detailed review of these properties by clicking HERE.

As always, there is plenty to do in Santa Fe - shop, visit all the museums, browse the stores and galleries on Canyon Road, take day trips to the mountains, and eat.


Restaurants
The first night, we had dinner at the Pinon Grill - the favorite entree was "Chimayo Chile Seared Prime Rib" best described as mesquite grilled, blacked beef encrusted with mild New Mexican spices! Don't miss ordering this flavorful dish. The next day, we had an early lunch at Pasquals which offers some of the best mexican food, sandwiches, and soups in Santa Fe. The restaurant is tiny and there's always a line, but it's well worth the wait.
The Shed offered excellent New Mexican cuisine - one family ate lunch there; the other enjoyed dinner. We also discovered the Plaza Restaurant, a diner really, with great choices of good basic American and Mexican food. One of our favorite Santa Fe restaurants is Tomasita's - while it advertises North New Mexican food, we think it's very close to Tex-Mex. Our vegetarian daughter was in heaven since they offer lots of meatless choices.
We chose the Pink Adobe for our "holiday dinner" - as always the selections were excellent and service perfect. Half of us ordered Mexican food, the others dined on steaks cooked to perfection and succulent salmon.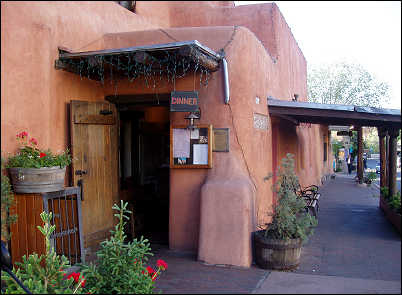 We discovered a French restaurant on Burro Alley called the Cafe Paris owned by a husband-wife team who prepare fabulous food! Rahera was born in Tahiti; Paul is from France. For lunch, we had all kinds of soups, sandwiches, crepes, and omelettes, followed by chocolate truffle desserts. The dinner menu looked superb and they also serve breakfast. We also stopped by several times to sample some of their French pastries and specialized coffees.

We didn't have a chance to dine at El Nido (the nest) or the Steaksmith this time, but both are excellent dinner destinations.

We found some other great restaurants on recent trips.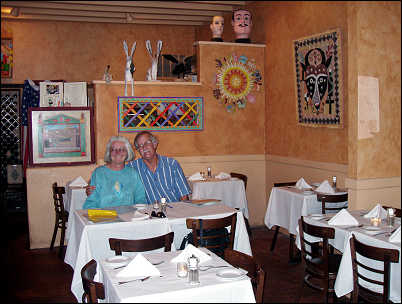 Café San Estevan near the SANBUSCO Market Center has a great selection of New Mexican with some continental specials. Also a small, intimate atmosphere.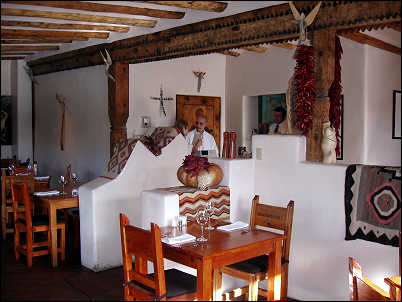 The Guadalupe Cafe, close to the Pink Adobe, has wonderful salads, New Mexican, and American specialities. Good for breakfast, lunch, or dinner.

If you are near the Plaza and want just some good old comfort food, dine at the Plaza Restaurant Cafe - an old Santa Fe Tradition. The menu is huge including everything from Mexican Food to burgers to their delightful Santa Fe meat loaf.

Locals love Tiny's, south of the Plaza at 1015 Pen Road. It serves a wide array of food - steaks, New Mexican, burgers, and sandwiches at very reasonable prices.

If you plan a driving trip, Restaurante Rancho de Chimayo is an excellent restaurant destination, set in the scenic hills north of Santa Fe about a 40 minute drive along the High Road to Taos. It serves some of the best native northern New Mexican Cuisine for lunch or dinner in a historic New Mexican estate.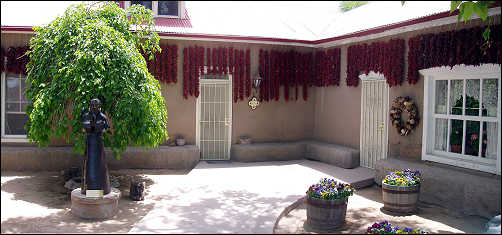 If you take a day trip to Taos, be sure to have lunch (or dinner) at the great little Apple Tree restaurant on Bent Street near the Plaza!


Shopping


Santa Fe has enough stores, galleries, and boutiques to keep someone busy browsing and buying for days. Ortega's On the Plaza is always a great place to find Southwestern style jewelry. Unusual ladies wear can be found at Origins, Spirit of the Earth, and Purple Sage. The Santa Fe Weaving Gallery has some of the most gorgeous natural fiber coats and jackets I've ever seen - very fashionable "wearable art" woven in fine silks, wool, and cottons. Other downtown shops offer everything from tourist trinkets to fine art.

Our 98 pound Akita puppy chewed up my favorite winter boots two weeks before our trip, so I had to wear my 30# snow boots instead. Needless to say, I spent the first day searching for some new boots at every shoe store in town. Walking On Water (on Water Street) had a nice selection but couldn't fit my size 11 feet. The Overland Sheepskin Company had some great outdoor boots and Street Feet did too. Finally, I found the perfect boots at the Yarrow Collection - each pair is handcrafted by a Santa Fe artisan in colorful sheepskin and several low and high top designs are available. The shop also has fanciful sheepskin coats and vests.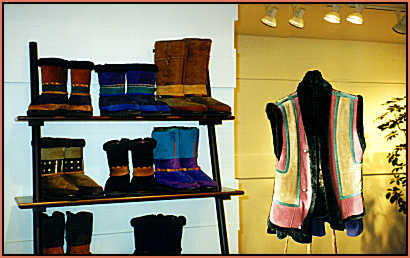 Canyon Road, known as "the art and soul" of Santa Fe is a mile long historical street lined with very upscale boutiques, galleries, art studios, and lots of little restaurants. It is about 5 long blocks southeast of the Plaza and starts near the junction of Alameda and Paseo De Peralta. Seeing it all can easily take an afternoon.

Fenn Gallery at 1075 Paseo de Peralta is one of the finest art galleries in the Southwest. It features 19th and 20th century American paintings and sculpture, works by early Taos and Santa Fe painters, as well as artists of the American West and masters of American Modernism and Impressionism.

For more information about shopping, go to my Santa Fe Shopping page.


Getting There


Santa Fe is located about an hours drive north of Albuquerque, and visitors should have an automobile to see all that the town and region has to offer. While Santa Fe has a tiny airport served by commuter flights, most people fly into the Albuquerque airport and rent a car there. In our case, since half our group were driving, those flying into Albuquerque took the "Sandia Shuttle" van service to reach Santa Fe. Non-stop vans make the 70 minute trip 10-12 times a day and will drop riders off at most of the major hotels. The cost is about $25 per person one way; $45 for round trip.

AIRPORT SHUTTLES: It is important to have a reservation with Sandia Shuttle Express before arrival and if your airline schedule runs late, be sure to call them to reserve a later bus. Some of our group who had delayed airline schedules forgot to call and were left standing at the curb -- they ended up renting a car to reach Santa Fe. For information, reservations, and current bus schedules, call (505) 438-0687 in Santa Fe or (888) 775-5696.

RENTAL CARS: All the major car rental companies are available and we usually rent a car.

If you have time for a scenic drive to Santa Fe, take the lovely Turquoise Trail about 2 leisurely hours through hills and valleys. Stop in Madrid, a funky little artists' town and browse the shops and have a beer at the Mine Shaft Tavern or coffee at Java Junction shown below. All the studios and shops are in old buildings like this one.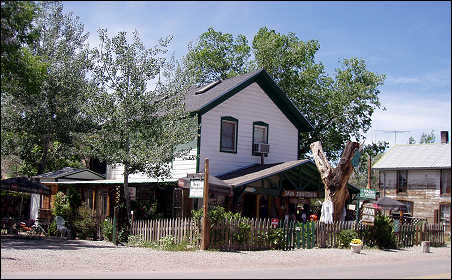 If you must fly on American Airlines via the Dallas-Ft. Worth Airport to reach Albuquerque, then take this link to my "Suggestions for making connections through the DFW airport".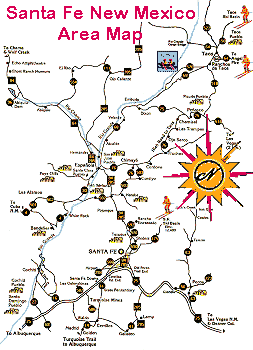 Click on the Map for a larger image

LINKS
ScubaMom's Santa Fe Hotel Reviews
ScubaMom's Santa Fe Fashion Shopping Trip
Excellent list of Restaurants