An old friend and I planned to escape the Texas August heat for two weeks and head for British Columbia, Canada. We decided to stay four nights in Victoria, four nights in Vancouver, and five nights in Whistler, using a combination of planes, buses, ferries, and limos.

Koren and I grew up in Corpus Christi, Texas on the same street, have been almost like sisters ever since, yet we haven't really traveled together before this trip. We decided that we'd each prefer our own bedrooms and individual bath with a common living area. Since British Columbia has been known to have an uncommon heat wave in August, we also definitely wanted air-conditioning in Vancouver and Whistler... just in case....

We are both photographers and proved to be a good match since we usually snap totally different things. You'll find an interesting combination of our images in this review. Nicely enough, we have the same Olympus camera, so the color was "right on" in both sets.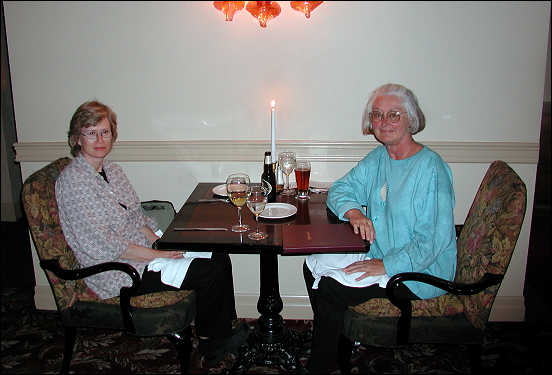 Koren and Lynn at Delilah's in Vancouver


Our tastes in food are almost at opposite ends - she tends toward vegetarian with a splash of fish now and then, and I'm a complete carnivore and always delighted with beef or pork. Yes, I enjoy seafood too. I love fine beer and Koren likes fine wine. This proved to be a true test in our search for "fine dining" restaurants along the way since we would need to find establishments with a wide variety of superb selections. You will read that we did find some exceptional restaurants during our trip.


VICTORIA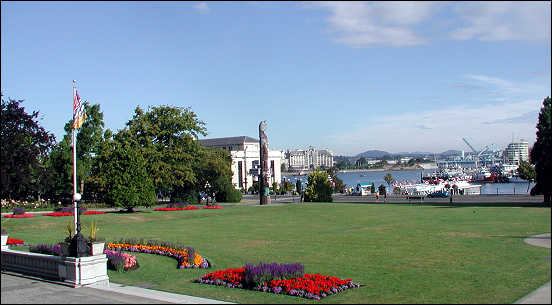 Called the City of Gardens, it lives up to its name. The downtown area is centered around a horseshoe shaped bay lined with harbors, hotels, and boats of all sizes and kinds. Flowering plants and hanging baskets accent walkways, lawns, and patios to provide a colorful backdrop in this picturesque part of the city. Many public gardens can be found within Victoria and only a few miles away is the famous Butchart Gardens.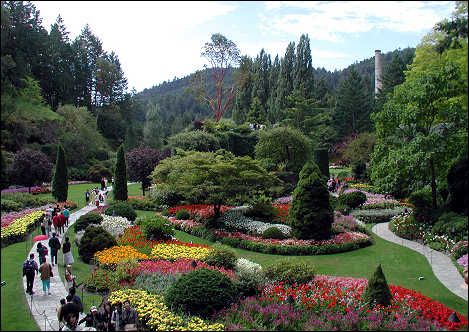 Butchart Gardens


We arrived by flying from Texas to Vancouver and then hopped over to Victoria by Air Canada Jazz. Be aware that to make a connection from an international flight to a domestic Canadian one, you will have to go all the way through to the luggage carousels and then back up the escalators through security and to your departure gate. If you do not have a boarding pass, you will need to get one in the luggage pickup area at a Canadian airlines desk.

After landing in Victoria, we took a 25 minute bus ride to our hotel, the Victoria Regent, which is located right on the harbor near the Johnson Street Bridge and has a panoramic view of the entire waterfront.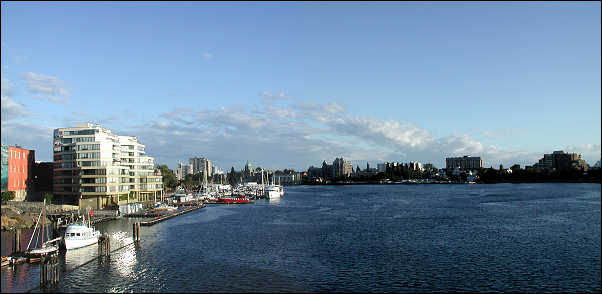 Our two bedroom suite was on the 7th floor. It had a large central living room and two bedrooms with ensuite full bathrooms on each side, plus a kitchen. Best of all was a huge private balcony accessed from the living room and both bedrooms with perfect vista views of the harbor. While our suite was not air-conditioned, large sliding doors from each room opened onto the seaside balcony and large fans were in the bedrooms – this proved to be enough to ensure that cooling breezes from the 55 degree ocean kept us comfortable.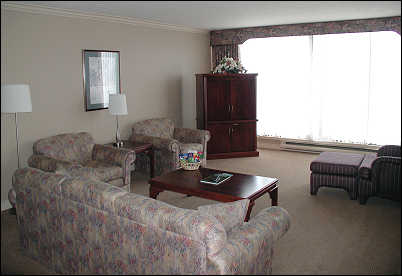 Well appointed furnishings, excellent beds, and all the amenities we needed were provided. The staff was excellent and very helpful with any information we needed and also made dinner reservations for us. A continental breakfast was served in the hotel's waterside restaurant (open only 7 to 11 am for breakfast) and provided fresh fruit, juices, coffee, and pastries.



The photo above was taken from our balcony. The Delta hotel was on a point to our right – a 20 minute walk from city center, but I noticed that quite a few guests trooped down its little dock, hopped on one of the cute harbor ferries, and were whisked to the main area of town. The Grand Hotel was across from us, and Empress around the point to the left. Lots of other hotels were near the harbor, but none had balconies or a view as nice as ours.

West Coast Air twin engine float plane

Harbour Air single engine seaplane

Harbor Ferry
Regional trips float plane

at our hotel dock

Big ferry to Seattle

I loved sitting on our balcony and watching the continuous harbor activity – float planes were landing and taking off in the distance, ferries arrived from Seattle, tiny little harbor ferries whisked people to and from all parts of the bay, including their hotel dock, and private water crafts of all flavors and kinds floated by – sailboats, motor boats, whale watching fast boats, kayaks, canoes, and scull crews.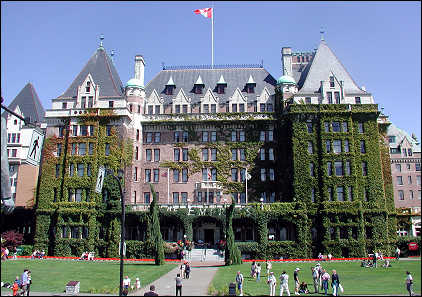 Empress Hotel
We had High Tea at the ivy-covered Empress Hotel and asked to be seated in a small, lovely dining room with gorgeous wood paneling and windows overlooking the harbor.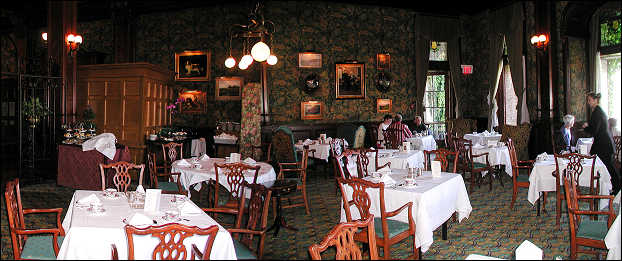 Small elegant dining room where we had High Tea


Tea was served along with an assortment of sandwiches, cookies and pastries - all quite elegant, but it came at the high price of what amounted to $60 each Canadian or $45 US. Most of those attending High Tea were seated in a large dining room; we much preferred our more cozy and quiet one with tableside views of the harbor.

| | |
| --- | --- |
| View from our table | Grand Tea Room |

Butchart Gardens was of course, a must see. I had visited many gardens in the USA and particularly in the UK, famous for fabulous gardens, but must say that Butchart Gardens was one of the most spectacular I've ever seen. Surprisingly, it is not large and can be easily browsed in 3 to 4 hours - longer if you want to study the plantings, shorter if you just do a nice steady stroll.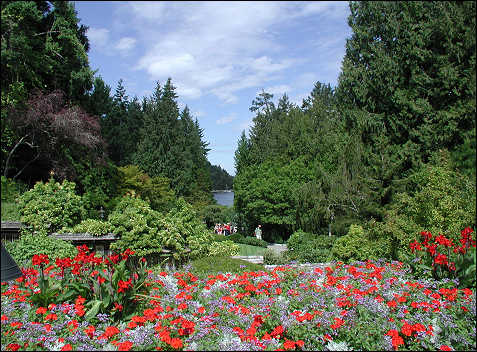 To reach the gardens from Victoria, Butchart Buses leave every half hour during the summer from the main bus station behind the Empress Hotel, about a 10 minute walk from our hotel and delivered us at the front gate about 40 minutes later. We walked all the main areas, had a nice lunch and left about 3 hours later.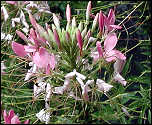 Cleome or spider flower
| | |
| --- | --- |
| Italian Garden | |

We could easily have spent far more time had we taken all the little side trails, or spent more time studying the various plantings and views. Those who have visited the gardens at night say that it is a whole different experience and the fireworks evenings are quite popular. Be sure to see the fountains which have a continuous display of dancing water.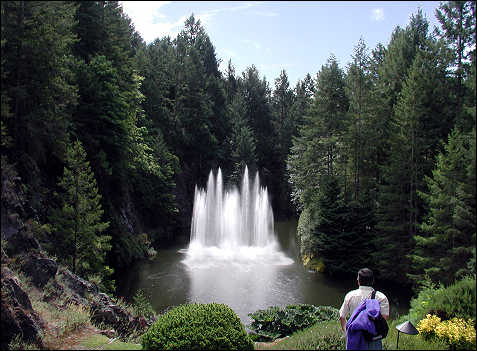 VICTORIA RESTAURANTS

I read on several of the internet travel forums that Victoria has very few (if any) fine restaurants, not so, we had some of very good dining experiences here! The first night we went to IL TERRAZO – a lovely restaurant specializing in Italian cuisine. Koren ordered a vegetarian entrée and I had a tasty pork loin. We also had dinner at the HAROLD STREET CAFEE which offers a wide selection of Northern Pacific food – it also was very good.

| | |
| --- | --- |
| Il Terrazzo | Harold Street Caffe |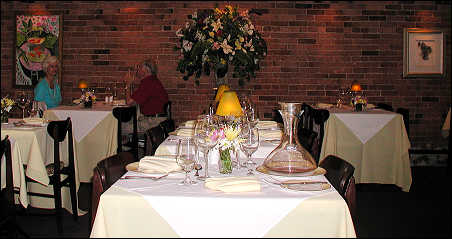 Matisse

The next night we had dinner at Restaurant MATISSE, a French restaurant, and every course was perfect. It deserved our highest rating in Victoria. I thought it was the best restaurant during our entire trip. I had a wonderful Atlantic Lobster Bisque, Filet of Beef Bordelaise, ending with a delicious Chocolate Truffle Cake. Koren rated it #2 after tying Le Gavroche and Parkside in Vancouver for #1. Interestingly enough, John Phillips, the owner of of Matisse recommended the Vancouver French restaurant to us. Both were superb!

The best coffee was found at TORREFAZIONE ITALIA on Government Street just a couple blocks from our hotel. They had a large selection that included pastries and gelato.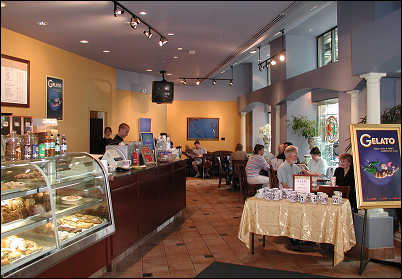 VICTORIA TO VANCOUVER

I wafted between taking a "harbor to harbor" float plane to Vancouver or the bus and ferry option. I'm a private pilot but had never been on a float plane. However, the float plane could only guarantee that luggage under 25# would accompany each passenger, while any over the limit might have to be put on later flights. Since I travel with my cameras, computer, and other essentials, I didn't want to take the chance of landing in Vancouver without half my stuff! So, we took the bus and ferry option… which turned out to be a fun choice. We left the bus station at 10 am, were on the ferry by 11 am for the 90 minute "cruise" and then rode another hour into Vancouver. Everyone must leave the bus for the crossing and go to the upper decks. The ferry was huge as you can see below.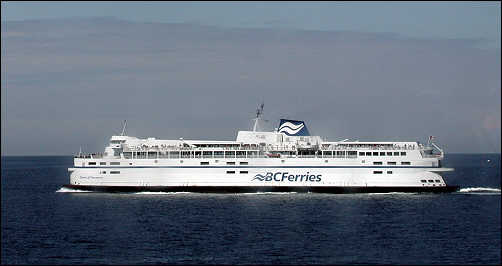 The lower passenger deck had lots of chairs, a snack bar, gift shop, and big cafeteria restaurant with tables and chairs. The upper passenger deck had seating, a snack restaurant, and promenade that circled the ferry – for best views of the islands and mainland Canada. I've been known to become a little sea sick on small ferries, but had no problem on this one. It slowly rolled side to side only when making a gentle turn through the islands, other than that, it was more of a smooth forward gliding motion. We both enjoyed the ferry crossing.


VANCOUVER


The bus dropped us in a central part of Vancouver and we caught a taxi to the Coast Plaza Hotel on Denman Avenue only a few blocks from Stanley Park and also from the beach. Since we wanted a two bedroom suite at a reasonable cost and I prefer to stay in the West End near English Bay, this provided the best choice of location.


English Bay Beach - 2 blocks from the Coast Plaza Hotel


The Coast Plaza is a nice mid-range hotel with a restaurant, bar, lovely garden area on the 3rd floor (where I spent much of my time enjoying the shade and breezes) and mall on the 1st floor with a drug store, grocery store, gift shop, chiropractor, and fitness center. It has most everything anyone might need for an extended stay plus a lot of restaurants, shops, are along Denman Street.




Coast Plaza Hotel above

Bar and Lobby

2nd Floor Gardens

Each suite at the hotel has a balcony and fabulous views, some of English Bay, others of Stanley Park, and the city of Vancouver. Stanley Park is three blocks to the north and the beach is three blocks to the west. This picture taken from our 29th floor suite shows a nice panoramic vista.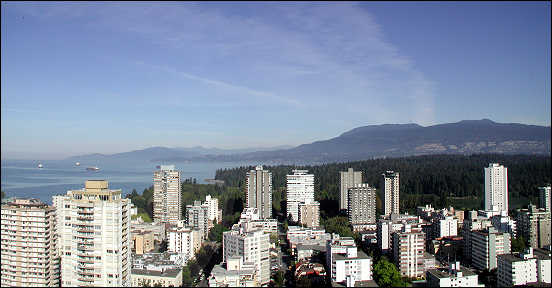 Denman Avenue has a large variety of restaurants and coffee houses, a few shops and ends at English Bay Beach. The buses stop right across the street and both trolley tours had nearby pickup points. Robson Street is a short walk away. I think it is one of the best locations in Vancouver.

Since we arrived on the Saturday night of the famed "Celebration of Light" ending a big fireworks competition that had been going on for a week or so, the hotel only had a one bedroom suite available, but could move us to a two bedroom the next night for the rest of our stay. I had requested one with a view of the fireworks, and while they could not guarantee it at the time of booking, they came through with one facing west that was perfect. We had a grand view of the entire 30 minutes fireworks event from our balcony. It was absolutely spectacular and I've never seen anything quite like it (even though our own home city has a rather large one each year).


With each of the three countries - China, Sweden, and Spain - trying to outdo each other, the surprises never stopped (Sweden won). Some of the fireworks seemed to go up a mile before setting off and we saw some that looked like explosions of multi-colored light as well as perfect flowers in the sky. This event during the last of July and first week of August should not be missed, but we recommend that you make hotel reservations a year in advance! We were lucky with our room assignment since I had made ours only a few months before.

Our one bedroom suite was generous in size with two beds, a bathroom, small kitchen, and medium sized living room. A recessed balcony opened from the living room and was next to the bedroom. Only one glitch – we were told the hotel was air-conditioned and while the lobby & conference areas do have A/C, the suites only have a tiny little box cooler sitting in the living room that huffs and puffs on hot days. Our bedroom was quite warm, despite the little fan that the hotel provided.

The next day, we had another surprise – our two bedrooms, two bath suite actually only had a bath and a half. While it was much larger than the one bedroom suite and had two balconies - one off the living room and one off the large bedroom - the cooler in the living room did little good and spent most of it's time frozen up. We also discovered that the vent hose had pulled loose and the unit was simply circulating hot air. We also went through five fans during our four night stay – two conked out, one in the middle of the night and I found myself at the front desk at 3 am asking for another. I doubt having any sort of A/C most of the year would even be needed, however, in August, it proved to be quite hot and stuffy in the bedrooms, especially if a breeze were not blowing. If you need A/C then choose a hotel that has "central air-conditioning" throughout - we will too if we ever return in August.

Despite the unseasonably hot weather and our lack of complete air conditioning, the Coast Plaza Hotel is an excellent mid-range choice because of service, location, large accommodations, and fabulous views from every room.

Near the same area is the West End Guest House on Haro Street where our family stayed a couple years ago after a ski trip. It has eight rooms, beautifully decorated and is a member of the Small Elegant Hotels of the World. If you like luxury inns with gorgeous furnishings and perfect service, choose this guest house. Robson Street is only one block away and a pretty little park is nearby.

West End Guest House

Haro Street

Excellent B&B
THINGS TO DO IN VANCOUVER

Since I had been to Vancouver before and Koren wanted to get an overview of the city on our first day out, we bought $30 two day tickets on the Greyline Double Decker bus tour which makes a two hour loop in and around the city and allows passengers to jump off and on at any stop during the day. The Vancouver Trolleys also offer basically the same loop tour, however, are smaller and often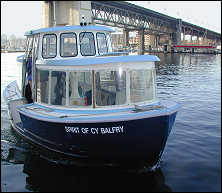 very crowded, whereas the double deckers provide far more seats and better views if you are on the upper level. We got off at Granville Island and wandered around awhile, had lunch, and jumped back on the bus for the rest of the tour which took us through Stanley Park.

If you are staying in West End or near English Bay beach, you can also walk to the Vancouver Aquatic Center near the Burrard Bridge and take one of the little False Creek Ferries to Grandville Island and depart at the dock. They are very cute and the ride is quite short. These ferries also putter around to other city attractions along the water.

Building with roof top

garden and tree!

Stanley Park
The next day, Koren wanted to go back to Gas Town that we'd breezed through on the bus tour the day before, so we walked out our hotel and took City Bus #6 to Canada Place where we had a short walk to Gas Town for strolling around and lunch. We walked to the Pacific Center Mall, not far away, and discovered the layout is quite a maze of shops with over-the-street walkways and escalators leading to what seem as nowhere. Be sure to check the mall maps to find your location and exit to the street you might want since it seems to cover over two blocks and it is easy to lose direction.


Gastown street and steam clock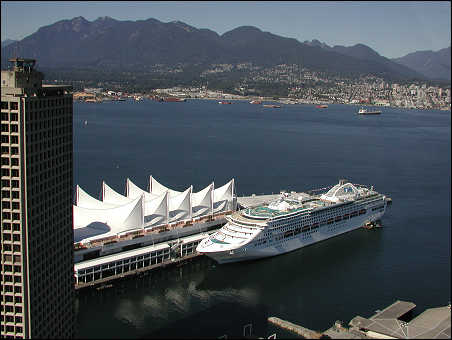 The Vancouver Public Library


Koren decided to walk over to the Public Library, an architectural wonder, while I caught Bus #6 back to the hotel. If you stay at the Coast Plaza, make a note that both Bus #5 and #6 can take you downtown and back.

Yes, palm trees grow in Vancouver, always a surprise to many people. The photo below shows a nice group of them. These are Trachycarpus fortunei known as the "windmill palm" that are native to the mountainous areas of China and are hardy to about 5 degrees F (-15.00 degC).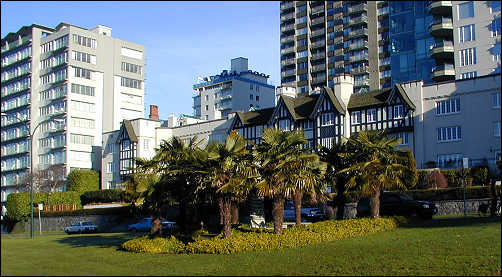 VANCOUVER RESTAURANTS
The first night we ate at Delilah's, located at the base of our hotel – it's a fun dining experience and well known for its famous Martinis of every sort and flavor. Koren had a glass of wine and I had a local beer before ordering from our menu which lists a variety of soups, salads, tapas, and entrees down a long page with a place to check what one would like to have for dinner. I chose Pulled Pork and Caramelized Onion Spring Rolls, Grilled Asparagus with Chickpea Fries (very interesting and very good!), ending with Grilled Garlic Prawns with Pernod, Fresh Tomato, and Feta Cheese. All was quite tasty.

Delilah's Martini Bar and Restaurant

On Comox Street at base of

The Coast Plaza Hotel
Delilah's has two small circular curtained coves which can hold up to five people and are quite secluded. A fun place to sit but reserve far in advance.


The second night we enjoyed Le Gavroche (highly recommended by Victoria's Mattise owner, John) and loved our selections. I had possibly the best Caesar Salad ever, prepared at the table (and asked to have a splash of Tabasco added), plus a wonderful Pork loin with wine sauce. My only complaint was their small selection of very common beers (Bottled Stella Artois and Coors light is not befitting to a fine restaurant!). Koren had a excellent vegetable based entree. This proved to be one of her favorite restaurants in Vancouver with the other being Parkside.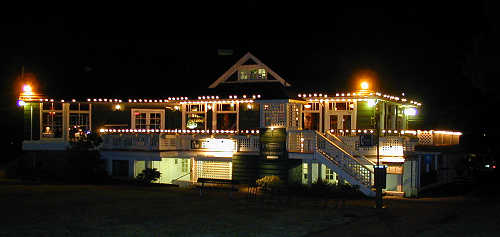 The third night we had dinner at The Fish House in Stanley Park, always good, and had one of the best salmons ever – wild Queen Charlotte Island salmon simply grilled with a side of mashed potatoes and fresh vegetables. We both rated this one #3 for our entire trip.

The last night we dined in the garden of the Parkside Restaurant, located at the Buchan Hotel on Haro Street. Koran's son Stephen had joined us and we all enjoyed some of the best cuisine in Vancouver. Koren's Spanish seafood entree was outstanding, named "Basquaise", of the Basque region; the ingredients included spicy sausage, onion, garlic, red peppers, tomato and fresh herbs with any white fish. She couldn't resist taking a picture of it.



We all had a good time in Vancouver but it was time to head north to the mountains. We enjoyed a beautiful sunset over English Bay in Vancouver before leaving the next day.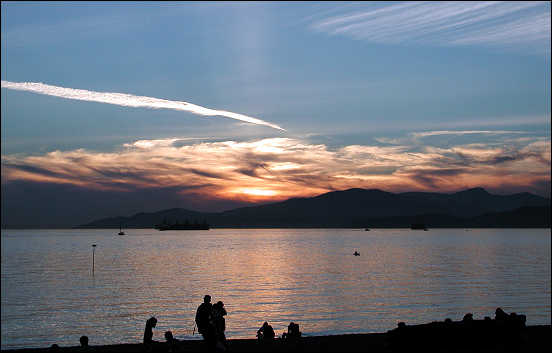 Sunset over English Bay in Vancouver

WHISTLER IN SUMMER


Since there were three of us, I reserved Star Limousine to transport us from Vancouver to Whistler, rather than trying to catch the Perimeter Bus run since it did not stop at the Coast Plaza Hotel. The driver arrived at noon on schedule and we left for our two hour drive to Whistler (Our hotel was near the Lion's Bridge – the jumping off point in Vancouver to the seaside road – the transfer takes 2 ½ hours or more from the airport). We stopped about halfway in Squamish for some coffee and arrived after 2 pm in Whistler to check into the Carlton Lodge and Pan Pacific Hotel (for more information about these accommodations, go to my Whistler Hotel Review link at the bottom of the page).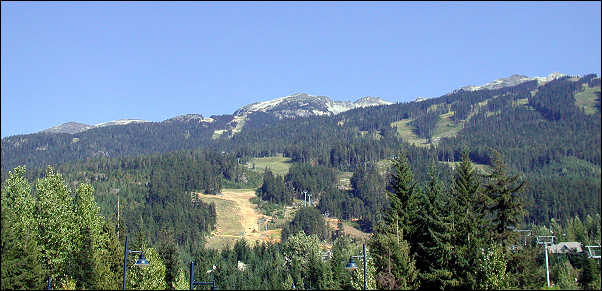 Whistler in August is quite different from January – green mountain peaks are topped with a blush of snow here and there and the village is full of mountain bikers anxious to try the special runs set just above Skiers Plaza. Whistler also has miles of biking trails through the nearby woodlands, mountains, and around lakes. Every other summer activity was available too – white water rafting, bungee jumping, ATV rentals, Hummer outback tours, and hiking in and around the area. Koren and Stephen took several hikes at the top of Whistler Mountain and even trooped up to the very peak.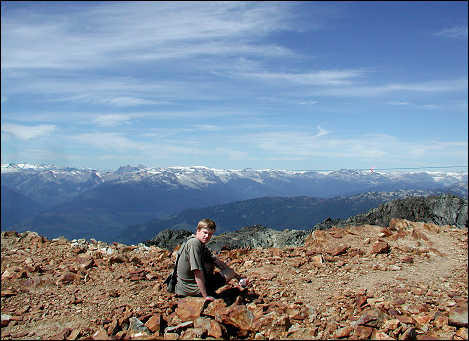 During one of their hikes, Koren and Stephen were delighted to find an alpine marmot. Whistler is named after these mountain residents since they whistle to warn their fellow marmots of a problem.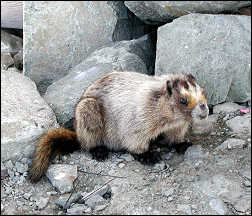 HIKING and HORSEBACK RIDING (written by Koren)
Hikes of varying degrees of difficulty start from the top of Whistler Base Gondola. The hike to the top of Whistler Mountain provides nice views. The hike around Harmony Lake is also scenic.
There are "very nice" (or so I was told) hikes around the valley floor, but these are really strolls - most of the trails are paved and are essentially for people who don't want to sweat. In addition, there are great hikes ("incredible" was the word used by Visitor center staff) for people who have cars to drive to the trail heads. Blackcomb is supposed to have some great hikes, but the gondola was closed when we were there.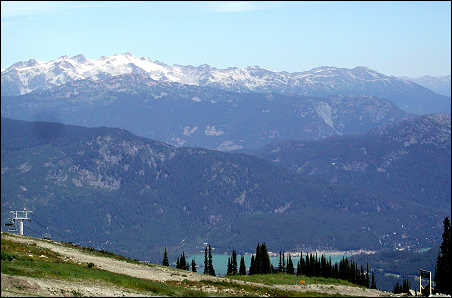 The best source for information on the multitude of hikes, walks, and strolls around Whistler is the Visitor Information Center. They had numerous trail maps when I was there.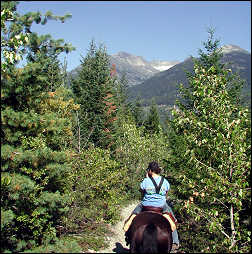 Horseback riders can choose among two different rides on Green Lake, a few miles north of Whistler and accessible by taxi or public bus. One-hour rides around the lake are available for inexperienced rides. Longer four-hour rides in the forested trails above Green Lake are available for experienced riders. All rides are led by staff. Stephen and I took the four hour ride and saw some gorgeous scenery.

Weather proved to be unusually warm in Mid-August with some days topping 90 degrees, but nights turned cool and it was usually 55 degrees when the sun came up. We quickly learned to do our exploring and hiking during the morning and opted for cooler activities during the afternoons. Skiers make note that Blackcomb Mountain Glacier is closed on August 1, so if you want to do that, come by the end of July.

WHISTLER DINING

We dined at some of my favorite restaurants and tried a few new ones too – visit my Whistler Restaurant page for updates and new additions. On this trip, we all liked the Trattoria di Umberto as the best of Whistler.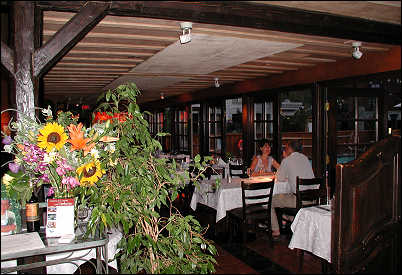 Trattoria de Umberto


Araxi was good, but I've had better in the past. We were not wild about Val d'sere now that it has a "casual" menu - our selections were uninspiring. Zeuski's, enjoyed by most of our family on our last ski trip, also fell short. I had the idea that some of the best chefs might have taken the summer off.

As always, Dubh Linn Gate Pub had great beer and good food. I particularly enjoyed the wonderful German beer on tap at the Bavaria restaurant and its interesting Alpine menu too.

WHISTLER HOTEL NEWS:

While Koren and Stephen were busy hiking, I visited several of the new or refurbished hotels in Whistler. The Westbrook was purchased by a new owner/manager David Demers who completely refurbished the property from top to bottom and is now the Sundial Boutique Hotel complete with luxury 1 and 2 bedroom suites, some with balconies and outdoor hot tubs. It is located between the Carlton Lodge and Pan Pacific as shown below:


Carlton Lodge, Sundial Boutique Hotel, and the Pan Pacific


The Delta Hotel, also near Skiers Plaza at the base of the Whistler gondola, will reopen as a Hilton by January 2005. Pan Pacific is building a new hotel in the middle of the Village. On Blackcomb Mountain, the Four Seasons opened June 2004 and is set in a lovely wooded area near the Chateau and Club Intrawest.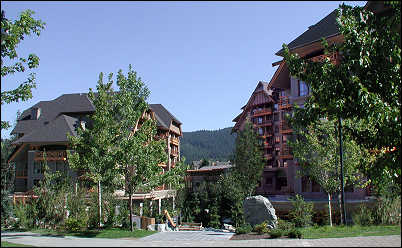 Four Seasons Whistler


Lots of construction, refurbishment, and some expansion (very controlled) is happening in Whistler, no doubt in preparation of hosting the Winter Olympics in 2010. Visit my Whistler Hotels page for more information about the new resorts and other updates.

A COUNTRYSIDE CONDO

Since hubby and I someday plan to visit Whistler in late spring or summer and like to stay in a countryside setting, I went in search of a perfect retreat and found one. Alan Lande who has three condos at the Carlton Lodge in Whistler Village also has one in TalusWood near Whistler Creekside. To reach it, we drove up a winding mountain road with outstanding views over a nearby valley.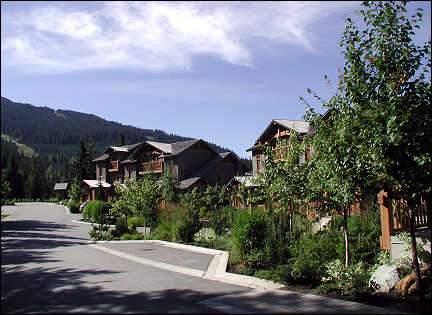 The two bedroom, two bathroom unit is located in a quiet neighborhood surrounded by a lush wooded area. It has a fireplace in the spacious living room and full size kitchen next to a dining table for six. A sliding glass door provides entry to the large private deck with a panoramic valley vista.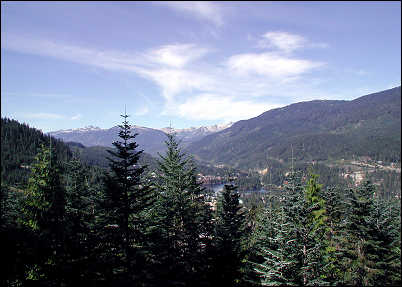 The master bedroom has a queen bed; the second bedroom holds a bunk bed with double mattress on the lower level. A full bathroom with tub is next to the master bedroom with the other bathroom near the kitchen and bunk room. The unit also conveniently has a washer and dryer.

Guests staying at the TalusWood condo have full access to an outdoor hot tub also with valley views. It is located nearby down a pretty meandering path.



A car would be needed to stay at TalusWood - nicely, Alan often has underground parking available in the center of Whistler Village that would be available for shopping or dining out.

Skiers will be delighted to know that a short walk will take them to a downhill run and Creekside's Gondola. After a day of powder fun, one can simply ski back to the condo area, light up the fireplace and relax in a mountain retreat.

SUMMER IN WHISTLER

One great thing about coming to Whistler during the summer, rather than Colorado resorts, is that the Village is at a mere 2500' above sea level, easily a third of the altitude of most Colorado summer destinations meaning you won't have to spend a few days trying to adjust to high altitude. It tends to be a little cooler than the Rocky Mountains too. Also, if you have a week or so, you can easily spend a few days in nearby Vancouver or Victoria and enjoy the mountains, the sea, and a variety of climates. We'll return in January for our annual ski trip.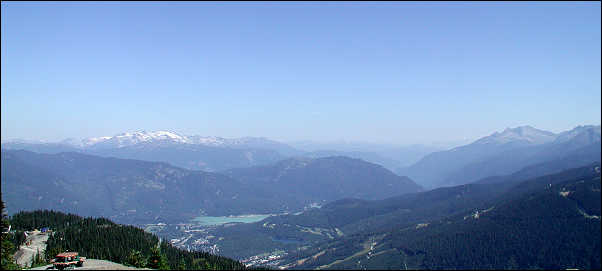 Links to all the restaurants, hotels, and condos in this article can be found on my Victoria, Vancouver, and Whistler Links Page. See below.

~~ Photos by Lynn McKamey and Koren Sherrill