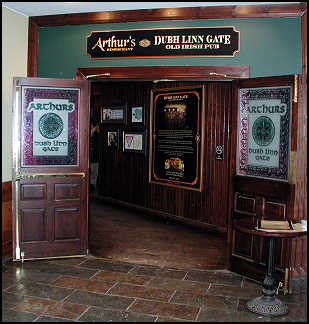 Whistler has a great variety of restaurants serving all kinds of food for every budget. Most are in Whistler Village with a few located in Upper Village near or in the Chateau Whistler Hotel. Visitors will find sports bar snacks, pizza, burgers, pasta places, seafood, and lots of different ethnic selections from sushi to Italian. A few restaurants such as Araxi and Umberto feature superb haute cuisine with a northwestern twist.

Many of the restaurants deliver - be sure to pick up a "Dining Guide" booklet after you arrive. If you are staying in a condo and prefer to cook, a huge grocery store/market is in the lower part of Village North and a small, but well stocked market called The Grocery Store is located in Village Square next to a liquor store and drugstore - it also will take orders and deliver directly to your accommodation for a small fee.

Other than going a few steps to "Second Cup" each morning to get gourmet coffee and breakfast breads, we ate lunch and dinner out during our 12 day stay.

Our family "dining group" of eight adults included one total vegetarian, one semi-vegetarian, and six carnivores - ranging in age from 27 to 58. We are from Texas, Boston, California, and England U.K. The four month old twins stayed in the condo with Nanny, but we did see lots of tots eating out with their parents during our visit.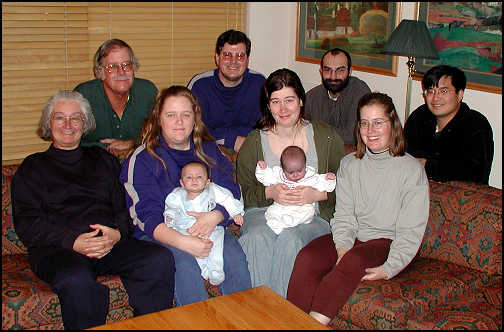 Back row: Kenny, son Jeff, Nick, Max
Front row: Lynn, Katherine, daughters Kara and Corinne (Koko)
Jeff & Katherine's 4 month old twins: Andrew & Caitlin
Note to Vegetarians: Kara's criteria is that a restaurant serving REAL VEGGY food will have several selections printed on the menu. If there's no vegetarian meals on the menu, then she assumes that they will disastrously have the chef throw something together over pasta. Every restaurant in this review (except Rimrock) had menu choices listed for Kara.

In 2005, the twins were 4 years old and joined us for most dinners. Everywhere we went, children were welcome and most had a special children's menu. Some, even the fanciest, had coloring books to keep them busy until the food came. Here we are at one of our favorite restaurants, the Trattoria de Umberto.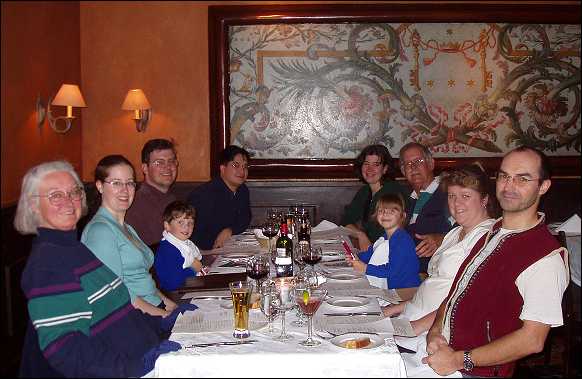 Trattoria de Umberto has an elegant, yet relaxed atmosphere. It always offers superb Continental and Italian selections, great service, and a fine dining experience that is well worth the slightly high prices. It was rated #1 by our summer group and was the all around dinner favorite of our winter 2005 group. Believe it or not, we dined here three times and never had the same thing since the menu is extensive plus they had wonderful chef's specials each night. If you only have one dinner in Whistler Village, have it here!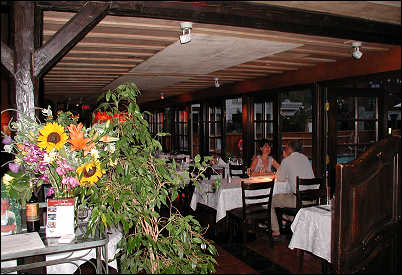 Trattoria de Umberto


The Rim Rock located in Creekside proved well worth the short taxi ride from the Village. Everything we ordered from the appetizers, salads, and main courses were superb! I particularly liked the Warm Mushroom Salad, Crab & Salmon Cakes, and Salmon entree, although everyone said their selections were just as good!



Desserts were also fabulous. And as you can see from the pictures above, the courses were as pretty as they were delicious. Service was excellent. Rim Rock was rated #1 by five of our group and highly recommended as a "must" on your next trip to Whistler.

Hy's Steakhouse has an excellent beef and seafood menu - perfectly prepared steaks, fresh crab legs, great service and is hands down our favorite for this type of menu. Prices are expensive, but worth it. Rated #2 for dinner by seven of our group. We loved sitting in the "wine nook" - very private. Our friendly and attentive waiter took my place at the table for this picture: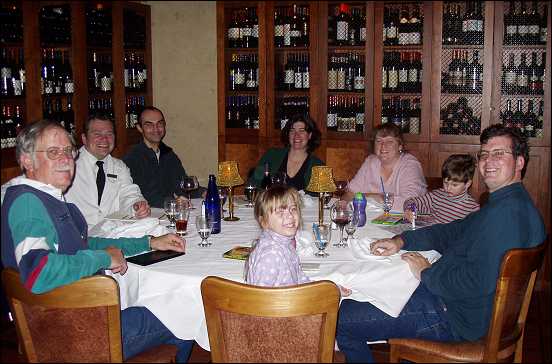 Hy's Steakhouse


We've dined at Araxi each time we visit Whistler and find it to be one of the most elegant in the village - good service combined with "continental Pacific" cuisine. However, it proved to be the most expensive (by far!) of the fine restaurants. Rated #1 for dinner by two of our group.

Bavaria is a delightful Fondue and Schnitzel restaurant that also had steaks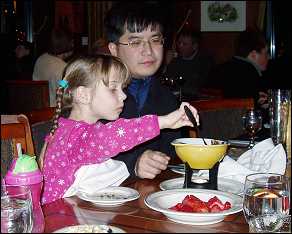 and seafood. I had dinner here during my summer visit and sat outside in a lovely tree-lined garden. On our winter trip, we had a cozy table inside surrounded with a perfect Bavarian atmosphere.

The Jaeger Schnitzel was excellent and Chocolate Fondue was scrumpious. The twins really had fun with the fondue and we ordered an extra side of strawberries which they delightfully dipped and devoured!

They also offer Raclette and tasty German beers on tap. I loved the light, smooth Wasteiner and the darker Isenbeck brews. One of our favorite dishes was the three sausage appetizer which was big enough to be an entree. Walter was a perfect waiter and made excellent dinner suggestions. All our group enjoyed the Bavaria.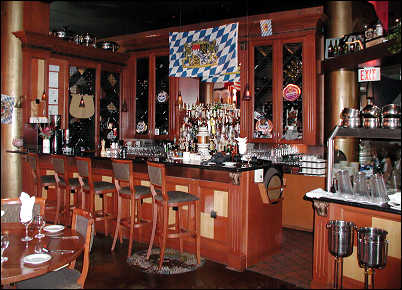 Bavaria


Mongolie Grill is a fun place to eat especially if you love stir fry. Grab a bowl, choose whatever veggies and meats you want along the long food bar, slop on one (or more) of the 18 sauces available... and they will weigh your bowl to get the cost, and dump it on a huge 6' grill to cook. This was our favorite fun and casual dinner spot. Plus it doesn't put a empty hole in your wallet.

| | |
| --- | --- |
| Nick filling up his bowl. | Jeff, Katherine, & Kenny at the grill. |

Sushi Village's sushi was excellent and nicely presented. Most everyone agreed that the Combination A platter was the best choice. Those not eating sushi felt the Japanese cuisine was not the best. Avoid the salmon pate. Rated #2 by three of our group.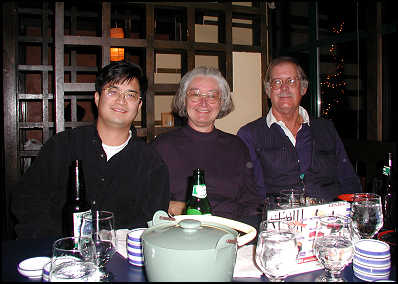 Max, Lynn, and Kenny at Sushi Village


Dubh Gate Inn pub was the best all around for mid-priced excellent food and great beer (many imported and on tap) - we all ate lunch there quite a bit. Our English family member Nick said it was truly a "proper pub" (and he should know having grown up around LOTS of them in the UK). It had many selections ranging from the superb Guinness & Crab Soup to the meat pies, salads, and sandwiches of every kind and flavor. Dubh Gate is located in the bottom of the Pan Pacific Lodge at the base of the slopes - very convenient for skier's lunches. The interior decor is wonderful - here's Max and Corinne in the pub next to the fireplace.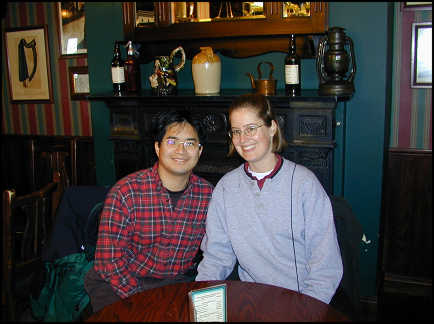 Max and Corinne at the Dubh Gate Pub


The Splitz Grill in Whistler North near the big IGA store has the homemade style burgers in town plus a huge array of ice cream desserts. Jeff and Katherine's favorite was teh Carmelized Banana Split.

Zeuski's Taverna, a Greek Restaurant, deserved two visits by some of our group. The food presentation is quite good and they have tasty traditional dishes which we called "Upscale Greek". The lamb salad was excellent and it had some of the best vegetarian selections in the Village.

We also dined at KYPRIAKI which specializes in Greek and Mediterranean cuisine. The ear-shattering background music and party atmosphere crowd proved too much for our group and the food was less than average. We'll go back to Zeuski's next time.

Carumba! had an interesting menu with pasta, pizza, rotisserie, and grilled items. This restaurant was enjoyed by all of us for a nice mid-priced dinner with something for everyone.

The Brewhouse had beers of every sort and flavor plus a big menu featuring pizzas, rotisserie chicken, and grilled selections. We found service in 2005 to be very slow though.

Ingrid's Deli and Bakery made some of the best sandwiches we've had in Whister - be sure to have lunch there or a light dinner.

The Keg is a good mid-priced choice for steaks and a huge salad bar.

Avalanche Pizza is excellent. Some of our group liked Black's Ristorante's pizza as well.

Burgers at the Longhorn in the first floor of the Carlton Lodge are some of the best.

Second Cup near the Delta Hotel and Carlton Lodge is a great place for coffee and pastries.

Thai One On was a disaster. The spring rolls tasted like Mexican tamales; the chicken dish was dry, but peanut sauce was excellent. Not traditional Thai food at all, and our group was disappointed with the dishes they ordered. The two of our group who halfway liked it called it "Fusion Thai food"; the other 6 would never go back.

Other restaurants recommended to us as very good are: Bear Foot Bistro and Edgewater Lodge, both specializing in local fish and game. Ric's Grill will be opening in the Crystal Lodge in February 2005 and will be a nice addition.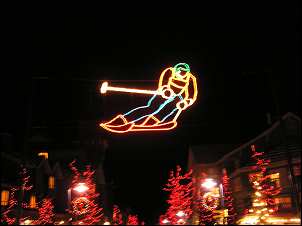 Mountain Dining:
"Fresh Tracks" is an early morning skier's breakfast buffet at the Round House restaurant at the top of Whistler Mountain. Ride the Gondola up between 7:30 and 8:00 am, eat breakfast, and you will be one of the first down the mountain, thus making "Fresh Tracks". The cost is a lift ticket plus $16.50 and its best to buy them the day before since the line can be long in the mornings.

Crystal Hut on Blackcomb Mountain specializes in freshly made waffles - all day long. It also has one of the most gorgeous views on the mountain as you can see below.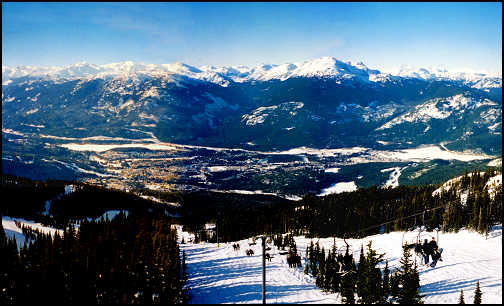 Beaver Tails at Mid-Station on Whistler is great and now the only place that fries them fresh (the ones in the Village re-heats them - don't bother!). Our grandson Andrew loved going up to ski and stopping at mid-station to have yet another Beaver Tail. If you aren't a skier, but some in your group are, have them grab a few and bring them back to your hotel (as we did!)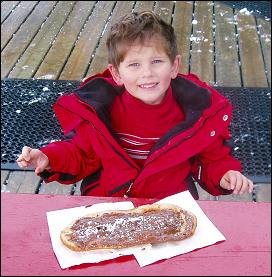 NOTE: You'll find links to some of the restaurant websites in my Whistler Links page.