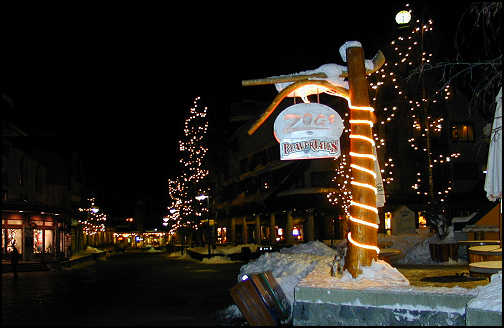 In winter, Whistler resembles a perfect Christmas village surrounded by snowcapped mountains. Alpine architecture sets the atmosphere, and cobblestone walkways link hotels, condos, shops, and restaurants. Tree lined paths meander along creeks and through wooded areas. It is truly one of the most picturesque winter resorts in North America.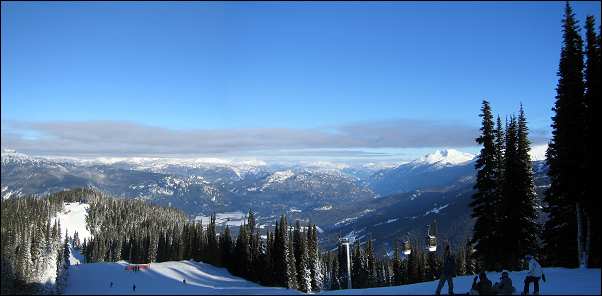 Whistler also represents diversity. People from all over the world come and stay in a wide range of accommodations from economical village hotel rooms to grand condos or huge slope side villas. They can ski and snowboard on two different mountains and even a glacier – which offer ski terrain for all levels of expertise from beginner skiers to extreme skiing experts. Non-skiers will enjoy strolling the village walks and browsing shops and stores. Every type of cuisine can be found along with a wide range of nightlife – bar hopping, bands, sports bars, bowling, and pool halls. Outdoor enthusiasts can snowmobile, dog-sled, heli-ski, and snowshoe the back country. Whistler offers something for everyone to do during his or her winter vacation.

Whistler differs from most "Rocky Mountain resorts" in several other ways. First, it's more humid than dry since it is located near the Pacific Ocean. It is also at a comparatively lower altitude – the Village is only 2300' above sea level and the highest ski peak is at 7400' (about the same as parking lots in downtown Aspen). As a result, few visitors suffer from 'altitude sickness' the first few days while their bodies adjust to thin air.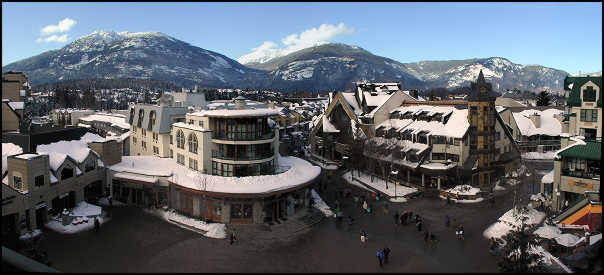 Whistler is a relatively "new" winter destination – many of the buildings are only 18 years old with some just now being built as the village continues to grow and evolve! It is purposely a "walking village" with car lots in various spots outside the village and none inside (other than hotel parking in basements).

The layout of the sprawling development is well planned and very organized – visualize the Whistler Village complex at the base of two towering mountains and as the central point of the vast ski resort. Most everything in the Village is only a 10 to 15 minute walk away, meaning you don't need to hire or rent a car to ski, shop, or dine.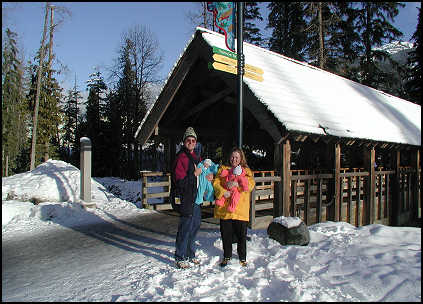 Upper Village with the huge Chateau Whistler Hotel Resort is a 10 minute walk across the creek through a pretty covered bridge. Nearby neighborhoods holding villas, condos, and apartments are only a bus ride or short drive away. Creekside is another development about a 5 minute drive or ride from the main village and has it's own gondola link to Whistler Mountain.
Visitors have a huge choice of places to stay – in the village or ski-in/ski-out accommodations on the slope or being perched in a villa on the side of a mountain in a quiet, scenic neighborhood.



My husband and I, with 4 other couples, first visited Whistler in 1997; we returned with our three kids and their spouses in 2000 and went back again with all the family plus twin grandkids (10 of us in all) during 2001 and 2005. In the last 8 years, Whistler has grown! The village has doubled in size and now has shops, restaurants, and places to stay stretching all the way from Whistler Base gondola to the Marketplace - about a 15 minute walk from one end to the other. During my summer 2004 visit, several hotels were being built, the Crystal Lodge was being expanded, and the Delta near the lifts was turning into a Hilton.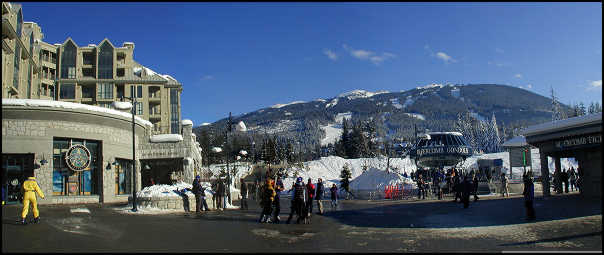 The Village shops offer a variety of ski wear & equipment, tourist trinkets, a few art galleries, and stores full t-shirts and sweatshirts embellished with Whistler logos. Those looking for high fashion, lots of designer jewelry, fancy apres-ski wear, and world famous art will not find it here (try Aspen or Jackson Hole instead!). Some cute specialty stores can be found such as The Hat Gallery, a shop that had hats of every kind and color. I couldn't resist buying the gray one, daughter Corinne thought her feathery chapeau was just perfect.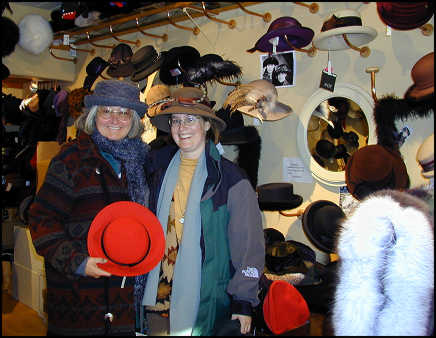 Restaurants serve a wide range of cuisine - most being reasonable priced pub food, sports bar snacks, pizza parlors, and ethnic selections from sushi to Italian. A few restaurants such as Araxi, Umberto, and Rimrock feature superb haute cuisine with a northwestern twist. Some of the best steaks and seafood can be found at Hy's. Take the link to my restaurant review at the bottom of this page for more dining information.

SKIING:

As for skiing… be prepared to explore one of the largest ski areas with the longest vertical drop in North America! Yes, there are runs for everyone at all levels of experience. Most of the two mountains are intermediate to expert with a few nice long beginner runs. You also do not have to ski all the way to the bottom to catch a lift back up to the top (Ajax/Aspen Mountain is like this too). Once you get to the top, you generally will stay and ski the upper half of the mountain. Two T-bars at the top service a part of Blackcomb mountain not often skied… and it's a little windier, colder than other parts.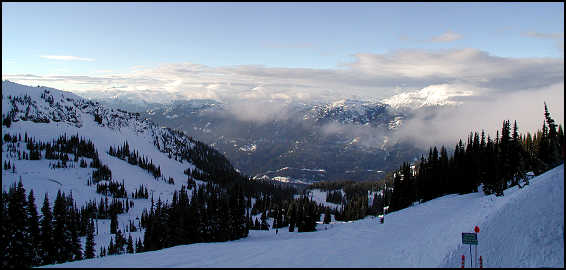 For the ultimate "outback" skiing experience, go Heli-skiing! No lift lines, no crowds, just bright white fluffy snow waiting for your group to arrive and make fresh tracks in the powder! Four of our group, Nick (on his telemark skis), Jeff, Kara, and Kenny spent a day Heli-skiing. They are the tall ones standing in front of the 'copter below.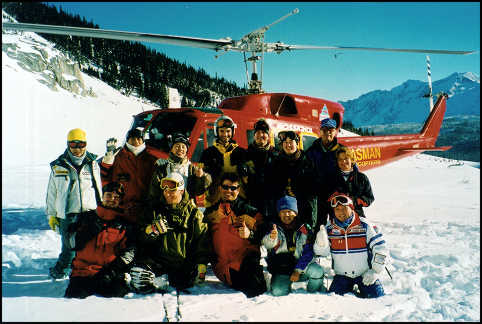 Groups are divided into several levels from low-intermediate to expert, so don't think you have to be an extreme skier to heli-ski. They made 4 runs down fresh powder with a lunch break in the middle of the day. It was a real adventure for our foursome and they are still raving about it.

ACCOMMODATIONS

We've been to Whistler five times – once with a group of five couples and then returned with our family of 8 (our three kids and spouses) which increased to 10 with the arrival of twins for our last visits.

On our first trip, we stayed in "Blueberry" hill at nice, inexpensive condos on a residential street about a 10 minute drive to the lifts. We rented two vans for our group of 5 couples to provide transportation to the slopeside parking lots. However, the non-skiers had to take the buses to the village that I found a little inconvenient (and cold standing around waiting for the bus to arrive).

The next four times we stayed at the Carleton Lodge that is about 50 steps from the two gondolas and 20 steps from some of the the village shops! How convenient for everyone and all of us were quite satisfied with the central location. The Carlton condos, of course, cost more than being in one of Whistler's neighborhoods, but far less than the big resort hotels.

The Pan Pacific Condominiums are nearby and offer another nicely located option. It is more expensive than the Carleton but has lots of extra features such as several restaurants and bars, a pool, and huge lobby. My personal choice (other than the Carlelton) would be the Sundial Boutique Hotel which was formerly the Westbrook) which has been transformed into a lovely group of one and two bedroom condo residences with a full service staff.


The photo above was taken near the Blackcomb Gondola facing toward the Village. The Carlton Lodge is on the left next to "main street", with the Sundial Boutique Hotel in the middle and the Pan Pacific on the right. As you can see, they are just steps from the ski lifts and gondola. Not in the picture is the Westin located to the left of the Carlton.
Whistler has lots of different accommodations in every budget range. For a more in-depth review of slope side hotels and condominiums, take the link at the bottom of the page.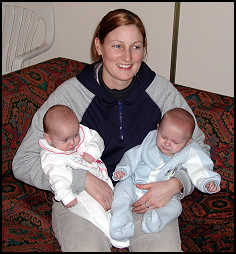 NANNIES & BABY-SITTERS:

Since we took 4 month old twins on our 2001 trip, we contacted Whistler's Nanny Network and hired a full-time babysitter to help during our vacation. They assigned Maria Syme, a 23 year old from New Zealand, who was an absolute delight and fit right in with our family. The 24 hour daily rate is far more reasonable than you might think and we can easily and highly recommend Nanny Network to anyone who might need assistance with infants or children of any age. They have hourly and daily rates.

Call The Nanny Network at (604) 938 2823 or FAX (604) 938-2842 for more information.

SKI SCHOOL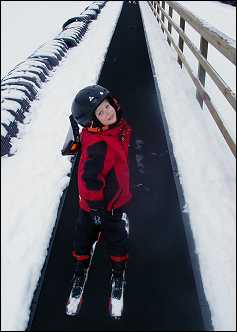 When we returned to Whistler in 2005, the twins were 4 years old. They had taken ski lessons in Jackson during 2004, so we signed them up with Whistler Ski School which has both a daily program and a Monday through Friday "Adventure Camp" from 9am to 3pm. The advantage to the 5-day camp is that they will have the same instructor. Note that both Whistler Base and Blackcomb Base have schools.

The Children's Ski School has various programs depending on ages and ability. Part of the time for 3 and 4 year olds is spent inside playing, painting, and doing fun things and some is outside learning to ski. Both kids loved it and could hardly wait to get dressed each morning and dash out the door to school! Kids start on the "Magic Carpet which takes them up a slow slope to the top so they can ski down. By the end of the camp, the kids were ready for Grampa and their Daddy to take them up to a beginner slope and ski with them. We highly recommend this ski school for your youngsters!


SKI EQUIPMENT and CUSTOM BOOT FITS:

My hubby is flat footed and has problems finding comfortable ski boots. He was delighted to discover a shop which could accommodate his needs. Snowcovers is excellent at custom fitting ski boots - those with foot problems need to run (not walk) to this store in the Market Place area. 905-4100



MASSAGES, CHIROPRACTORS, AND SPAS

We spent quite a bit of time pampering ourselves with massages, spa treatments, plus getting sore skiing backs adjusted by chiropractors! And, we are picky about those who are going to massage our muscles and adjust our backs. I'm delighted to report that we found a "all in one" facility with excellent staff members - all located in the St. Andrews House, next to the Keg Restaurant.

Whistler Advanced Physiotherapy & Massage has an excellent staff professionally trained in all types of therapy and massage. Our group thought that the massage therapists were some of the best we've ever had in our travels. Call 604-932-4203 for more information.

My husband and son managed to lock skis getting off a T-bar and twisted Kenny's knee. He went to Whistler Advanced Phyiotherapy and received a full checkup of his knee, a knee brace, list of excercises to do and was back on the mountain skiing within two days.

Whistler Chiropractic is across the hall and treated 7 of us. We were all quite pleased with Dr. Jacqueline Brusset, Dr. Keith Ray, and Dr. Patrick Shuen and highly recommend this clinic. Not many chiropractors can "fix" my back, but Dr. Shuen did a great job! 604-932-1922

Whistler Body Wrap (The Spa) has a full range of spa services - skin care, make up application, waxing, hand and foot care, sun bed, and hair care. 604-932-0128

VISITORS FROM DOWN UNDER

If you are going to Whistler in January, be aware that it seems to be a favorite destination of the Aussies. And, toward the end of the month, they celebrate "Australia Day" when you will see them partying in the streets, the night clubs, and all over Whistler. An interesting group was lined up outside one bar, dressed as characters in what else, but .... the "Wizard of Oz"!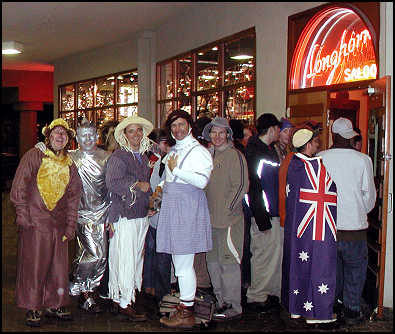 GETTING THERE
Vancouver is a large international airport with flights from most parts of the world. Driving time from the Vancouver airport to Whistler will take 2 ½ hours in good weather and the total time from touchdown at the airport to arrival in Whistler is around 3 ½ to 4 hours.
For detailed travel information and how to get there, take the link below.