Vancouver is a large international airport with flights from most parts of the world. It is also very well organized and will make your arrival into Canada a quick and pleasurable experience.

If you are headed from there to Whistler, your choices are to rent a car, ride a bus, ride in a "shared" van or limo, or arrange for a private transfer by van or limousine. The time from touchdown at the airport to arrival in Whistler is about 3 ½ to 4 hours.

Generally, immigration can take from 30 minutes, if not busy, to an hour and half, if busy, from touchdown to leaving the luggage and immigration area. Add another hour for renting your car or arranging transportation via bus, van, or limo. Driving time from the Vancouver airport to Whistler will take 2 ½ hours in good weather – note that it takes ONE hour to travel from the airport through the vast city of Vancouver and then about 90 minutes on the road to Whistler, weather permitting. While we've had gorgeous weather (so far) in our travels to Whistler, a blowing blizzard or icy rain can slow the trip down considerably.

If you are staying in Whistler Village, you WILL NOT need a car since most everything will be within a 10 or 15 minute walk from your lodging, plus parking is limited to underground hotel parking lots or area lots.

If you are staying in Creekside, you can take the gondola to Whistler mountain and the bus to the Village for apres ski adventures, shopping, and dining.

If you are staying in Blueberry Hill or one of the homes on a golf course, or one of the condos way above "Upper Village", then you might need a car to easily get around unless you plan to use the bus system or hire a taxi at times.

Highway 99 begins at the airport, goes through Vancouver, and then follows the coast through Squamish - a good place to stop if you need something to eat or a "pit stop". Britannia Beach also has a nice little breakfast and lunch restaurant for a snack on the way.

On our first trip, we landed in Vancouver at noon and quickly passed through immigration by 12:30 pm. After getting our luggage, we hopped on one of the pre-arranged Whistler Star limousines at 1:30 and arrived in Whistler about 2 ½ hours later at 4:00.

Our next trip, we did the same thing except for an adventurous stop just past Squamish to see the bald eagles along a river. Our limo chauffeur suggested this and said that the eagles are in this area from November to the first part of February.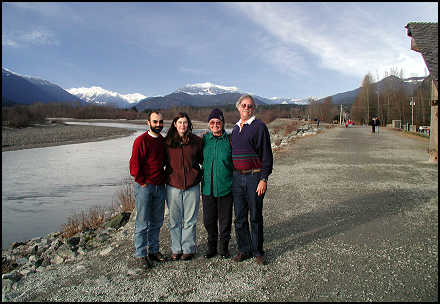 Some of our group of 8 were arriving in pairs at different times, so I arranged for those to use the Perimeter Bus Line which goes between the Vancouver airport and Whistler. It will drop you off at or near whre you are staying. Be sure to pre-book this service if you plan to use it.
Six of us departed Whistler for the airport at the same time, so I hired a private Star Limousine again and we stopped in Squamish for refreshments along the way, plus did a driving tour of Stanley Park. The cost was $375 CDN, a good deal for 6 of us including the park tour.
Several bus companies also transfer visitors from the airport to Whistler but you may have stops along the way to pick up or drop off people at Vancouver hotels which can make the travel time between the airport and Whislter much longer.
Go to my links page to find out more information about transfers. I highly recommend that you pre-book any type of transportation before your arrival whether it is a rent car, bus, shared van, or private limo.
NOTE TO U.S. CITIZENS!
U.S. Citizens will be delighted to find that U.S. immigration has been set up in the Vancouver airport and you will pass through BEFORE boarding your flight! This means you do not have to do that once you've landed in the U.S. and can simply go to your next connecting flight, or get your luggage and go home. It's a wonderful feature of the Vancouver airport.
Here's my notes from a February Ski trip:
As our plane descended toward Vancouver through partly cloudy skies, we overlooked the huge city which sprawls along the coastline between deep blue bays and lush emerald green hills.
The American Airlines jet touched down at exactly 12:00 noon, and we spent the next hour and half going through immigration, gathering our luggage, and obtaining two rental vans for our party of 10 skiers.
We left the airport at 1:30 pm and slowly wound our way through the middle of Vancouver which surprisingly has no freeways and lots of bumper to bumper traffic even on a Saturday. By 2:30 we were breezing along the "Sea to Sky" two lane Highway 99 to Whistler and enjoying spectacular views of the beautiful coastline.
Forty-five km north of Vancouver and 13 km south of Squamish, we discovered a small restaurant "Britannia House" and had a delicious lunch of homemade soups, salads, sandwiches, quiche, and elegant eggs benedict. It is open Thursday through Monday from 9 to 5 and also offers snacks. The next town, Squamish also has several places to stop for drinks and snacks - one being the A & W Rootbeer place.
After we passed through Squamish, the skies clouded over and began to pour rain. Somehow, after spending most of our ski vacations in the "cold and dry Rocky Mountains", this didn't give us the impression of being on a skiing holiday! At 4:30, we pulled into Whistler in a rainstorm and dashed around trying to check into our condominium, rent skis, and grocery shop while worrying whether we'd be floating down the mountain in a slurry of slush the next day and wondering if the rain would soon turn into that white fluffy stuff! As it turned out, rain in the village means lots of snow on the mountain.
We were staying at the Ravencrest Condos, located on the golf course in Blueberry Hill, a short drive from Whistler Village. The accommodations were spacious and our unit had a picture perfect view of a mountain.
The next morning we arose to mostly sunny skies and perfect weather! By noon the temperatures had risen to 4 degrees C under mostly sunny skies. Low was predicted to be -2 C and humidity had dropped to 60% from a high of 99% the night before. Perfect for skiing!