Wed Apr 21, 1993 SCUBA.MOM [Lynn]
Hi gang, we just arrived at Peter Island and the weather here is gorgeous! Nice gentle breezes, bright sunny skies with a few poofy clouds here and there, calm seas, and water temp. at 81 degrees. We were greeted with a big, friendly pelican on the dock right after we arrived.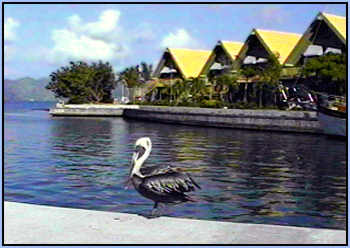 As usual on our first dive, a hose blew (always on the regulator that was "just in for the annual checkup") - we'd just started descending when good buddy Kenny noticed a leak in my primary regulator hose... back up we went - Randy grabbed another reg. slapped it on, and back down we went, only to find that the hose on the gauges was bubbling! I was at 2400 pounds before we ever started! :-) No problem, I spent the dive practicing slow, relaxed breathing so Kenny would get low on air before I did (thus avoiding the "WHAT? you are already at 500#!? underwater WOWIE scowl :-)
The loaner regulator for the dive was fine, but what a shock to look down and not see my dear little Solution dive computer... and having to read strange gauges. Fortunately, we brought a spare regulator along which is quickly becoming a source of spare parts, so hopefully, things will get back to "normal" for tomorrow's dives.
Apr 22, 1993 SCUBA.MOM [Lynn]
So far, the seas are much calmer than during our November visit, so we are trying some of the open water dive sites. Our first dive was CARROT SHOAL, a ridge rising from 65 feet of water to 10 feet of the surface... and full of ledges, cracks, crevises, and overhangs full of fish and reef critters. We had very little current which allowed us to do plenty poking around for reclusive dwellers. As with many dives in the BVI, the shallow ridge tops allow interesting "safety stops" where far more than 3 short minutes can be spent exploring. This site is located on the south side of Peter Island.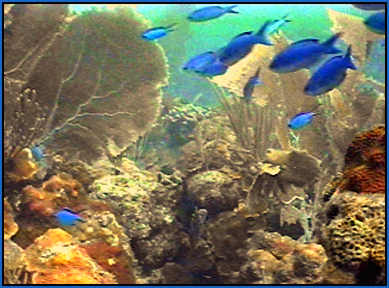 We then puttered over to THE INDIANS, my old favorite, which is best known as one of the premier snorkeling sites in the BVI, but also offers unusual diving. Four huge rock pinnacles (which look like an indian war bonnet) plunge to 50 feet of depth and create a series of walls, tunnels, and small canyons teaming with fish of all sizes, beautiful coral and sponge. The dive circumnavigates the pinnacles starting at 50' and slowly eases divers upwards to 20' where a cavern holds a ton of copper sweepers... next is a shallow trough at 6'! (where divers encounter the snorkelers! :-) followed by a tunnel which slides into a shallow bowl at 20' (this manuver allows lots of ear clearing practice! :-) A lovely coral encrusted wall leads divers back to the mooring. As usual, a super interesting dive!

| | | |
| --- | --- | --- |
| | FALL 1993 | |
Nov 04, 1993 SCUBA.MOM [Lynn]
Hi gang, Kenny and I are back in the BVI at Peter Island for a few days then we move to Drakes Anchorage at Virgin Gorda for the weekend while P.I. hosts a wedding party that has booked the whole resort. We'll return here Tuesday and stay until Saturday when a 100 "scuba docs" take over P.I. for a week long conference. Dive BVI has asked two other dive operations to come over and help them with this unusually large (for the BVI) group. Our dives this week are being spent with Derrylyn, manager of P.I. Dive BVI, and some of the Instructors from the Virgin Gorda branch who are scouting and planning dive sites for the big event.
Yesterday, the weather and seas were nice enough for us to do SHARK POINT and BROWN PANTS, two sites located near open waters that are full of large pelagic fish along with lots of reef fish hiding in the canyons, caverns, and tunnels. Great day of diving! Derrylyn told us about the "big fish" she saw not long ago. Said it was like a sudden underwater eclipse and when she looked up, a 15' hammerhead was hovering overhead. I can see how Brown Pants got its name!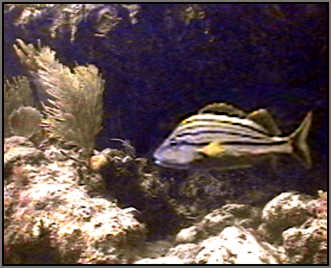 I had planned to send this report yesterday, but just as I was dialing GEnie, our modem fizzled and died (Murphy must be vacationing in the BVI)! I ran up to the office and found Eric, Peter Island comptroller and resident computer whiz, who graciously offered to let me plug into his modem! Since we are returning next week, Manager Jamie Holmes suggested that we borrow his personal modem for the rest of our vacation. Amazing how well the "no problem" rule applies at Peter Island!

Since Drakes only has one phone and power by generator, I'll be out of touch until next week - hopefully, with some good Virgin Gorda diving reports. (If the wonderful weather holds and Murphy goes away! :-)

Nov 10, 1993 SCUBA.MOM [Lynn]

We spent three days diving with Dive BVI Leverick Bay and hit a few new sites plus some old favorites. Last weeks weather was perfect with calm winds and seas - this week brought gusty winds and choppy waters. Our all time favorite site is Alice's Wonderland off GINGER ISLAND; for a little variation, we caught the east mooring and dived Alice's Steps which is slightly deeper at 90' and has the same gorgeous mushroom coral and swarms of reef fish. We then moved to the calmer north side of Ginger to do Alice's Back Door - a wonderful 40-50' dive which had more fish than we've ever seen at any BVI site! If I had to choose only one area to dive, it would have to be Ginger Island.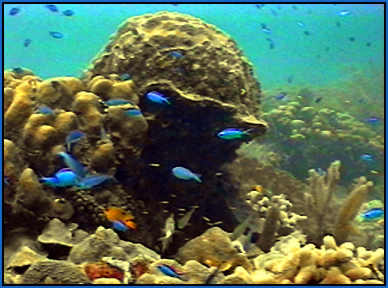 The next day, we went to GREAT DOG and anchored on the East side of the plane wreck - where the coral gardens are gorgeous. Little is left of the airplane and frankly, I thought it "junked up" the area, but perhaps mother nature will slowly cover it up with coral and sponge! We also went to AQUARIUM near The Baths - huge boulders and rocks teaming with lots of marine life... an interesting shallow dive.
We had planned to take two ferries to transfer back to Peter Island, but luckily, Dive BVI was headed that way, so we hitched a ride with Jim and Kimo. On the way, we moored just north of Peter Island and dived the RHONE'S ANCHOR (a long way from the wreck, considering that the ship broke loose and tried to make a disasterous run for open waters). Kenny had dived this with Randy last year, so armed with Jim's compass and Kenny's vague knowledge of the site, we managed to find part of the 300' long chain which is partially buried in sand between sections which snake over coral mounds. The chain links are 12" long and almost completely covered in corals. The chain and anchor are at 65' and are surrounded by huge clumps of black coral. This site is usually murky for some reason, but we managed to find some nice coral and a few fish too.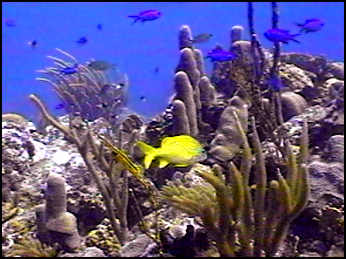 Tomorrow, we will continue to scout dive sites with another batch of the Virgin Gorda Dive BVI instructors who are helping plan the invasion of the 90 "scuba docs" who have booked the entire Peter Island resort. Dive BVI plans to have 6 boats and 16 instructor/dive leaders for the mob. I wish I could stay and see how it all goes!
Nov 11, 1993 SCUBA.MOM [Lynn]
Kenny and Randy said I passed the "no wimp diving" course today... really heavy seas and naturally, that didn't stop the Dive BVI instructors from wanting to scout the open water sites! Amazingly enough, my bonine worked (laying down and taking naps between dive sites seemed to help too :-)
BLONDE ROCK has a nice u-shaped tunnel full of little fishes, a big cavern, and lots of ledges and overhangs. Found several eels, some big angelfish and a black tipped shark. We then headed for CARROT SHOAL named for the abundance of fire coral covering the top of the 200' ridge. It has a large, low archway and some nice deep cracks and crevices which held more eels, lobster, and lots of tropical fish. Some barracuda showed up along with clouds of horse-eyed jacks and a group of spade fish, providing some excellent video footage.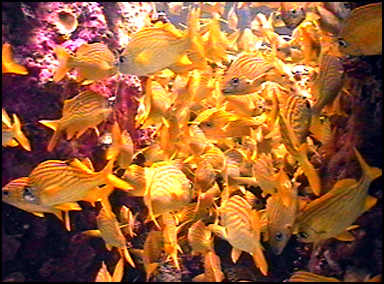 I also created a new WOWIE specialty - the beached whale exit. I bunged my knee somewhere along the line, so to reach the water level dive platform, I beach myself on it and then roll over, stick my feet up and let Kenny and Randy remove my fins! Is this personal attention or what? Don't ask how I get back in the boat with a stiff leg - it's too complicated to describe!
Nov 13, 1993 SCUBA.MOM [Lynn]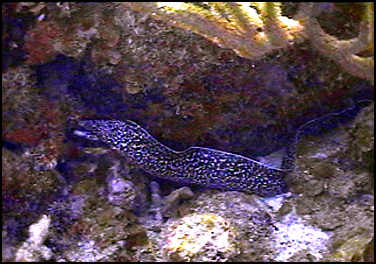 Today, some of the Dive BVI instructors from Virgin Gorda came over to scout sites with Randy and Derrylyn - Mark who runs the Little Dix operation and Kimo from Leverick Bay. Only Kenny and I signed up for the morning 2 tank run, and we all laughed that the "student to instructor" ratio of 2 to 4 was quite unusual! For us, it was underwater heaven - the four instructors, all quite adept at hunting things for us to film, found a tiny baby spotted drum, two juvenile spotted drum, turtles, spotted eels, and several rays; Derrylyn discovered a school of high hats, and Kimo found an 8' nurse shark and huge 4' long green moray eel. They also turned into underwater cowboys and rounded up several schools of tarpon and barracuda to herd in front of the camera. We have some incredible video footage!
The photo below shows divemaster Michelle, instructor Randy, ScubaMom, and instructor/manager Derrylyn. (Note - 1997 update: Randy is now manager of the Dive BVI Peter Island operation; Derrylyn has become general manager of Dive BVI in Virgin Gorda, and Michelle is at Biras Creek in nearby Virgin Gorda.)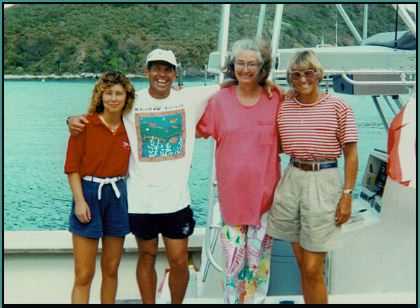 Nov 14, 1993 SCUBA.MOM [Lynn]
I am beginning to think that the last day of diving on our BVI trips has some kind of "magic" to it - we ALWAYS seem to have the high point of the vacation then!
We've been trying to go to SANTA MONICA ROCK for two years, an open water, hard to find site several miles SE of Norman Island that usually has one of the best chances to see large pelagic fish. The day was fairly calm and we had Kimo from the Dive BVI Virgin Gorda operation along to scout sites around Peter Island, a real plus since he is as good as Randy for finding all kinds of critters and interesting underwater things. [I've bestowed the WOWIE Critter Finder Patchs on both of them].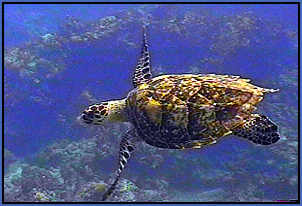 Santa Monica is a huge offshore pinnacle that rises from 70'-80' to within 15' of the surface. It is full of ledges, overhangs, caverns, and a gorgeous canyon. The marine life was excellent; Kenny was madly filming with the video camera. Just as we were headed back for our 3 minute hang, Kimo stopped at a large crevise and started waving his hands and dive light. We all finned over to see what he had found (this time! :-) YIPES! it was the Loche Ness monster of the BVI! A giant Moray eel over 5' long and 5" in diameter (not counting the dorsal fin!) Here we'd been seeing all kinds of nice cute eels all week and I had NO IDEA they came in this super size... WOWIE ... now THAT'S a moray!

We spent 5 minutes filming it from every angle - Randy grabbed the camera and practically climbed in the crevise with the thing while we all kept our fingers crossed that we wouldn't run out of film or battery power! We didn't! What a way to end a diving trip. So if any of y'all make it out to Santa Monica Rock... tell "Nessie" hi for me! :-)