02-May-96 Lynn McKamey (SCUBA MOM)
Kenny and I arrived Peter Island Tuesday night in time for dinner and enjoyed fresh Caribbean Lobster - a welcome treat after a long day of flying from South Texas. The island is lush and green, dotted with tropical flowers in full bloom.
We dived the Wreck of the Rhone today with Derrylyn, Randy, and Chuck. There were lots of snorkelers and divers on the wreck and more fish than usual - every kind and size imaginable!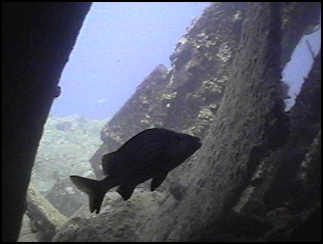 The water temperature is a freezing 79! This is the coolest the Dive BVI gang can remember it being in May. I'm wearing my fuzzy-wuzzy lined Darlexx, a hood, and gloves and am still cold! Kenny, Mr. Never Have Been Cold, is wearing his unlined Darlexx and is just fine. :-(
Peter Island is as beautiful as ever - the main beach, over a mile long, is lined with coconut palms and thatched sun shelters with hammocks here and there. Picture postcard setting and very relaxing.
03-May-96 Lynn McKamey (SCUBA MOM)
We've had good weather so far during our stay at Peter Island - still quite windy (the sailers must be loving it), but the snorkeling and diving visablity is excellent. Hubby Kenny went windsurfing today in P.I. huge Deadman's Bay and saw several huge turtles - one over 3' diameter! I found a few large iguanas sunning on rocks near the beach.
The food is excellent as usual - stunning 5 course dinners, service is outstanding. I still love the Bar-B-Q ribs at lunch, and find plenty of choices for breakfast - from eggs served many styles to pancakes or french toast plus the fruit and cereal buffet.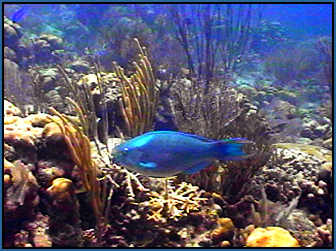 We dived Rainbow Canyon, then the Indians which had lots of snorkelers there. It's rather fun being on the bottom while being watched by those floating above. We saw Queen Angelfish, parrot fish, and four baby spotted drum - rather rare to see that many on one dive. I decided to borrow a shortie wetsuit from Dive BVI to put over my Darlexx and was finally toasty warm!
The days seem to be passing far too fast!
03-May-96 Lynn McKamey (SCUBA MOM)
Weather continues to be beautiful in the BVIs - it seems to be slightly cooler than usual this time of year, but perhaps that is from the breezes blowing off the 79-80 degree water.
Tortola visitors who are looking for great places to go for dinner should try Brandywine Bay on the East End which offers "international" selections with a touch of Florentine. Owner Davide and his wife Cele provide a lovely dining experience - guests are served sumpuous courses on covered terraces. Reservations are suggested, call 52301. The restaurant is located a short 10-15 minute taxi ride from Roadtown.
C & F Bar & Restaurant, located on the east side of Roadtown continues to be the favorite for West Indian food - call 44941.
Sugar Mill is still considered one of the best of Tortola and is located on the North Shore at Apple Bay - call 54355.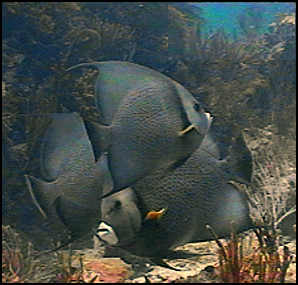 Diving was spectacular today! Clear waters and tons of baby fish. Joining us on the diveboat was Armondo Jenik, a well known underwater photographer and cameraman who specializes in shark documentaries (no we weren't filming sharks today, thankfully :-) [He worked with O.J. Simpson on the film "Frogmen" which is slightly tied up in courts and release date is unknown!]
We dived the south side of the Indians, a new site for us, and Painted Walls - there were more cameras on the boat than divers! :-) I happily found some eels and turtles to film plus a big grunt next to one of the "painted walls".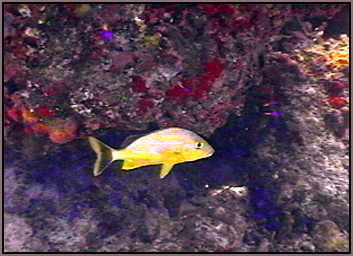 04-May-96 Lynn McKamey (SCUBA MOM)
We took a day off from diving just to hang out at the beach and absorb all the scenery.
Returning guests will find lots of subtle enhancements at Peter Island - while the resort was not badly damaged by the hurricane (we were here last November), the entire place has been spruced up. New and more signs to beaches and the many hiking trails have been added. The huge beach which lost some sand is almost filled back in (mother nature works in strange ways! :-) The optional air conditioning can turn a room into an iceberg and shower pressure can blow one out of the tub!
The same friendly and efficient staff is here, including our favorite Jean Peters, the day restaurant hostess.
The resort was full all week, but 90 guests have plenty of room here with 2 miles of beaches and 5 miles of trails to share! :-) The guests were mostly from the U.S. and all ages, plus quite a few honeymooners in the lot.
Overall we've had a great time and are reluctantly packing, but looking forward to being on Virgin Gorda next week.
I'll continue our reports from there...
05-May-96 Lynn McKamey (SCUBA MOM)
We are now at Biras Creek - hopped a ride at Peter Island on Dive BVI's big power catamaran which was captained by Julie with first mate Kimo. We made a stop at Cooper Island for lunch, did a dive, and came on to the North Sound - fun trip through the BVIs! Kimo managed to find a neat sea horse for us.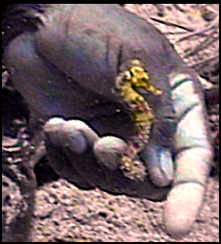 We are in one of the seaside suites with the ocean lapping at the porch - gorgeous view of the Atlantic from our room! As soon as we are settled in and see the "new" Biras, I'll do a report.
We found out that Roger "retired" from Dive BVI and has moved home to Texas to get back into the computer business. He will be missed! But we were glad to know that Kimo and Kate are still at Leverick Bay - he and Kenny love to find big underwater critters.
08-May-96 Lynn McKamey (SCUBA MOM)
Biras Creek is better than ever! The new "conference" center next to the castle is more of a delightful lounge area with a spectacular view of the North Sound! It is done with the same rock walls and soaring ceiling of the restaurant/bar area.
The suites are completely refurbished with new larger patio/porches now 11' by 14', new floor tiles, and optional air conditioning. Some of the living rooms have day beds and all bedrooms have king size beds. It has been so cool that we've left the a/c off with the ceiling fans and breeze blowing through.
Food is excellent with a menu change each night. Lobster is always available, however it is prepared differently each day. Lunch is at the beach on Monday, Wednesdays, and Fridays; the other days it is in the main dining room.
Everyone here is enjoying their stay - several couples extended their vacations (wish we could do the same! :-)

| | | |
| --- | --- | --- |
| | FALL 1996 | |
09-Nov-96 Lynn McKamey [SCUBA MOM]
We arrived at Peter Island last Wednesday and have had GREAT weather - sunny to partly cloudy skies, water temperature 82-83, occassional breezes.
Our first day of diving took us to the new "wreck" of the INGONNIS BAY, recently sunk off Cooper Island; it lies flat on a sandy bottom and already has a nice fish population settling in.
Today we went to Shark Point, no sharks but plenty of eels, small fish, and a nice spade fish - then to Brown Pants. Perfect day of diving.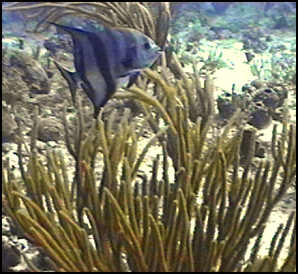 Tomorrow, Dive BVI is planning to use the fast catamaran Sea Lion to take a group of us to the Wreck of the Chikuzen 7 miles north of Tortola - should make the trip in less than 40 minutes! We are hoping for flat seas - the best way to do this site.
Peter Island is as lovely as always - we are having a great time.
Food is excellent as always! Lunch has everything from burgers to (great) bar-b-q ribs to seafood specials. Dinner has 5 courses which will have you waddling away from your table and back to your room!
10-Nov-96 Lynn McKamey [SCUBA MOM]
As planned the Sea Lion came to Peter Island and picked up 16 of us for one of the best days of diving we've had in the BVIs. Armondo Jenik and his giant underwater video camera was along with us - he's one of the most interesting divers in the BVI and loves to entertain us with his tales of filming underwater TV specials and movies. Joe Giacinto, owner of Dive BVI, also joined us and joked that he heard a rumor that he doesn't dive anymore and came along to prove that HE STILL DOES!
Despite the presence of all the divers, cameras, videos, and gear the Sea Lion had ample room for all and we actually rattled around on the fast 10 mile trip from Peter Island to the Chikuzen. The mooring was gone (let's see, in our dives there, it's had a big white mooring, clorox bottle, small blue marker, and now nothing!) ... we had to do a little hunting around for the wreck, but found it. Algae bloom had lowered vis. to only 20'-30' and we'd anchored some distance from the wreck. Amondo and I were first in the water with our cameras and I descended to almost 60' with the bottom and the wreck no where in sight! I knew the Chikuzen was at 70', so hung while Amondo surfaced to get his bearings. Hubby Kenny had joined me by that time and we followed Amondo to the Wreck. As usual, we found lots of fish including Barracuda, Angelfish (of all kinds and sizes) and a school of Tarpon.
One of the divers suddenly started waving at me and Armondo - he'd found a giant (and I mean GIANT) turtle sleeping in the wreck. We crawled into the wreck and captured some great footage, then the turtle decided to leave this batch of wild and crazy divers. What fun we had filming the turtle as it swam out to deeper waters. Great dive!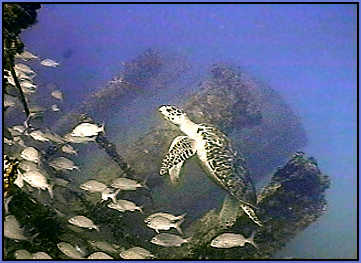 We headed back toward Tortola and Joe decided we should try LEE BAY off Great Camanoe - a new dive site for me and Kenny since it is not near the Peter Island or Virgin Gorda operations. This is a great site - ledges, tunnels, caverns, and underwater swim throughs. I'm ready to go back!
12-Nov-96 Lynn McKamey [SCUBA MOM]
Yesterday was such a hit with the divers, that Dive BVI sent the Sea Lion back over and we headed for SANTA MONICA ROCK - as I've mentioned before, this is a prime, open water dive site which requires calm seas. We saw lots of fish and enjoyed exploring canyons and ledges.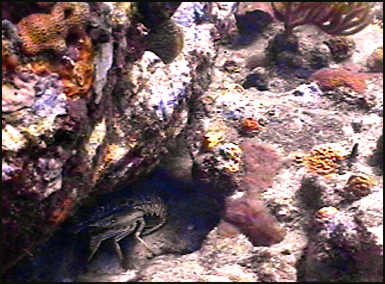 This site always seems to have an interesting "surge" at the top of the rock - during our 15 minute safety stops we can position ourselves to swish back and forth about 10' in each direction...along with the schools of fish.

12-Nov-96 Lynn McKamey [SCUBA MOM]

Yesterday after the great dive at Santa Monica, we hopped a ride to Virgin Gorda on the Sea Lion and took a taxi from the Virgin Gorda Yacht Harbor to Gunn Creek for the transfer to Biras Creek. The resort is as lovely as ever - our suite is 10' from the beach which has continuous rolling surf and is great for shore walking and shell collecting. Today is somewhat cloudy and rainy, so we'll probably spend the day at the beach under a sun/rain thatch reading books and be busy "doing nothing"! Another day in paradise...

18-Nov-96 Lynn McKamey [SCUBA MOM]

We arrived at Guana island and it's more beautiful than I remembered from our last visit. Our cottage has a big private covered porch which overlooks part of the island and St. Thomas in the distance. Kenny and I did some hiking (instead of diving) and also found one of the 6' "great iguanas" sunning himself on a big flat rock. The island is truly a tropical wonderland!

The food is wonderful - some of the best in the BVI. We'll be sadly leaving tomorrow to return to the "real world"!