Apr 27, 1994 SCUBA.MOM [Lynn]
After a late arrival at Peter Island last night, we woke up just in time to jump on the dive boat at the last minute and join 5 British divers and 3 other Americans. We didn't find out that we were headed for the Wreck of the Rhone until halfway there! (so much for starting our diving vacation with a nice shallow dive, but what better way than the Rhone! :-) Dive BVI now has a bigger boat, the Sea Cat, a 37' Bruno which comfortably holds 10 divers and has room for 4 at a time to do a front roll entry from the water level platform.
Weather was cloudy with some showers, but the dive site had good visibility and more marine life than we've seen before in our 3 previous Rhone dives - every kind of fish imaginable, a ton of BIG lobsters, eels, a cute little octopus, and a big barracuda that followed us around. Probably our best Wreck of the Rhone dive yet!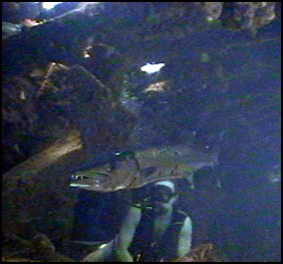 I didn't blow any hoses this time, but as I slowly drifted down to 80', I just couldn't seem to get my bouyancy right ... kept adding air here and there... decided that I'd really lost my touch after not diving for 5 months... but "leveling off" usually isn't a problem for me. Finally, I reached back and discovered my power inflator hose was loose where it screws into the B.C. I'd done most of the dive with basically NO B.C.! :-) Interesting experience - with a little less weight, I might not have noticed the problem. Kenny came over and tightened it back down and viola! the B.C. worked! Of all the things I didn't check as we packed - the inflator hoses... which we remove to wash out the B.C.s after a vacation. Well, that should take care of my "Murphy dived with me" this trip... knock on driftwood...
Water temperature is 79-80 degrees - even the Brits thought it was cold! [they proclaimed that the Red Sea is warmer]. Randy, our diveleader just returned from Indonesia, so I'll try to pry a dive report from him. More later....
Apr 28, 1994 SCUBA.MOM [Lynn]
After diving the BVI for several years, I thought we'd seen most of the dive sites, but Randy and Derrylyn managed to find two new ones - both quite outstanding!
CARVEL ROCK is located between Cooper and Ginger Islands and had swarms of baby fish. Depths range from 45 to over 80'. Our second dive was at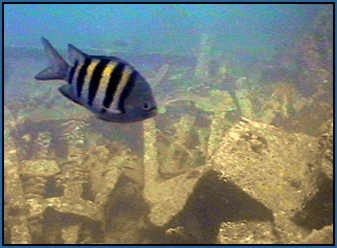 RHONE ROCK, on the southern tip of Salt Island. We caught a mooring on the south side of the rock and wound our way through tunnels, caverns, and canyons, discovering schools of fish along the way, plus several turtles. It seems to be a favorite place for eels of all sizes too. Derrylyn led a group to the shallow part of the Rhone (on the other side of the rock) and brought them back through a canyon shortcut to the dive boat. This site has several pieces of the Rhone scattered in cracks and crevises and uniquely provided a combined wreck and reef dive. The video turned out quite well!
Apr 30, 1994 SCUBA.MOM [Lynn]
Did DRY ROCKS EAST today... neat dive off Cooper Island. Besides the abundant tropical fish, a school of Atlantic Spade fish came within a few feet of us and we also found a huge moray about 5' long. Depths range from 40' to 80'.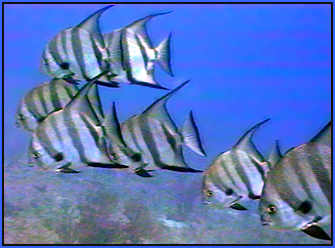 Second dive was at PAINTED WALLS near Peter Island, a great site with three wonderful canyons encrusted with colorful sponges (hence the name) full of reef life. We found many angel fish and some high hats, plus a black tip shark! The third canyon has an arch which leads to a shallow pool open to the surface. The surge action was strong, so we were sucked thru the arch and tumbled into the pool in a swarm of bubbles... a fun experience. This site is high on my list too for the "best of the BVI". (but Ginger Island is still my favorite).
May 02, 1994 SCUBA.MOM [Lynn]
We left Peter Island on Sunday morning and headed for GINGER ISLAND, home of my favorite dive sites, and did Alice's Back Steps - the east end of Wonderland. Super dive as usual with huge mounds of mushroom shaped corals. We then moved to the north side of Ginger and "jumped ship" (us, the luggage, computer, and dive gear) to the Dive BVI Virgin Gorda boat for a second dive and transfer to Drake's Anchorage Inn. We dived Alice's Back Side, one of the best shallow BVI sites for underwater photography. Pillar coral and sea fans are saturated with swarms of fish - every size and kind. This is the type of dive that the video camera should stay running from start to finish to capture a continuous flow of marine life. Going to be a hard one to edit down to managable size! :-)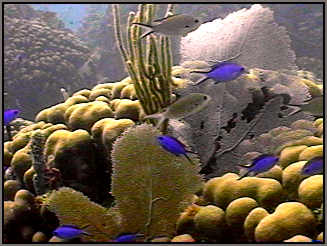 Dive BVI dropped us at Drakes - known as "The Complete Escape" - I call it barefoot in Paradise! 10 rooms, two villas; 28 guests (max.) on a 125 acre island with four lovely beaches, super snorkeling, and gourmet meals. Last night Kenny had a big, fat Caribbean lobster and I had a filet mignon with a sauce of cognac, cream, and peppercorns. We need to dive just to work off all these calories!
My thanks to Albert, manager of Drakes, for letting us use the office phone to bring you this "wish you were here" report.
May 04, 1994 SCUBA.MOM [Lynn]
Kimo piloted the dive boat through huge waves to reach MARKOE POINT on the south side of Cooper Island today. We had to anchor since there was no mooring, but it was a great dive and we saw lots of big fish.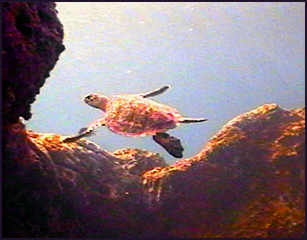 We then moved to Carval Rock and found several turtles and a huge pufferfish. Kimo spied a big eagle ray and he and Kenny took off after it. Glad I finally got Kenny his own dive computer so when he and Kimo go off on these underwater "jaunts" we can keep up with his profile! :-)
May 05, 1994 SCUBA.MOM [Lynn]
Tuesday we went to TOW ROCK, an 80' deep pinnacle which rises to within 15' of the surface, located in open waters between West Dog and Great Camamoe. It is not marked with a mooring since currents are often strong and it is best and most safely dived with a local operator familar with the site (not to mention one who knows how to find it!). This dive site is one of my favorites.
Floating down, we passed several large lobsters, singular and in pairs. Under a deep ledge, Kimo found a 6' nurse shark, who suddenly felt trapped by all these beady eyes peering in. I had the camera rolling and immediately started backpeddling before it decided to come right at me, which it did, swooping off to my left and I have a perfect shot of nose, side, and escaping shark! :-)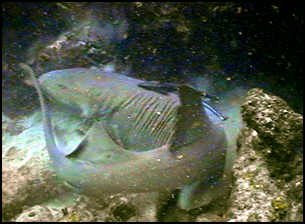 We then found a bright yellow seahorse at 70' - seemed like a deep home for the cute little thing. A school (no kidding) of a dozen french angelfish darted by and then a huge spotted eagle ray joined this underwater party! A turtle greeted us on the way up for a perfect ending to a great dive.
Note: next message is from Julie Swartz of Dive BVI
Jun 05, 1994 DIVEBVI [Julie]
Hello All -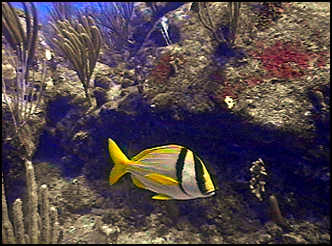 Thought we would drop a note to let you know that it's still sunny and only about 85. Water temp is up to 82 - for those of you hanging out in the cold. Yesterday's dives started on top of a wreck, 120+ vis. Reef shark led the dive followed by various schools of pelagics, all observed by a colony of garden eels and me and Roger. 2nd dive was a little less dramatic only a big school of African Pompano, permit, bugs, a porkfish, and four or five types of morays. Don't want to make anybody drool - but if you feel like coming to our neighborhood don't forget to call us.
Julie
Jul 23, 1994 SCUBA.MOM [Lynn]
Those planning to go to Virgin Gorda, BVI anytime soon need to be aware that Sun Aire, the major communter airline in and out of that island, has ceased service as of last week (may be just as well... the plane we flew on in May was a winged "African Queen" with a VERY hung over pilot). This leaves only St. Thomas Air, a small commuter, with service to Virgin Gorda.
Presently, the only other options are to fly American Airlines Eagles or LIAT into Beef Island Tortola (EIS) and take a public ferry to Virgin Gorda (15-20 minute ride), or fly into St. Thomas (STT) and use the inter-island ferry system (ride takes a little over an hour).
I've uploaded a web page with some information about the Virgin Islands Ferry systems and some ideas on getting around. I usually have a current ferry schedule on hand, so if any of you need further information, let me know.

| | | |
| --- | --- | --- |
| | FALL 1994 | |
Oct 23, 1994 SCUBA.MOM [Lynn]
The edge of a tropical wave is passing over us so skies are cloudy with rain showers ... seas are rough, but despite all that, we had visability of over 100' on our dives today! Saw a "school" of queen angelfish with sizes ranging from cute small babies to some absolute giants! Plus gobs of Bermuda chub.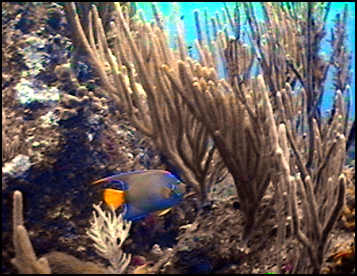 Oct 25, 1994 SCUBA.MOM [Lynn]
We are at Peter Island Resort until Thursday when we will transfer to Biras Creek resort in Virgin Gorda. Dive BVI has an operation here and also at Leverick Bay, near Biras. Because of the vast size of the British Virgins, it has several different diving regions. Staying in two different areas gives us an opportunity to dive many different sites and no two are alike!
We went to Alice's Wonderland today, my favorite BVI dive and then stopped off at Dry Rocks East, always a good dive with lots of High Hats which are ALWAYS under a big rock at the beginning of the dive, spotted drum, and tons of tropical fish. Saw an eagle ray and southern ray too. Water temperature is 84 - just delightful! Most of our dives last more than 50 minutes, so we are getting a lot of good video footage.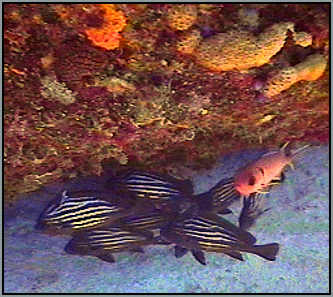 Divers Alert Network just celebrated their 25th anniversary with a 6 day conference here at Peter Island. Dive BVI used four of their boats plus one of Blue Water Divers to handle 70 scuba docs and medical persons who attended the event! Lectures and case presentations were during mornings and 2 tank dives were done during the afternoons. Manager Derrylyn said that 55 participated in the largest bunch-OF-divers night dive ever done in the BVI - each boat went to a different site including Painted Walls, The Indians, Coral Gardens, and the Rhone. Peter Island is a corporate sponsor of DAN.
Oct 25, 1994 SCUBA.MOM [Lynn]
The weather finally cleared yesterday ... back to partly cloudy skies with an occassional shower. Guess we need to shift our vacations back to early November! I asked Dive BVI how many diving days they miss a year due to bad weather and the reply was only one or two! As with our first day here, as long as you can ride out the swells getting to the site, once the divers submerge, the dives can be quite calm and good. Plus, the many scattered islands of the BVI have lots of coves or somewhat protected choices... the trick is finding a spot with good vis. Chuck seems to have a nack for finding those, thankfully! He herded a turtle in front of my camera today for a very nice picture.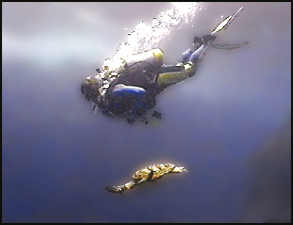 Oct 31, 1994 SCUBA.MOM [Lynn]
WOWIE - what a day of diving! Julie and Roger picked us up in Dive BVI's latest addition to their fleet of boats - the Sea Predator, a 31' Bertram that is a super fast "6-8 pack"! We zipped around Drakes Channel and hit Carval Rock first... found lots of sponge and coral, turtles, spotted eels, a nice big moray, lots of queen angelfish, and a cute flounder that floated from rock to rock while changing colors in front of my video camera. Also saw a weird hogfish.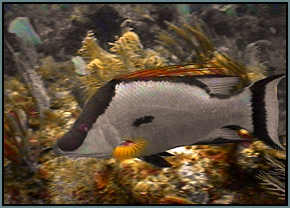 We went to DRY ROCKS EAST for the second dive and Julie found AN OCTOPUS (!!!!! :-) plus more eels, rays, and a flock of spotted drum. Some Atlantic Spadefish and Horse-eyed Jacks drifted by as did several barracuda. Saw a great Queen Triggerfish too. As Roger said, the only thing we didn't see today was a shark! We stopped at Cooper's Island for lunch and then zipped back to Virgin Gorda.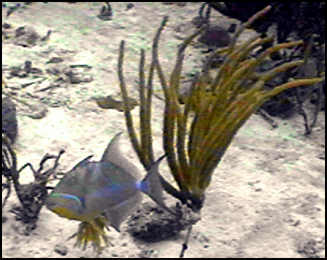 Our suite (all the rooms have a bedroom and sitting area) at Biras Creek is only 25' from the beach, located on the Atlantic side of Virgin Gorda. We wake up to a gorgeous sunrise and watch the pelicans dive for food in the surf. Another beach - more of a lagoon for swimming and windsurfing - is located a short bike ride (or pleasant walk) at the other end of the property. Nature trails for hikers abound, some through wooded areas, while others go up and over the steep hillsides which surround the resort (not for me gang, I didn't bring my hiking shoes! :-) All in all, it's a wonderful getaway resort - very secluded and remote.
Nov 02, 1994 SCUBA.MOM [Lynn]
As always (don't ask me why), our last day of diving was one of the best! The seas were flat so we headed for wide open waters and the Wreck of the CHIKUZEN, located about 7 miles north of Virgin Gorda and marked with a clorox bottle! (some mooring... if you don't know how to find it out in the middle of no where, you're out of luck :-) Kimo, one of our favorite divemasters and known to search out creatures of the deep, had no problem locating it, and I was the first in the water. Kenny handed me the video camera and I began descending... right through a huge school of barracuda, all eyeing the silver rim of the housing! I was rather glad when the rest of the gang began to join me... more bait for the nasty looking critters!
As usual, the wreck site had TONS of fish. I swam around the side of the old freighter and came face to face with a whole glob of them.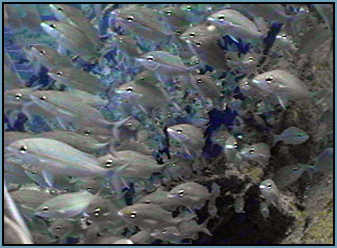 Off to the side of the wreck, a huge southern ray was sleeping in the sand. Kimo eased up behind him and away he went, right toward the camera! I held my position as he flew under me, then twisted around and filmed his escape. The video is great... these two huge eyes completely fill the screen! The Wreck had tons of fish flowing over, through, and around. Huge yellowtail snappers followed me around... no doubt some other cameramen have been feeding them! All too soon, it was time to start our ascent... right back through the barracuda!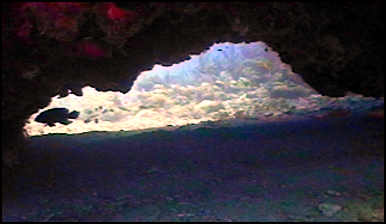 Our second dive was at George Dog Wash Rocks. Again, I was the first to descend and noticed a huge tail under a tunnelled ledge. I eased down and discovered that it was attached to a huge 300# grouper! Madly turning on the video camera and getting into position, I played a game of standoff, and finally he decided to drift past me. I followed him around the reef and under another overhang. Suddenly, I felt something BIG charging past my right shoulder! A 7' nurse shark had been sleeping nearby and decided to join the grouper! What a surprise! No, I didn't come unglued and mess up the shot (but it's a wonder I didn't! :-) What a dive!
I must say that on this trip we actually saw at least one of EVERYTHING we've ever wanted to see. Now, if I can just find the time to edit through 8 hours of tapes for all the good shots.