Apr 27, 1995 SCUBA.MOM [Lynn]
The weather is gorgeous - sunny skies with cool breezes and 80 degree water! We went to the Wreck of the Chikuzin in open seas 7 miles NW of Virgin Gorda and NOW marked with a tiny ocean blue mooring - no problem for Dive BVI Roger who set a course and came within 30' of it when he finally powered the boat back! :-) [an amazing feat for anyone who's tried to find this site on their own]. As usual, the site had swarms of barracuda escorting divers to the wreck which was full of tons of fish, including angelfish, snappers, and a huge school of big Atlantic Spadefish.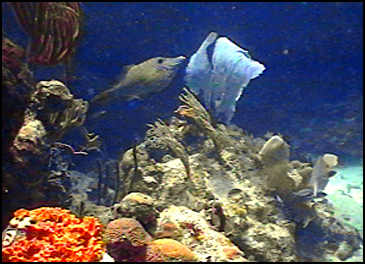 We stopped off at JOE'S CAVE on the way back and found lots of copper sweepers adorning the depths plus a neat filefish.

Apr 28, 1995 SCUBA.MOM [Lynn]

We dove with two French, two English, and one American today - a multi- cultural day! :-) Did MARKOE POINT for the first dive (off Cooper Island) and saw turtles, giant lobsters, and a huge 5' eel. Good dive there as usual. Then did Alice's Backside off Ginger, one of my favorites - has most of the coral and sponge types found in the BVI there, plus lots of colorful fish.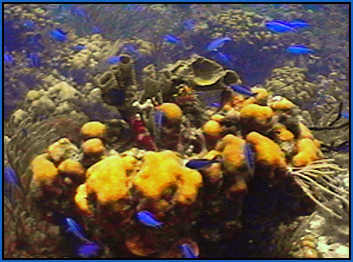 The video camera went on the blink (why couldn't it have waited until the last dive of the trip? :-( so guess we'll be diving without it unless I can talk Roger out of his! :-)
Apr 30, 1995 SCUBA.MOM [Lynn]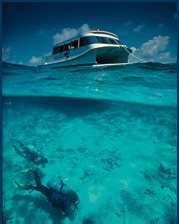 Dive BVI just added a new boat called the Sea Lion - a 45' high clearance catamaran which does over 25 m.p.h., holds 10-12 divers and can zip around the BVIs to do a day of three dives, plus lunch. Really neat boat and perfect for a group of advanced divers wanting to do some remote divesites! Also does an all day snorkeling tour to Anegada (includes lobster lunch! :-)
We dove Seal Dog and the Chimney yesterday - crystal clear waters, visibility over 100', great weather still holding! Saw tons of Angelfish - all kinds, all sizes. Roger thinks the humidity got to the camcorder, so we are busily using the blow dryer on it and plugging it in to see if that will dry it out. Actually, a day or two of diving without it was rather good, I'd forgotten what scuba was all about when not looking through a viewfinder!
We switch to Little Dix Resort tomorrow... the dive boat picks us and our luggage up and then drops us off at the end of the dives - nice way to transfer resorts, no? And we don't miss a day of diving that way! :-)
Apr 30, 1995 PALM.MOM [Lynn]
Today we went to TOW ROCK, so called because the gentle current usually "tows" you along as you circle the underwater pinnacle formation. It's an open water dive near the Dog islands and has a good array of fish and critters.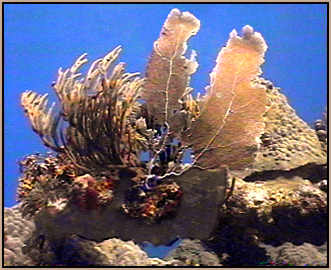 Our second dive was BRONCO BILLY off the tip of George Dog island which is now one of my most favorite sites (after Ginger Island)! This one features a little bit of everything - arches, canyons, ledges, a cavern which gives the site it's name... if you hang in the middle of it, the surging current gives you a great "ride" like a bucking bronco! :-) We then passed through a second series of canyons, overhangs, and an arch. Neat dive! Lots of lobster, high hats, spotted drum, angels, and many anemones. Definitely a place to come back to since it's impossible to see it all in one dive!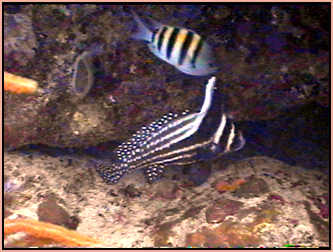 May 02, 1995 SCUBA.MOM [Lynn]
Yeah, the scuba ghost definitely "did in" the camcorder... oh well, better that than a hose! (knock on drift wood - the dives ain't over yet).
Monday we went back to the Dog islands and did "COCKROACH Island" - didn't see any cockroachs at 70', but did find a nice spotted eel and all kinds of schooling fish. Second dive was at Coral Gardens near the airplane wreck - a great shallow water dive with mounds of mushroom shaped coral and globs of tropical fish everywhere. A giant barracuda followed us around for awhile - he seemed out of place amongst the small tropical fish.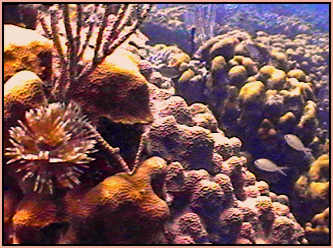 We are now at Little Dix, best described as "manicured", perfect surroundings, not a blade of grass or palm frond out of place with armies of gardeners everywhere. (what a shock after quiet little Drakes) The Monday night buffet had everything imaginable, including crab legs and crawfish! The best thing though is that the dive boat doesn't arrive until 9 a.m., so we have an extra hour to laze around and eat breakfast.
Mark of Dive BVI runs the Little Dix dive shop and does lots of Introduction to Scuba "resort courses". We dived with Mark at Peter Island last year when he was over scouting sites for some of the big dive conventions there. He's a "Brit" who has dived the Great Barrier Reef and spent several years at the Caymans before settling in the BVIs.
May 07, 1995 SCUBA.MOM [Lynn]
We did the Wreck of the Rhone (once again) today - vis. was about 100+, waters were very calm, but a stiff current was running. I'm always amazed that there are so many different kinds of fish hanging around - you'd think the mobs of divers would chase them away! The yellow tail snappers are ALWAYS there along ... looking for a handout, natch! A Sergeant Major thought about nibbling on my camera too.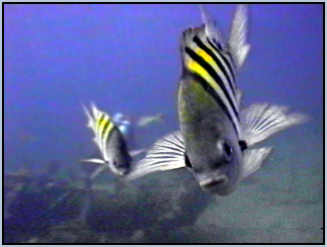 Another great day of diving in the BVI...


| | | |
| --- | --- | --- |
| | SUMMER & FALL 1995 | |
Jul 22, 1995 SCUBA.MOM [Lynn]
Greetings from Peter Island, BVI! Our daughter Koko (Corinne) has never found the time to do any continuous diving, so we thought we'd come down here so she could dive for a week and fine tune her scuba skills with the helpful Dive BVI crew!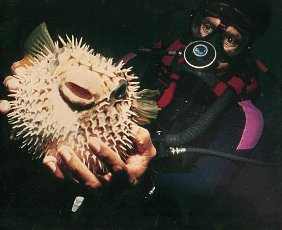 Our Great Lakes wreck diving & underwater photographer friend from GEnie, Bob THE.COUNT and his wife arrived here last Saturday, so we've had two days of diving so far! We need a bigger boat to hold all Bob's photo equipment (I wonder how he got all that stuff down here?)
Bob is easy to see - just look for the diver with a bright yellow pony bottle attached to his BC (he calls it his "buddy") One of the girls in the dive shop thought it was his "regular tank" and was amazed at how good his air consumption must be! He has the habit of finding some little creature and spending what seems like hours trying to snap just the right photo! We leave him and his pony bottle behind, but stay within "seeing his bubbles" distance. (That's Bob in the photo with the big puffer fish.)

Jul 26, 1995 SCUBA.MOM [Lynn]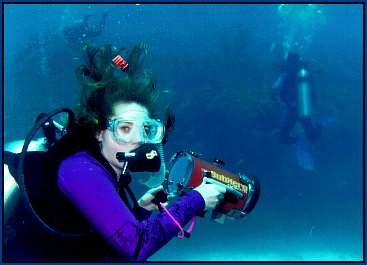 Interesting Moon jellyfish this time of year - everywhere and in every size from babies to big ones! Gorgeous things pulsating around and made our "safety hangs" go far too fast. Also found an octopus who danced around a big rock for us, plus lots of eels and turtles this trip!
Koko did a good job filming some good underwater shots with our SubXero Housing.
Weather is definitely "tropical" - partly cloudy, steady winds, water temperature a nice toasty 84 - 85. It's hot enough during the day and evening that we are glad that our rooms have air conditioners.
As usual, Peter Island is great - food is outstanding, beaches gorgeous, lots of trails for Koko to hike [while I'm taking that after dive nap].
Nov 02, 1995 SCUBA.MOM [Lynn]
We are back once again in the British Virgin Islands! I'm happy to report that the hurricanes did little damage and brought some much needed rain to the area which is now quite lush and green.
We arrived at Beef Island airport and took the ferry to Drakes Anchorage Inn in the protected North Sound of Virgin Gorda. The resort is fine and only lost a few trees here and there. (the food is better than ever :-) Leverick Bay and Bitter End are nearby and are open for business as usual. Biras Creek is undergoing extensive renovations (planned before the hurricanes blew by) and will open on schedule January 19th. We dived with a couple staying at Guavaberry near the Baths and they reported that everything is O.K. there. To my knowledge, the only Virgin Gorda resort closed from the storms is Little Dix which may not reopen until March - they are replacing all the "perfect country club" landscaping on the extensive grounds and planning to reopen as a "family style" resort, instead of a hideaway of newlyweds and retirees.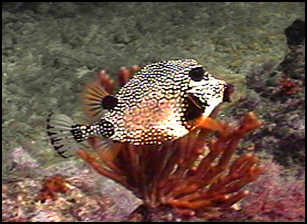 We've done 6 dives so far and the sites around the Dog Islands and off Virgin Gorda show no ill effects from the storms. In fact, we are finding more fish, turtles, and eels than we saw last May. Water temperature is a delightful 84 degrees! :-)
Nov 06, 1995 SCUBA.MOM [Lynn]
We made it to Peter Island on Friday - it reopened last Wednesday after a month or so of minor storm repairs. Some of the largest trees were "pruned" by the hurricanes and the beach is slightly narrower, but other than that it looks the same as ever. We are amazed at the profusion of flowers everywhere. Trees and plants we've never seen bloom before are a mass of colors and are really responding to the tropical rains.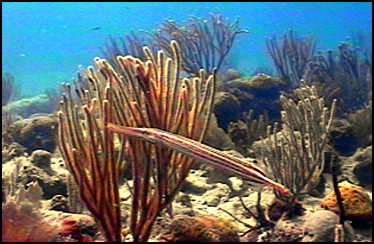 Kenny and I were the first divers here since the storms and re-opening and everyone was anxious to head out and see how the dive sites faired. We went to Angelfish Reef first and then the Indians, near Norman Island. Randy and Chuck noticed a tiny bit of damage here and there, but generally everything looked good. There's a strange moss growing on the sea floor which we've never seen before... Randy said it is from the rocks being tumbled from the storm surge and "algae" gaining a new foothold... looks like a fluffy carpet everywhere.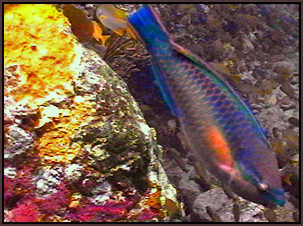 We dived Rhone Reef today. Lots of turtles, eels, and fish everywhere... especially parrot fish -- plenty of underwater life!
We'll switch to Guana Island Wednesday and see how it faired the storms.
Nov 12, 1995 SCUBA.MOM [Lynn]

We dived the Thumb off Cooper - amazingly a dive site we have't seen before! Water temp dropped to 82 during our trip ... (chatter!)
A few Moon jelly's were still around from the summer - strange, I've never seen them before this late in the fall.

Guana Island was interesting - probably the prettiest island in the BVI with miles and miles of hiking trails to 400' and 800' peaks (no, I don't hike much but Kenny does). Food was outstanding, views were tremendous, rooms elegantly rustic, large and comfortable. Like being at a 15 room Bed and Breakfast sitting in the middle of a huge nature preserve. There's no scuba operation on site, so divers must be taken by short boat ride to either Marina Cay or Cooper Island to connect with a dive operation.