Continuing along the way, we came to the long sparkling "secret beach" on White Bay shown below which can be reached by serious hikers, bikers, or a short complimentary van ride. Snorkeling is quite good near the far end of the beach off the cluster of rocks. Iguanas can often been seen in the foliage too.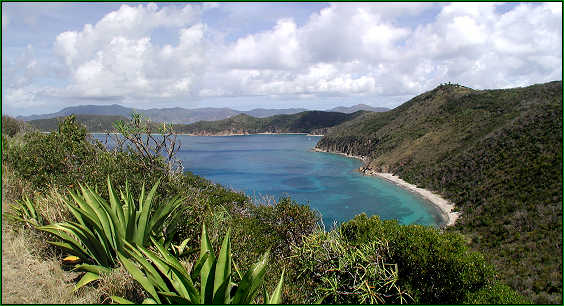 Those who plan to spend some quiet time at White Bay, can have a picnic lunch packed and arrange a van ride to take and pick up at whatever time requested. What a wonderful way to spend the day - almost alone in paradise!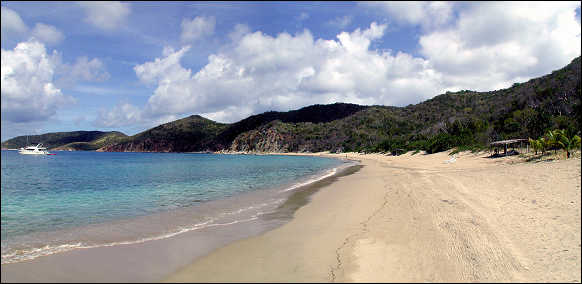 So, what is there to do on Peter Island besides swing in a hammock, eat, swim, relax on the beach, sail, windsurf, bike or hike over 5 miles of tropical trails, snorkel, play tennis, take horticulture or guided tours around the island?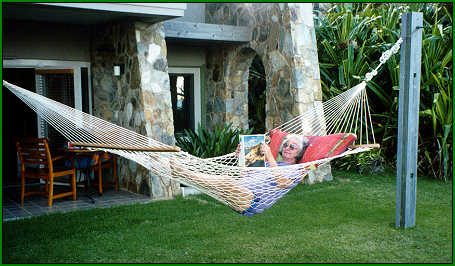 How about island hopping? One of the Peter Island Ferries makes seven daily trips to Tortola if you'd like to visit Road town, capital of the BVI, or for a nominal fee, you can sail around Peter Island on a yacht, do a day or sunset sail on a 48' Catamaran, take a motor yacht to St. Thomas for a day of fabulous shopping or golfing on Tuesday, or for a day on Virgin Gorda to snorkel the famous "Baths" on Thursdays!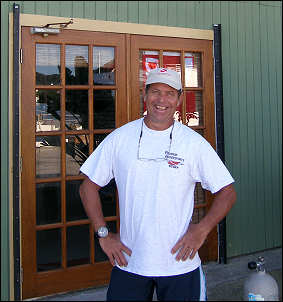 Peter Island has a full service dive shop conveniently located in the yacht harbor and offers 2 tank morning dives from 9:30 a.m. to 1 p.m., 1 tank afternoon dives, special snorkeling trips, an afternoon "resort course" introduction to scuba, and multiple-day scuba lessons for those wanting to become certified. The staff also provides complimentary snorkeling equipment to guests during their stay. I consider this dive operation and its manager Randy Keil to be one of the best in the Caribbean. Don't miss diving the Wreck of the Rhone or snorkeling Norman Island's Caves with him!

Silmaril, a luxury 41' teakwood sailboat crewed by Paul and Judy Rydburg, will take guests on day sails, sunset cruises, or overnight sails in conjunction with the Ashort/Afloat resort package. Kenny and I enjoyed a 1/2 day sail with them to Norman Island to snorkel the caves, visit the beach bar, and check out the floating bar WillieT. Great fun and a wonderful way to see some of the other BVI islands! You'll find them in the harbor.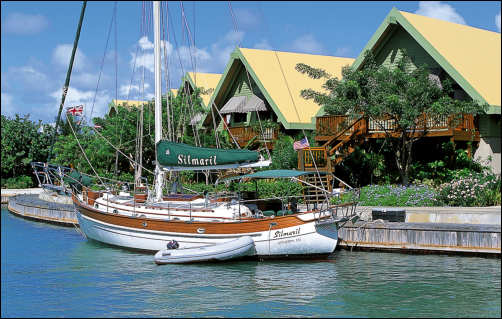 Peter Island's guest desk will be happy to arrange personalized day sails, deep sea or sports fishing, whale watching in season, or custom cruises of the islands. Enough to keep someone busy for days, if not weeks!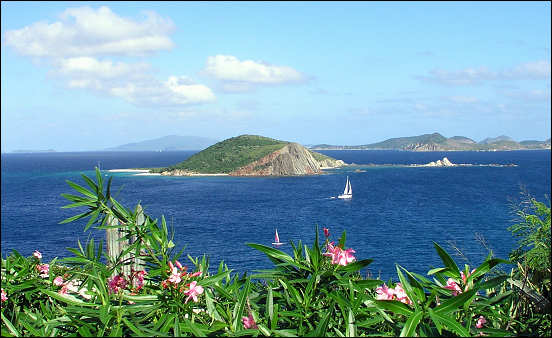 THE SPA


Guests can be pampered with massage, facials, body wraps, and aromatherapy at the new Peter Island Spa. Set at the edge of Big Reef Bay, it features 10 treatment suites, a pool, waterfall, terraces, and lovely gardens. Palm lined nature trails for relaxing walks are nearby.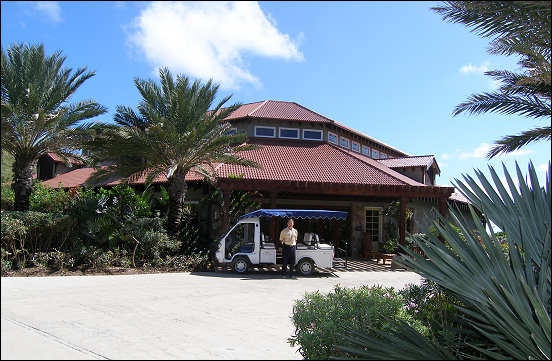 The main spa building embodies an aura of complete relaxation with soothing colors and unusual modern accents.


Reception


The reception area leads to men and ladies locker rooms and a lounge area. The ladies locker room consisted of a long hall with toilet stalls on one side across from wash basins and two makeup counters.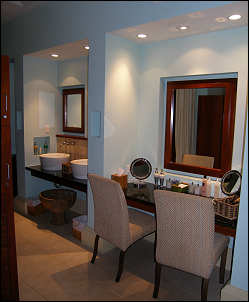 Further down the hall was a small locker area across from two showers and next to a large steam room. Each locker had a thick robe and rubber sandals. The only thing I found lacking was any type of private changing rooms. Four of us were in the locker room together wondering how to strip and enter the shower or steam room without being completely bare at times. We finally managed by taking turns in the one locker room. Most fine spas have several private changing rooms, some also containing a shower. I suggest that those who want a bit more privacy simply wait until you reach the treatment room - some have a shower and plenty of space for changing into a robe or back into clothes or bathing suit.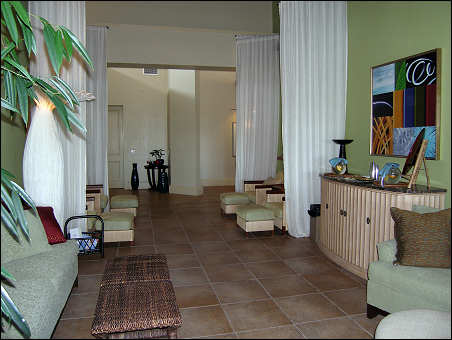 Guests waiting for treatment are shown to a contemporary lounge area with comfortable chairs, soft lighting, pitchers of liquid refreshment and some very heart-healthy dried fruit and nut snacks. The masseuse will come forth and escort you to the treatment room.

Probably the most intriguing part of the spa experience is deciding which of the wide array of treatments to have! Maybe the Thermal Sand Bundle massage, or perhaps the Fresh Coconut Rub ... or how about the Caribbean Coffee Polish? Bogged down with choices, I finally settled on a plain old deep tissue massage since I have one each week at home and my leg muscles were begging for some tender love and care after hiking up and down the hills of Peter Island. I had Liz who has been soothing my muscles in the BVI for the last 4 years. The treatment room was spacious and contained a massage table and shower. I returned for a reflexology treatment with Liz, who definitely gave me "happy feet"!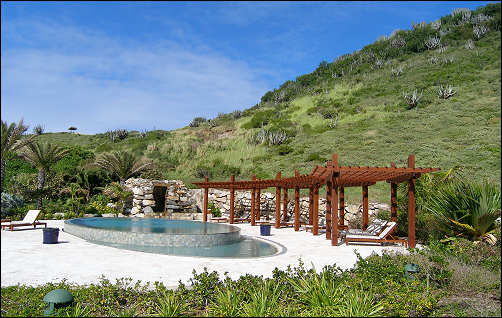 After our massages, hubby and I met on the pool terrace to enjoy the views and surroundings. We've always loved Big Reef Bay, visiting it many times long before a spa came to be on this special spot. We both thought that the lovely pool and gardens enhanced the vista even more so.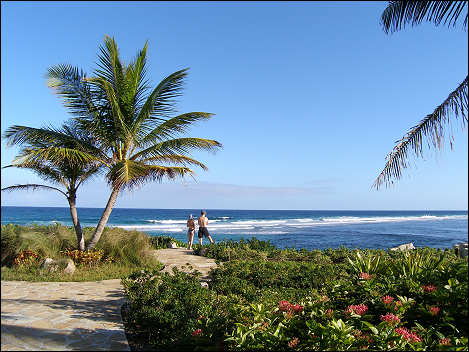 Couples wanting the ultimate experience can reserve one of the two private Bohios which feature two massage tables, a large hot tub, and seaside deck with two lounge chairs.



Our favorite place at the Peter Island Spa was the hot tub terrace with two lounge chairs and soothing music that magically drifted up from the tropical foliage. Set at the very edge of Big Reef Beach, we could easily spend the day here watching the waves, the sailboats drift by, and the birds flying overhead.

OTHER DETAILS


For those who are a little jittery about being too far away from the "real world", a condensed FAX version of the New York Times and UK news is waiting on your breakfast table each morning and includes just enough news to keep you up to date, but not ruin your vacation! The nearby, poolisde Club Room has satellite television in addition to internet computers.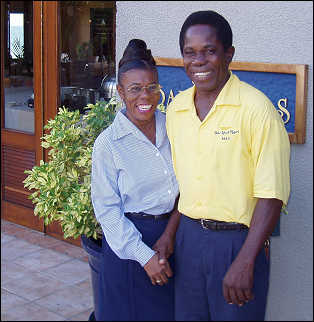 The staff is outstanding and many have been with the resort for decades. Jean Peters, the breakfast and luncheon hostess, has a smiling efficiency that's hard to beat. Benji who is over guest services has been with Peter Island since 1972 and wrote a book called "A Place Like This" about his experiences and love of the island - copies can be purchased in the gift shop. They are shown in the photo to the right. Benji recently retired and all of us former guests will really miss him!

Everyone from the van drivers to the gardeners is friendly and delighted to help make your visit enjoyable. You will be greeted and served with lots of warm smiles from the staff during your stay.
Peter Island is one of the few resorts in the British Virgin Islands which has its own fleet of ferries and can provide prompt, effortless travel to and from the Beef Island airport on Tortola or a taxi ride to their Road Town yacht dock, no matter what time planes arrive or depart. Many other BVI hotels are at the mercy of public ferry boats which run only during the day and have limited weekend schedules. Because my husband and I must make several airline connections from South Texas, we usually arrive on the late Beef Island flight around 9 p.m. After a 14 hour, long day of travel and tasteless airline food, we are always delighted to find a lovely sandwich tray with beverages waiting in our room upon arrival.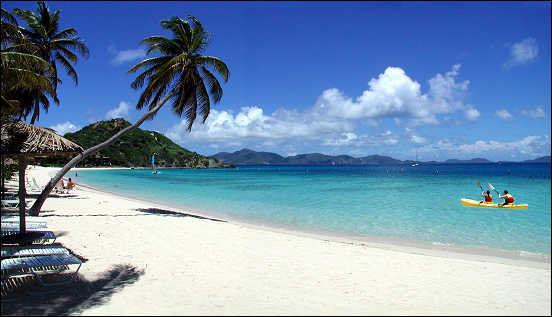 Want a sailboat lesson? Just ask for help at the beach hut. Need an extra roll of a certain film? If the gift shop doesn't have it, they will try to bring it on the next ferry run from Tortola. Don't want to walk over the hill to reach the restaurant or hike to the spa? Call for a van. Thinking about a day or sunset sail on the Silmaril? Simply ask at the front desk. Wonderful staff; exceptional resort; outstanding vacation. One you won't soon forget!