PETER ISLAND revisited
Revisited? Why not search for new places to go? We do, but are often drawn back to Peter Island since we've yet to find another full service resort with activities, gorgeous beaches, and exquisite cuisine which can surpass this one.

Peter Island is centrally located in the BVI, south of Tortola, west of Virgin Gorda, and east of the U.S. Virgins. This prime location is also set in the middle of some of the best scuba and snorkeling sites, quickly and easily reached by dive boats and day sails. The resort also has its own fleet of motor yachts, one which makes 7 trips a day between Peter Island and Tortola, another does a day trip to St. Thomas on Tuesdays and Saturdays. Guests will find lots to do both on the island and throughout the Virgins while staying at this resort. Or, they can simply choose to stretch out on a beach chair and enjoy being surrounded in tropical splendor.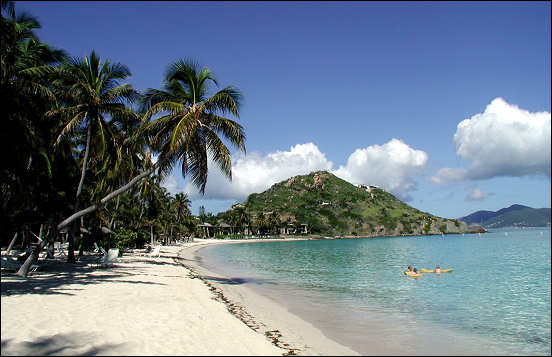 Unlike many hotels which often share the same crowded seashore with others, this one resides on it's own 1800 acre island and has two of the most outstanding beaches in the Caribbean. The resort is relatively small, only accommodating 100 guests, meaning lots of personal attention if you so desire, and plenty of open space without mobs of other vacationers and tourists vying for the same activities, spot on the beach, or a dinner table only an elbow away.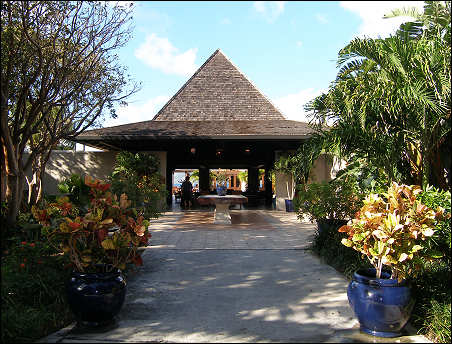 The lovely main pavilion near the docks holds reception, lobby, bar and lounge area overlooking the pool and ocean, and the elegant Tradewinds restaurant where breakfast, afternoon tea, and dinner are served. WiFi is available in this area for those with laptops.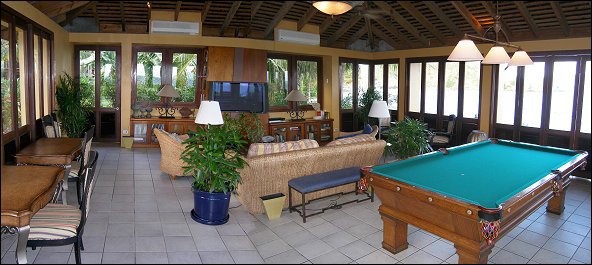 A Club Room is beyond the pool and contains books, TV (usually tuned to CNN), pool table, internet computers, and comfortable furniture for relaxing with views of the gardens, the sea, and Tortola in the distance. Ocean view rooms set in a colorful garden form a half circle around the pool area.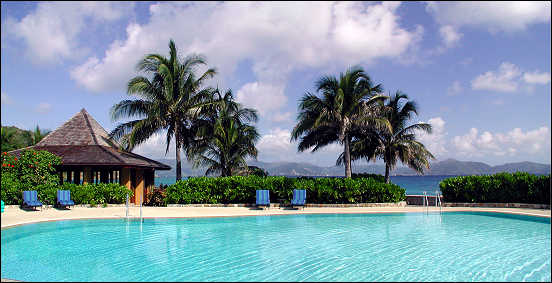 Several types of accommodations are offered - all with telephones, ceiling fans, and air conditioning for those who prefer it. Each room has a mini-bar, coffee maker, CD player, clock radio, toiletries, hair dryer, and bathrobes.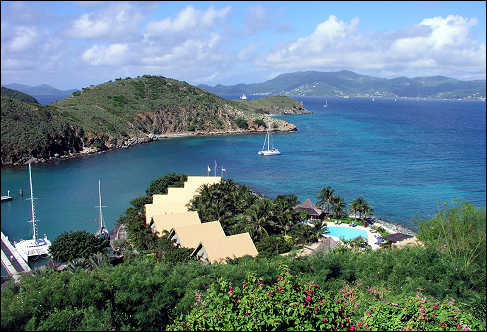 Ocean view rooms, four to each A-frame structure, are near the yacht harbor and main reception/dining room, and overlook a garden, the free-form fresh water pool, and Tortola in the distance. These lovely rooms accented with tropical decor are large with full bathrooms (shower/tub), two twins or king bed, lots of closet space, and a sitting area with two chairs and a table.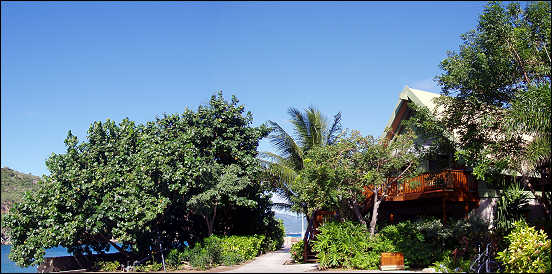 Upper units have a balcony with an impressive vista, especially at night when the lights of Road Town glow in the distance. Lower units, slightly larger than the upper ones, open onto a shaded patio and the garden pool area.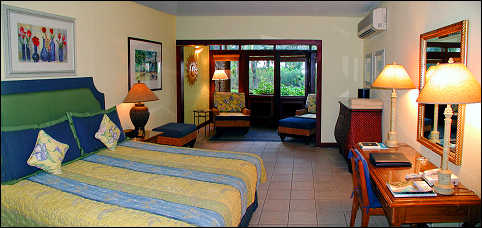 These rooms would be very convenient for guests who want to be near the pool, main restaurant for breakfast and dinner, early morning coffee (served in the lounge) and afternoon tea. The harbor is nearby with easy access to the dive boat shop, Tortola ferry, and Silmaril sailboat that offers day and sunset sails.



Beach Front accommodations are located a short distance (4 minute walk over a hill) away on Deadman Beach - a mile long curving strip of stunning white sand dotted with palms, thatched sun shades and lounge chairs for guests, all highlighted with colorful tropical plants. Nearby is the seaside bar & grill, fitness center, and watersports hut.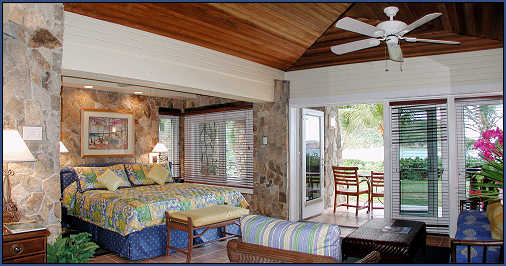 The Beach Front junior suites are spacious with a king bed, desk, sitting area with sofa and chair, two ceiling fans, and a huge bathroom with long double basin counter top and a big shower area leading to an impressive 2 person soaking tub/Jacuzzi with a view of the ocean.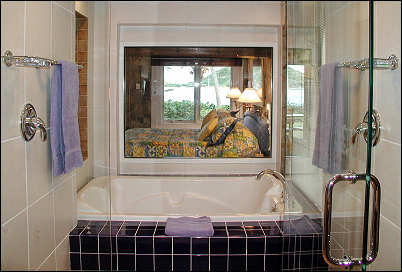 Each beach side building has four suites - first floor units open onto gardens and hammocks a few steps from the beach; second floor units have private balconies with a fabulous view of the bay and the islands beyond. These suites are located at the west end of the shoreline and a boardwalk/sunning deck leads to the main part of the beach.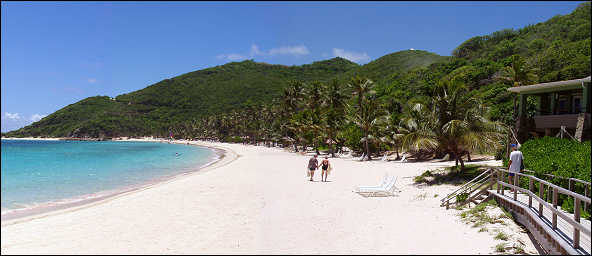 Families or couples traveling together may prefer one of the two hillside villas. The Hawk's Nest Villa, with a sweeping vista of the harbor, bay and beach, has three bedrooms and baths with two person Jacuzzis, living room, kitchenette, private pool and sun deck.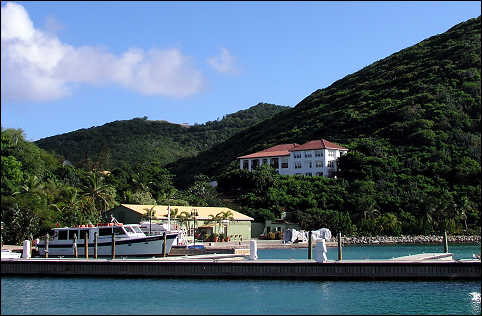 The Crow's Nest Villa which accommodates up to eight guests is atop a higher hill. This grand manor has a huge living room, adjoining dining room, sitting areas, and garden room. Four bedrooms each have an ensuite bath with two person Jacuzzi. A large terrace with a dipping pool provides a stunning 180 view of the neighboring islands. A separate patio has a large private pool surrounded with deck chairs. Take the links at the bottom of the page to see lots of photos of Crows Nest and Hawks Nest too.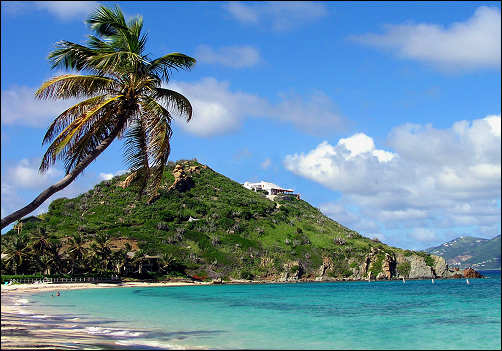 Dining at Peter Island is a pleasurable experience. Early birds will find coffee and tea in the reception area at 6:30 a.m. Breakfast is served from 8:00 to 10:00 in the main dining room and features a huge juice - fruit - pastry buffet, omelet station, plus a full breakfast menu. We especially enjoyed the French Toast dusted with toasted coconut. Guests may also choose to have a Continental Breakfast delivered to their room or suite.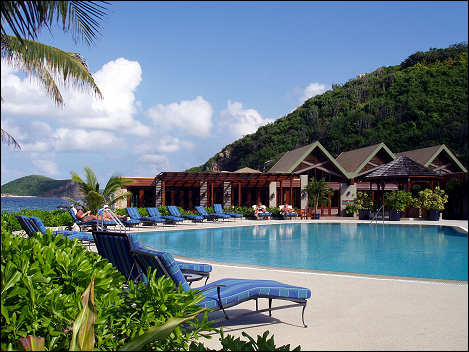 A light lunch of sandwiches and salads is served near the pool from 12:30 to 3 pm, while an oceanside lunch is available at Deadman's Beach bar & grill. Those spending the day at the Spa can have lunch brought from the Beachfront Grill.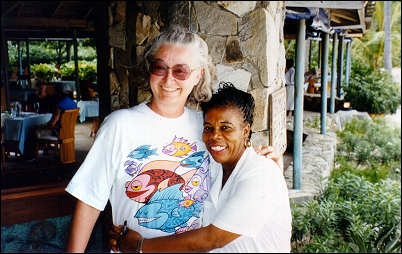 Guests at breakfast and lunch may be greeted by Jean Peters, the dining room hostess who has been with Peter Island "forever". Her delightful charm keeps guests returning year after year and she is a fine example of all Peter Island's staff which help make this resort a "home away from home". Paulette shown below makes some of the best tropical drinks ever!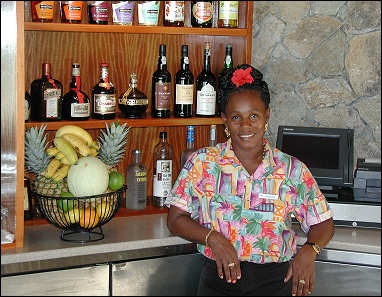 Lunch in the beachside grill is from 12:30 to 3:00 and offers a menu with various lunch salads to order such as Caesar Salad with Chicken, a pasta dish, hamburger, hot dog, pizza, and fish of the day. It also features an extensive salad bar as shown below.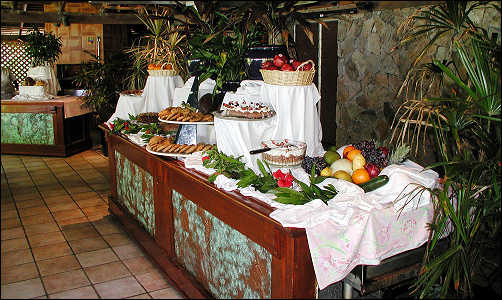 On our last visit, my favorite lunch selection, Peter Island grilled ribs, was back on the menu; we also found the pizza particularly good and Kenny really enjoyed the West Indian Roti. Sunday lunch is usually accompanied with a big steel drum band on the beach.

Dinner is held at either the elegant air-conditioned Tradewinds restaurant or the casual open-air Beachside Grill. Both are often open for dinner to give guests a choice.

The grill is for those who enjoy casual dining by the seaside or prefer not to dress up for dinner. It is also a favorite of visiting yachtsmen. The evening menu has selections of salads, pasta, pizza, fish, meats and lobster (when in season).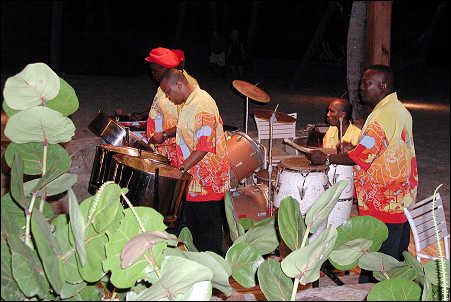 Monday evening Peter Island features "West Indian Night" at the beach bar and grill. A managers' cocktail party begins the festivities, followed by a huge buffet of Caribbean style vegetables, entrees, and desserts. A steel drum band provides festive entertainment. Take the link below to Party Time! for more photos.

Sportswear such as shorts and T-shirts or bathing suits with cover ups can be worn for breakfast and lunch. At night, casual wear including nice shorts and sandals are fine for the Beach Grill.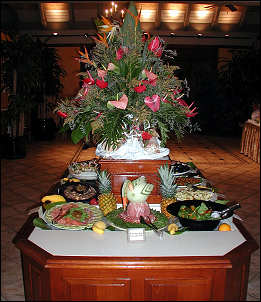 For dinner in the Tradewinds Restaurant, most ladies wear sun dresses or comfortable summer pants and tops, while men don casual slacks and collared leisure shirts. Leave your coats and ties at home.

An extensive menu is offered in the Tradewinds Restaurant and includes an interesting selection of appetizers, soups, salads, and main courses, plus several "starters" and "entrees" which change each night to provide variation to the choices. Save room for dessert!

The Saturday night caribbean/continental buffet is a gastronomic high point and not to be missed! A huge assortment of salads, seafood, vegetables, prime rib, and desserts await browsing guests.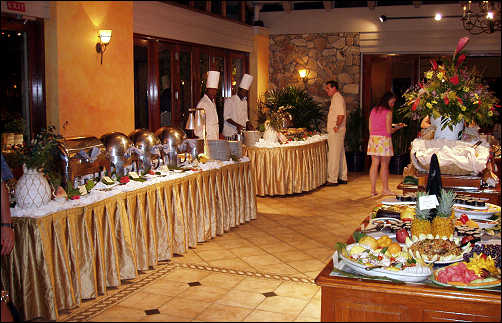 The main dining room at Peter Island is air-conditioned for those warm summer nights, however several times on previous visits, we dined outside near the pool and had a view of Tortola's lights twinkling in the distance as the sun set. Pure candlelight romance! Some evenings live entertainment was featured at Tradewinds - local musicians who were quite good. Wining, dining, and dancing - who could ask for anything more to end the day?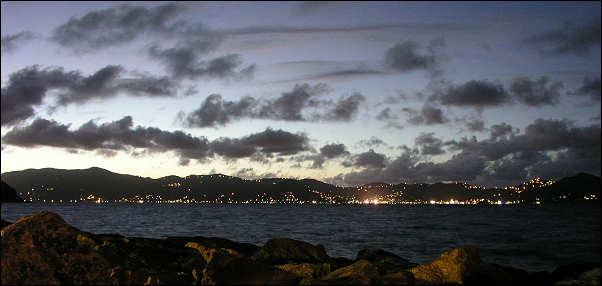 Go to Review continued ~ beaches and activities
Party Time! West Indian Night at Peter Island
Crows Nest Villa ~ Hawks Nest Villa
Go to ScubaMom's Peter Island Introduction
---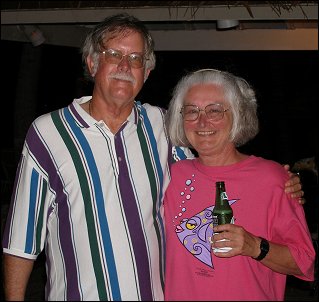 Kenneth & Lynn (ScubaMom)