We first visited the UK May, 1997 in conjunction with a palm (tree) meet at Kew Garden near London. Kenny and I flew into Gatwick and drove to Bath, up through Wales, over to Fountains Abby near York, onward to the Lakes District, and then to Edinburgh where we turned in our car and flew back to London for the horticultural conference.

While every part of our motor trip and vacation was spectacular, I think the two most impressive and memorable "high points" were Fountains Abby, a truly magical place, and the 12th century castles scattered in and around Wales, mostly in the Snowdonia region. Edinburgh was wonderful, Hampton Court near London was astounding, and the famous "palm" glass house at Kew was a botanical wonder. Husband Kenny spent a day quickly touring London while I was in conference and loved his day in the city.

We returned to the UK in May 2000 – our youngest daughter had, in a civil ceremony, married a man from England last year in Vermont (where they presently live) and planned to have their marriage blessed by Nick's father (who is with the Church of England) in a small 12th century chapel near Midhurst, south of London. Our Texas family was delighted and we could hardly wait to return to the UK. Kenny and I invited our best friends, Bill and Chris Ann Brown to fly over 10 days early and do a motor tour with us.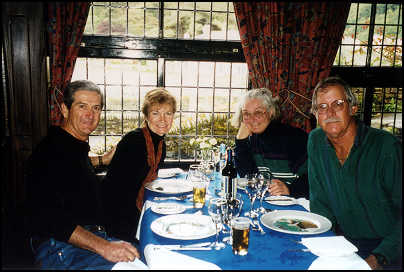 Bill & Chris Ann Brown ~ Lynn & Kenneth McKamey

at the Rising Sun's restaurant in Lynmouth.


I also planned a motor trip for two of our kids and spouses, so this review will include many of the places we all went, the places we stayed, and things we saw, plus some information about our 1997 and 2002 trip.

This time, we planned to fly into Manchester, rent a car, and drive to North Wales to spend 4 days. We would make our way southward through Wales to Bath, down along the Devon and Cornish west coast to the southern tip, loop back through Exeter, and over to Midhurst for the "blessing weekend".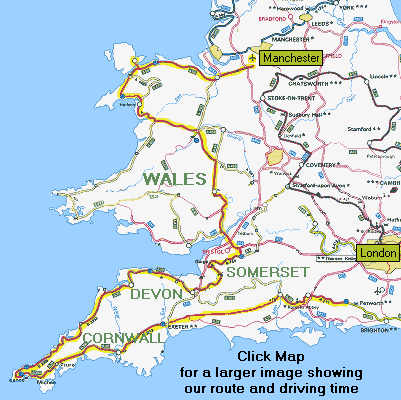 I carefully researched our route and accommodations on the internet – you will find my huge list of links on a different webpage. We generally stay in 3 to 5 star accommodations which have an "in house" pub or restaurant so that once we stop for the day, we don't have to dash off searching for some where to eat dinner -- far nicer to drop our luggage, take a walk, sit at the bar, then relax over dinner. Historic accommodations were high on our list and preferably with views of the sea or set in country gardens. Three years ago, few UK inns or hotels had an internet presence, but this time, I found far more had entered the electronic age, making my search for the "perfect places" much easier.

You'll see that we stayed in a variety of accommodations – from tiny 14th century coaching inns to historic hotels. All were wonderfully comfortable with individual and unique charm. Some were "Restaurants with Rooms" - usually in a house with excellent cuisine which also had several rooms available for stays. Rates/tariffs of our various inns and hotels ranged from 80 pounds a night for two (with breakfast) to 145 pounds a night. Dinners generally cost 25 pounds each plus drinks or wine.

We treated ourselves to staying at the famous Sharrow Bay in the Lakes District on the 1997 trip and to overnighting at Gideleigh Park in Devon this trip – both quite expensive (considering the horrid US/UK exchange rate), but they are two of the highest ranked country inns in England and well worth being pampered for a night or two if it fits your budget.


May showers and flowers


Before I forget to tell you - everyone I've ever talked to said to visit the U.K. in May! Temperatures are warming up, the entire country is bursting with Spring flowers as you can see from the pictures in the border, and the mobs of summer crowds have not yet arrived. You'll also find "shoulder season" rates at many hotels and inns (which will rise with the summer busy months).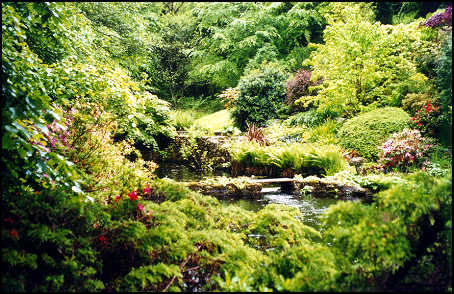 The weather in May? On our first trip, it was perfectly gorgeous and only rained three days in two weeks. On this last trip, it rained (lightly and slightly) every day. Ah well, take your umbrella, waterproof shoes, and rain jacket and continue on as do the Brits! On first trip, we visited Beaumaris Castle in North Wales and after parking our car, walked across a huge park in the driving rain. We were astounded to see an impromptu rugby match of locals going strong as they soakingly raced around splashing and sliding through puddles! A local must have seen our bewildered stares and said "In England, if we waited for a dry day to go do something, we'd never have a chance to do anything at all!"


Meals and Dining


Pubs are the way to go in the U.K. - most of the nicer ones have big menus full of healthful selections of local meats, freshly grown veggies, and fresh seafood. "Pubs" in the US bring to mind dingy "bars" with mostly men hanging out after a long day at work, but many of those in England are more like 400 year old "diners" full of the locals, including children, who want good local food. And so did we!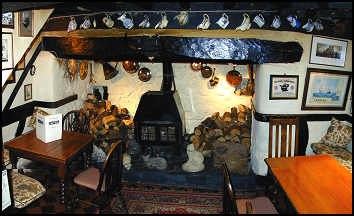 Some of our best meals were in Pubs and a few even topped the 3 and 4 Rosette rated restaurants (believe it or not). However, they are mostly self serve - you order at the bar, pay at the bar, and pick your meal up at the bar (some do bring it to you).

Pub prices are great too! Be sure to try the local beers which we found delightful. Don't be afraid to try a "stout beer" which really isn't stout, but a nice smooth brew.


Wales


Wales is not usually on everyone's "must sees" when they go to the UK - probably because everyone is dying to first see London, Big Ben, Edinburgh, and those wonderful Scottish golf courses.

Missing Wales is a major mistake for anyone who loves gorgeous countryside, some of the friendliest people in Britain, historic castles, and wonderful little inns. Wales is at the top of our UK destination list.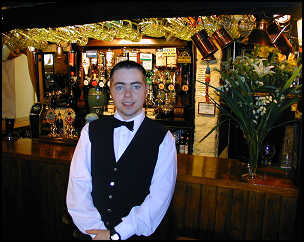 The young man above not only provided impeccable service at the historic Groes Inn restaurant and pub, but also very graciously gave us lessons in the Welsh language.


Routes, Driving Time, and Site Seeing


I planned our motor trip so that we only drove 2 ½ - 3 hours a day to allow plenty of time for stopping and seeing things – castles, gardens, museums, and points of interest. This proved to be a tighter schedule than first thought! We also tried to spend two nights in one place several times along the way which allowed for a day of sightseeing, plus some clothes washing to avoid needing a van load of suitcases. Most inns and B&Bs also give nice discounts for staying more than one night, be sure to ask or look for "special breaks" or "holiday" specials.

To see our entire schedule, driving times, hotel phones & Faxes, and other details, click the calendar below: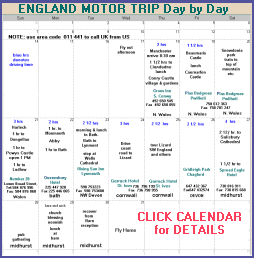 We each took two carry on suitcases for a total of eight and found that these would NOT fit into the trunk/boot of our Rover 720 luxury sized vehicle. Fortunately, we'd taken a few empty duffle bags along to fill with all those goodies one buys on a trip and only by unpacking and repacking some of our clothes in duffels did we manage to stuff our "stuff" into the car (small full suitcases nested into larger empty ones).

It is also possible to forgo renting a car and travel the UK by the excellent train and ferry system. This works well if you go from city center to city center, but some regions such as Wales and the Lakes District are almost impossible to properly tour without a car. If you plan to take the train for much of your trip, then also plan to rent a car for a day or two once you reach a destination so that you can drive around and see the countryside OR sign up with a day trip coach/bus tour.

After you read my observations about driving in the UK (especially if you are from a country like the US with driving on the right instead of the left) and used to big wide highways with shoulders, you might well decide to forgo renting/hiring a car completely! <grin>


Driving in the U.K.


First, purchase good maps - detailed ones with each tiny road marked as well as the large ones. We liked the Ordnance Survey maps. Americans will be happy to know that mileage is marked in miles, not kilometers. However, gasoline (petrol) is in liters.

The roads in England are well maintained, more so than many in the U.S. You will find very few pot holes, patches, bumps, or uneven paving. That's the good news… the bad news is that other than the big "M" ways, roads are tiny, curvy, narrower than anything you can imagine and instead of shoulders, you'll usually find solid stone walls, tall thick hedges, and centuries old buildings! Fortunately, cars in the U.K. are smaller and narrower than those in the U.S, however, the buses and big trucks are the same size as ours and can provide a real interesting experience when you meet one of those on a road only wide enough for something like two Volkswagen Beetles!

The "M" ways are much like U.S. - 4 and 6 lane divided expressways, other than everyone whizzes along at a fast pace (mostly disregarding the speed limit signs). You can easily drive 70 mph on M ways, and probably be passed like you are standing still!

"A" roads can vary from 4 lane divided highways to 2 lane roads with a very narrow shoulder. Plan on averaging 50 mph on the smaller A roads. If you are a little nervous about driving on the other side of the road (constantly THINK and STAY left), then plan your trip on M and A roads since "B" roads can be a little un-nerving!

"B" roads are very narrow - usually barely wider than two small cars (and there's lots of big wide trucks and buses using them) and often only ONE lane wide – meaning drive slow and be prepared to back up if you meet another vehicle or hope that there is a tiny pull off nearby where one car can scrunch in while the other passes. Plan on 35 mph average speed, maybe. Several of the locals called these "dreadful little roads" with a smile, fully knowing that the winding, drive very slow "Bs" also usually have the best views and meander through some of the prettiest areas and villages of the UK. I call it "B" roads for both Beautiful but Beware!

Quite a few "A" and "B" roads have high hedges or solid, thick stone walls on both sides. This is not too bad on A roads, but can make traveling B roads quite an art. Hubby is a good driver and very used to narrow South Texas farm roads, but often I thought we'd be scraping the stone wall on my side while he narrowly missed meeting and passing vehicles coming the other way. It takes some getting used to for the passengers and the driver! Our "backup" driver Bill Brown also did quite well, but then he's used to narrow, cliff hanging roads in Colorado.

Then there's the unmarked roads which are usually one lane only – naturally some of these lead to the most scenic villages and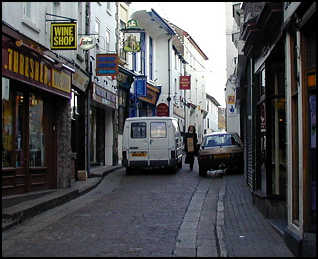 countryside, but be aware that they take some expert navigation and driving expertise! Many towns have stone buildings that line these tiny lanes, so you will have to carefully make your way through villages. The best way to imagine this is that the historic buildings once lined a "donkey cart" road and the only thing that has changed in the last 1000 years is that someone has paved the "donkey path"! Speed can average anything from "sitting there", "going in reverse", or maybe 25 mph "forward" at times!
And lastly, most roads have "round abouts" instead of four way stops. This amounts to precariously merging into a giant circular pattern full of whizzing cars and preparing to sling your car off on whatever road you wanted (while going around the circle leftward instead of right). Easier said than done!
Which ever way you decide to see England, Scotland, and Wales, you will find beautiful countryside, endless fields of sheep or fields of crops, and charming villages, many untouched by time or tourism.
Enjoy!

(ScubaMom)
Travel to Wales
wonderful countryside, castles, & inns
Travel to Bath & the West Country
Somerset, Devon, and Cornwall
Travel to Northern England & Scotland
Yorkshire, Lakes District, and Edinburgh
Visit London and Kew Gardens
Information about Richmond-upon-Thames too
~~~ ScubaMom's England Links ~~~
used to plan our trips
~~~~~~~~~~~~~~~~~~~~~~~~~~~~~~~~~~~~~~~
RETURN to ScubaMom's TRAVEL INDEX
Go to ScubaMom's Main Index
Email Lynn McKamey
Copyright 2000 Lynn McKamey (ScubaMom)
Photos by Lynn and Kenneth McKamey
All rights reserved.