We first visited Britain in 1997 and after driving from London to Wales, headed east to see Fountains Abby near York, then up to the lovely Lakes District for a few days. After motoring up to Edinburgh Scotland, we flew back to London, - mainly to save the time of driving a long way back south.

In year 2000, we returned to Britain, landed at Manchester airport, and toured Wales. Two of our twenty something kids and spouses visited York. This section will include information about where we stayed, what we saw, and highlights of our travels.

You'll find reviews of our travels through Wales and southwest England on other web pages - links are at the bottom of this page.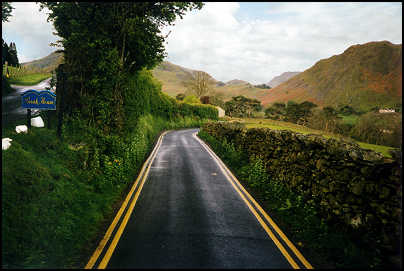 We avoided the large M ways where possible, preferring to stay on the scenic country roads. You can read more about "driving tips" in the introduction to this 4 part review of our travels through Britain.

Our "northern" route is shown on the map below: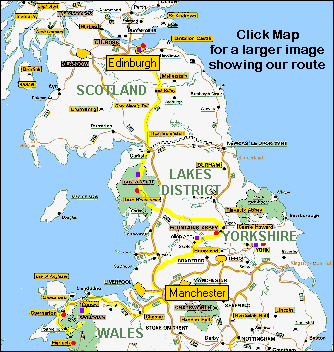 While lots of travelers fly in and out of London for a motor trip, it might be best to fly into one city and home from another. Edinburgh is a gateway to Scotland; Manchester is gateway to central England and Wales; London is gateway to the south part of England.

Wales to Skipton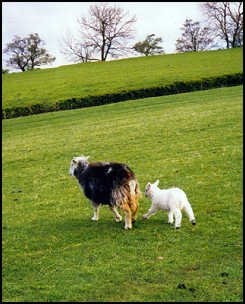 We left Wales and drove 4 hours east to the Yorkshire Dales, the setting for "All Creatures Great and Small" books by James Herrot. Pretty green rolling hills and grazing sheep framed the narrow country roads. New spring lambs were cute as a button.
We stopped at the Devonshire Arms Country House Hotel at Bolton Abby near Skipton to check-in before visiting nearby Fountains Abby. It's a beautiful hotel with an elegant restaurant and inviting bar/brasserie where we ate lunch. Our room was spacious with a big four poster bed. Rates include breakfast.

Guests also can enjoy the Devonshire club, a health, beauty, and fitness facility.

Fountains Abby between Skipton and Ripon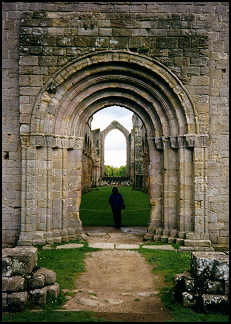 Magical, totally magical.

Step back in time and savor all this wonderful setting has to offer. Remains of a glorious monastery, arched towers, and stone complex once housed one of the largest and wealthiest abbeys in England. Founded in 1132, Fountains Abby is Britain's largest monastic ruin and one of the most popular visitor destinations in England.

In the mid 1500s, the estate passed to a merchant's family. Later owners began adding landscaping, water gardens, lakes, and temples. The complex has enough garden walks, guided tours, and history to keep a visitor busy all day.

The gardens are gorgeous, the landscaping immaculate, the lakes and ponds stunning.

The property also holds St. Mary's church, built during the Victorian Age.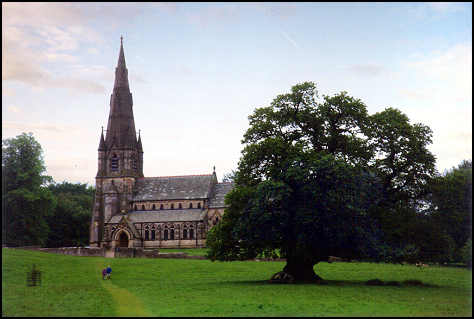 Fountains Abby is my favorite destination in Britain. If you are in the Yorkshire Dales, don't miss seeing it.

The Lakes District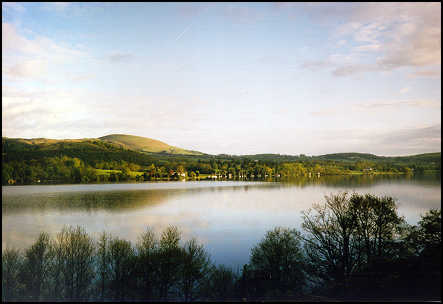 The Lakes District is a 90 minute drive north of Manchester. Gently rolling hills and green meadows surround a series of tranquil lakes.
We drove from the Yorkshires to the Lakes District on A65, then followed the small roads along the side of the lakes to Keswick. The Beatrix Potter museum is worth a stop; her Peter Rabbit stories have entertained children for ages.
We stayed at Sharrow Bay Country Hotel on Lake Ullswater for two nights - a gorgeous luxury inn known for its beautiful accommodations and excellent cuisine. The estate stretches along the shoreline and has several different guest houses linked by lovely garden walkways and tree lined roads - the main house, Bank House, and Lodge. All have panoramic views of the lake and surrounding hillside.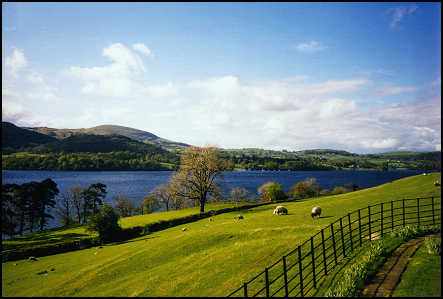 Our large room was in Banks House, a mile from the main house, and overlooked a field of sheep and the lake. It holds several bedrooms and an Elizabethan dining room where breakfast is served.

Dinner for all guests is in the main house ~ cocktails before dinner can be enjoyed in several drawing rooms and a wonderful glass conservatory.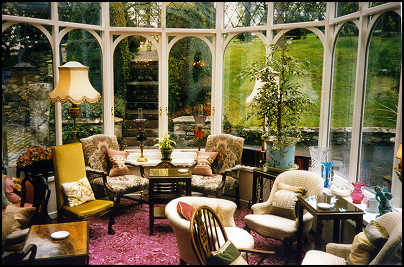 I highly recommend Sharrow Bay for an exquisite vacation in the Lakes District.


Edinburgh in Scotland
What a fantastic city! Enchanting, magical, and ghostly!

Most visitors' destination is the medieval "Old Town" - home of Edinburgh's Royal Mile which is full of interesting shops, restaurants, pubs, and at the highest point, the Castle.
"New Town" is separated from the Castle and Old Town by a massive garden park. This section is a shopper's delight with lots of stores, fashion boutiques, and hotels.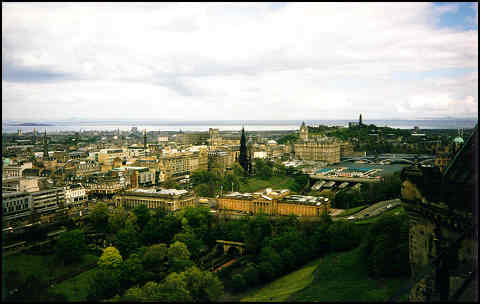 The centerpiece of Edinburgh is the famous castle on a high hill which can be seen for miles. Once in the castle, visitors have a panoramic view of the city. Kenny climbed a tower to take the photo below. A massive garden park sits far below the castle - in the old days, the cannons were used to stave off enemy attacks.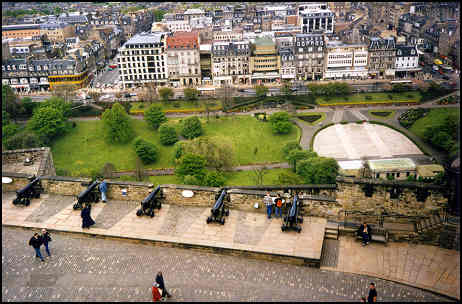 We stayed at Channings, a pretty hotel made from five connected Town Houses about a 12 minute walk from the park - from there, it's a very long uphill walk to the Castle (I was worn out before we ever entered the Castle Gates. Take a taxi up, walk down!). Channings rooms are spacious and comfortable. The rates are excellent. If you prefer to be closer to city center, the Howard is one of the finest hotels in Edinburgh.

We spent most of the day touring the castle, walking up and down the Royal mile sampling pub food, local brew, and sipping Scotch. We found a sign on the side of a pub that told the story of Deacon Brodie who inspired Robert Louis Stevenson to write Dr. Jekyll and Mr. Hyde. Click the sign below to read the fable.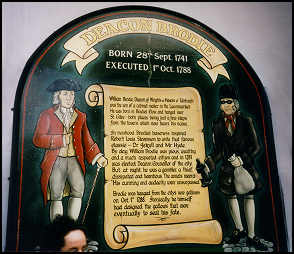 Our favorite shop was R. Somerville of Edinburgh featuring Tarot and playing cards of every imaginable subject - over 2000 selections! We found cards for children, magicians, fortune-tellers, games, some in several languages, others in all kinds of shapes and sizes. We bought decks for Christmas and birthday presents for all our friends and family. Our real "find" was twin-packed Star Trek, the Next Generation playing cards - complete with Captain Picard, Whoopie Goldberg, and the dastardly "Q" along with all the other characters.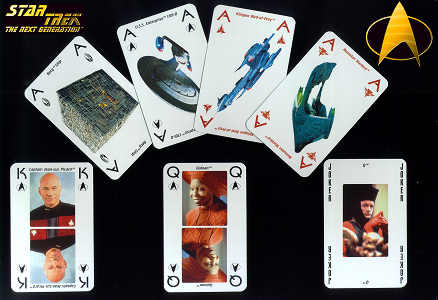 Edinburgh is also known for lots of "Ghost Tours" - great fun and a good way to explore some of the underground tunnels and off-the-beaten path historical areas. There's lots of different tours and all start at dusk when the ghost and goblins come out. Here's our guide and his monsterly friend.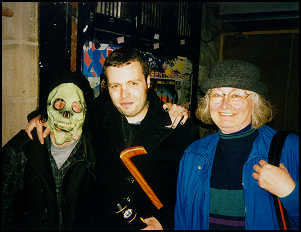 Our Edinburgh visit went far too quickly ~ we'll have to return someday to explore more of the city.