Bath
Everyone visiting England should spend a few days in Bath, a beautiful city in a valley surrounded by gentle hills. It is known and named for the ancient Roman Baths which can be leisurely toured with a recorder hand-phone which tells the history and details of this historical place.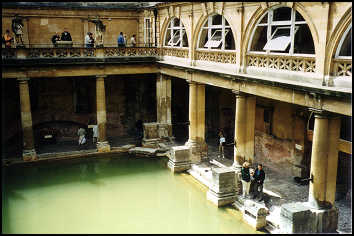 The city also has a magnificent cathedral a few steps from the Baths museum. Visitors will also find endless shops, restaurants, antique stores, and galleries in the city.

Bath
Abby


Both trips, we stayed at the Queensbury Hotel, a good location within easy walking distance to all the city center has to offer. Located on quiet Russell Street, it is composed of a series of Townhouses and contains The Olive Tree Restaurant, one of the best in Bath. The luxury accommodations are at excellent rates compared to the other upscale hotels in the city. You'll read more about our room in an "accommodation" section below.

We spent two nights and a full day in Bath on our first trip; spent a full afternoon, one night, and full morning there the second trip. You'll need at least a day to see it all - two days might be better.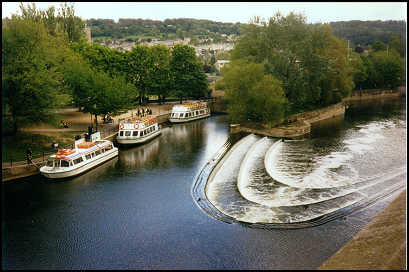 We enjoyed having dinner at both the Olive Tree and at the Hole in the Wall. For light supper or wonderful lunches, the Moon and Sixpence has a delightful selection of sandwiches, fresh salads, and hot entrees.

Bath to Lynmouth in Exmoor

When planning this trip, I sent an email to the Rising Sun and asked the best route from Bath to Lynmouth – they replied with "oh, it's easy, simply take A39 all the way"!

Before leaving Bath, I asked at reception about the "best way" and John delightfully said "A39 turns into a dreadful little road across the top of Devon, but is the most scenic route". We soon found out what he meant as we passed under the M5 at Bridgwater and entered Exmoor's National Park. The road narrowed and was flanked with high flowering hedges which served as pasture fences. It twisted, turned, rose high on hills with fantastic views over rolling pastures, and plunged into valleys and forests. Every once in a while, it would give us glimpses of the ocean on our right. We LOVED it. Don't miss taking the "dreary little road" A39 through Exmoor!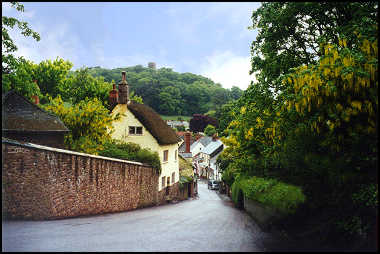 A39 also took us through some charming villages. We stopped at the Washford Inn and Pub for lunch – highly recommended, and used our National Trust pass to visit Dunster Castle and Gardens – a feudal stronghold first established in the 13th century and remodeled into a family home in the mid 1800s. The heavily carved oak staircase is a must see!

The road to Lynmouth steeply snaked down through a thick forest to the seacoast. The fishing village is picture perfect and sits at the bottom of a gorge - the nearby town of Lynton is above on a hill and can be reached by a unique railway built into the cliff behind the tall red-roofed building on the right side of the photo below.



We arrived at the Rising Sun Inn slightly before 5 pm and checked in. It was built in the 14th century and has narrow halls, tiny stairs, and very cozy rooms. I discovered a small lounge living room at the end of the long 2nd story hall complete with double glass doors overlooking the harbor. Downstairs, the quaint pub is on one side and charming dining room on the other. You'll read more about our room below.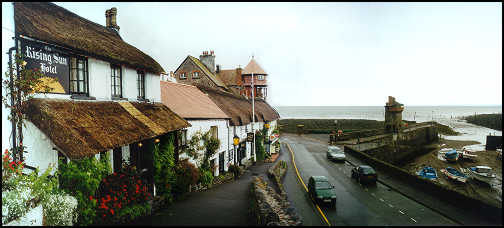 We loved the historic town and inn setting. Visitors can also enjoy lots of beautiful forest and seaside walks in this area too.

Lynmouth to St. Ives Cornwall

We left Lynmouth at 9:30 the next day on our way to St Ives. Staying on A39, we had more "narrow, curvy little road" until we left Exmoor. I can't tell you how gorgeous this route is … part of the drive is through forests of trees which cover the roadway entirely and give the effect of driving though a tunnel of thick greenery. The narrow road is flanked either with high flowering hedges, or rock fences overgrown with ferns and plants. Very magical! Drive slow and enjoy the surroundings.

Much of the West Country seacoast is very dramatic. Pastures roll into high hills plunging into the oceans. Lots of pretty fishing villages dot the coastline and coves.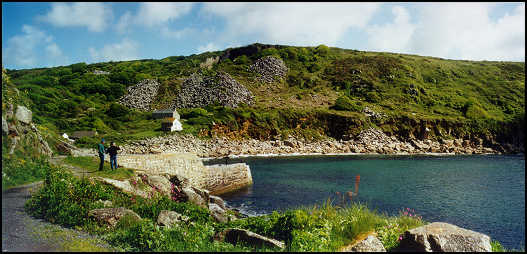 We almost stopped at Clovelly, but most everyone said it had become too "touristy", so we decided to visit the Tintagel Ruins instead, supposedly the birthplace of legendary "Camelot" ~ King Arthur and the Roundtable fable. It took us awhile to find the place and then we spent quite a bit of time finding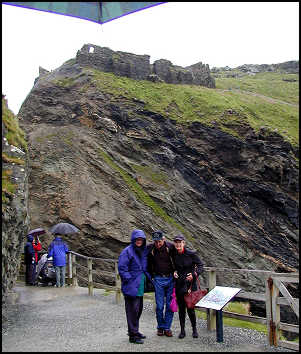 parking amongst all the tour buses/coaches (we were beginning to get the idea that this was rather touristy too).

Information signs pointed to a narrow, steep road leading downward to the coastline. It was cold, wet, rainy, and slippery - we all had to be sure-footed to make it down the mile long path. FINALLY, at the very bottom, we saw crumbling ruins far above us and a sign that proclaimed that this probably WASN'T the Camelot spot. As the Queen would say "We were NOT amused!" <grin> Here's a photo of us (cold, wet, and tired) while Kenny stands with his umbrella keeping the camera dry.

The good news was that an enterprising young lad with a Land Rover was giving rides (for 1 pound a person) back up the steep hill. We parted with our money and quickly parted this tourist trap too. Don't waste your time.

Accommodations - Bath, Lynmouth, & St. Ives

Number 4, number 4, number 4 – odd that we keep staying in a room with this number along the way, and each was quite unique.

Queensbury Hotel, Bath – room 4 is in their "newest section". (This small hotel keeps growing as it purchases the next townhouse and expands sideways up and down Russell street.) Room 4 has a wonderful 4 poster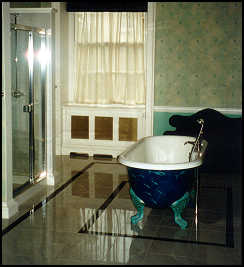 king bed set in a huge room with a large window facing the street, sofa and chairs, and table for two (for enjoying the complimentary continental breakfast included in the rates) .. but the best is yet to come – two French doors open into an enormous bathroom 15' x 15' (5m x 5m) with a deep footed tub in the middle (fish carefully painted along the side), a shower large enough for two, and two lavatories on either side. I called it the "ballroom bathroom"! What a treat. The Queensbury has several other large guest rooms, (although 4 has the largest bath) - two are "drawing room" suites with a larger sitting area than 4. The hotel also has 24 standard rooms, each spacious in size with a full tub and shower in each bathroom.

Rising Sun Inn, Lynmouth – room 4 was small and cozy as would be expected in a 14th century inn, but it had a nice sized bathroom with a tub and window overlooking the harbor. Kenny who is 6'4" conked his head on everything, but I suppose people were shorter in the 14th century!

A real oddity is the unbelievable tide that goes in and out of Lynmouth Harbor - 12' (4 m) at times. Kenny snapped these two photos from our bedroom window:


Tide is in and the boats are floating ~~~ Tide is out and the boats are on sea bottom.



Garrack Hotel, St Ives – room 4 is in their "old section". I had asked for a seaview room and certainly got it! An entry hall with a window and desk overlook the lovely town and beach of St Ives (what a great place to be sitting and typing part of this review). Two doors to the left lead to a watercloset and also to a bathroom with deep tub and lavatory; one door to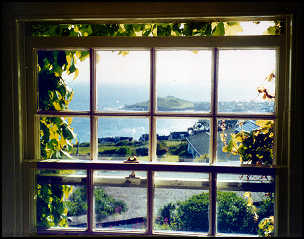 the right leads to a large bedroom with period furniture. The queen sized bed faces another window over looking the town. I couldn't imagine a more perfect view from this high hilltop location.

The Garrack is surrounded with gorgeous gardens and a new section has been added below the original hotel. It holds modern rooms where Bill and Chris Ann stayed – bright and cheery with large "picture windows" of the lawn, beach, and town.

An indoor pool, exercise room, and snack bar are in a separate building. This establishment has successfully blended old with new to create a wonderful place to stay, enjoy the views, and relax. A bar, lounges, and restaurant fill the lower floor. The 2 Rosette cuisine is excellent and we enjoyed dining on local lobster, succulent salmon, and fish.

ST IVES

This seaside town has two gorgeous beaches – one with waves & surfers and the other with a protected swimming beach. It has lots of interesting shops, restaurants, and art galleries. The tiny city center has very narrow one-way streets and is best walked rather than driven through.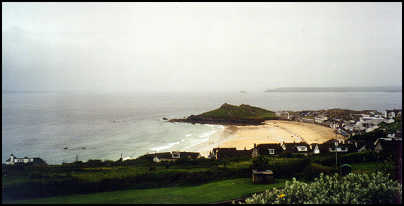 The view above is from the Garrack Hotel gardens. We enjoyed seaside walks, exploring the coastline, and meandering through St Ives on foot (about a 15 minute walk from the hotel to town).

May 25 day trip – roaming West Cornwall

We took B3311 from St Ives to Penzance – yet another "dreadful little road" (meaning narrow, winding, and very scenic) and stayed left to hug Penzance's harbor road with the town flowing up the hill to the right; then B3315 to Lamorna Cove road which roamed seaward along a beautiful little stream and lush green woods.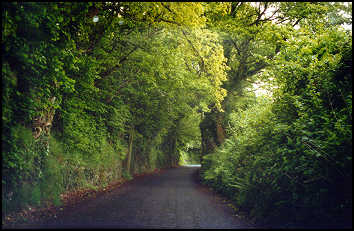 It ended at a lovely cove with a huge rock harbor allowing us to walk a ways to see ocean and hillside views. The area is dotted with charming cottages, places to stay, a few local shops and small restaurant. I must say that this was one of the prettiest seaside areas we saw in Cornwall and would love to return someday.



We took the B road back to the first cut-off to Mousehole and wandered down backroads to the sea again. Mousehole is a complete delight – a tiny fishing village with picturesque cottages and shops completely untainted by tourists! As my husband drove into town, the narrow country road became even smaller and turned into one lane (meaning our car barely fit) as we slowly made our way along "main street"!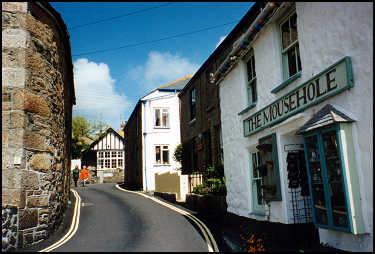 Several times we had to back up as we met someone coming the other way, or edged ourselves leftward in the few spots where two cars could pass – quite a driving experience, but hubby got several "thumbs up" from the locals as he bravely made our way along. We eventually came to the Old Coastguard Hotel – our lunch destination since I'd read several places on the internet that it served the best crab sandwiches in Cornwall. We can certainly vouch for that and ordered it on the granary bread which seemed the best in Cornwall too!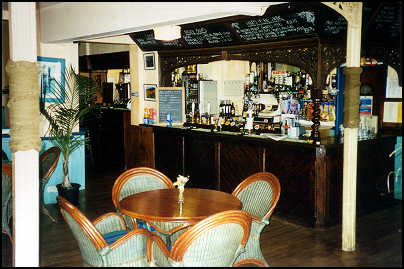 This hotel, pub, and restaurant deserves an extra special paragraph:

OLD COASTGUARD HOTEL near Mousehole:

While researching our trip on the internet, I found very little about places to stay in south Cornwall! This area of the world has simply not entered the modern electronic age. This proved quite frustrating to me, however, by searching through guidebooks and "best places to stay" books, I'd found a few likely spots. Much of the area, I suspected was full of tiny B&Bs, low key and inexpensive holiday hotels, or what we call "Beach Bungalows " which may or may not be much more than a lumpy bed with a shared bath down the hall or in the next building. We have plenty of those places at home near North Padre Island National Seashore and I've stayed in quite a few during my 55 years. Great family spots, but not quite what we wanted on our England vacation. We wanted 3 star accommodations, locally owned, comfortable, with ensuite baths, and most importantly, an outstanding view of the sea from the bed! This proved not so easy to find, especially since few establishments had websites and those in Barbara Brown's popular travel books were long ago booked up!

The Old Coastguard DID have a website and a very good one, but the rates were SO reasonable that I finally decided that they had to be too good to be true – 40 pounds per person with breakfast (80 pounds for two) for a Premium room with a balcony or terrace overlooking the ocean. I wavered between the Garrack (where we did stay) in St Ives, a somewhat more central location and Old Coastguard somewhat remote south of Penzance. When I finally choose the Garrack, we decided that lunch on our day out would be a MUST at the Old Coastguard.

A month before our trip to England, we vacationed in the British Virgin Islands. The manager of Guana Island, a private island resort, was from Manchester and spent quite a bit of time discussing our upcoming trip to his homeland. I mentioned that we'd be in Cornwall for several days and he burst forth with "OH! You must stay at the Old Coastguard Hotel in Mousehole – my family spent every summer there!". Small world, isn't it? I was delighted that it was included in our plans.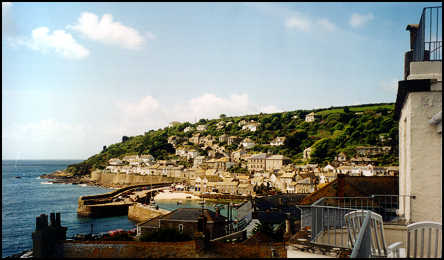 So, when we arrived for lunch, I asked to see some of the rooms and we were shown a Standard with Balcony – what a wonderful room – spacious, nice bathroom with a large balcony. The even larger Premium Room had a huge bathroom, double/queen bed plus single bed, and wide glass doors overlooking the ocean and gardens. If you plan to visit this part of Cornwall and would enjoy a perfect little seaside hotel, plan to stay at the Old Coastguard. The attractive bar and dining area also overlook the ocean and gardens…. At this time, the rates/tariff are truly a good value!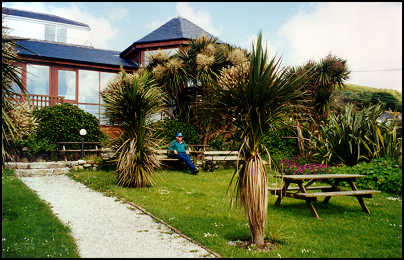 The photo above shows Kenny sitting in the Old Coastguard gardens looking at a panoramic view of the sea - even over to St. Michael's Mount and the Lizard.

The Lizard Peninsula

We left Penzance and drove a pretty road to Helston, then down The Lizard on A3083 – Church Cove has a lovely beach. We drove to Mullion Cove and walked down a road to scenic cliffs where the tide crashes huge waves over a stone pier and the sea rushes through rocks. Very dramatic.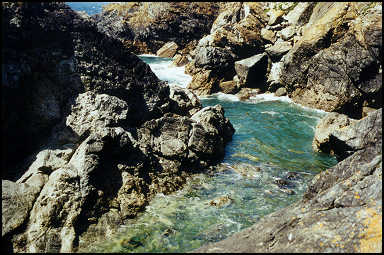 And then down to the furthermost point of the Lizard which was mostly flat rolling pastures. If we'd had several days, some great walking tours would have been possible.

We had planned to visit St. Michael's Mount but ran out of time.

St. Ives to Chagford in Dartmoor National Park

We left St Ives around 10:30 and headed for Chagford in Dartmoor on A30, arriving around 12:30. This village is wonderfully charming and after a tasty lunch of soup and cottage pie (ground beef with carrots topped with mash potatoes plus a side of five veggies!) at Bullers Arms Pub and Free House, we wandered around the cute outdoor gear shops and gift stores.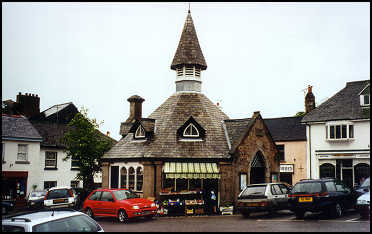 Which reminds me to tell you the "hat story". When we were preparing to go to England for our daughter's "blessing of the marriage", Nick's mother called. She carefully outlined details for the ceremony and ended with "AND, the bride's mum MUST wear a new hat!" Hat? The only ones in Texas were those worn by rodeo queens - the 10 gallon cowboy kind with silver conchos and a rattlesnake hat band! Somehow, I didn't think this would be appropriate at an English wedding! Not to mention the fact that a 10 gallon hat would require a 10 gallon suitcase.

So, the plan was to fly to the UK and shop for a hat along the way. Harder than we thought! Since the only large "city center" we visited was Bath, the probability of finding a proper bonnet was not good. Didn't find anything in Bath anyway. Our last day's stop before heading to the wedding ceremony town of Midhurst was absolutely tiny Chagford which being in a national park had lots of outdoor hunting and fishing shops. This proved perfect for our friend Bill, the Texas hunter and fisherman, but didn't' give me great hopes that I'd find a last minute hat. We spent some time in a large "camping store" and I asked the manager if any shop in town might have a hat. He mentioned that a few might be upstairs but had doubts they would work. I went upstairs and found a delightful stack of spring hats that were WONDERFUL! Yes, sure enough, one was just perfect.

Who'd a thought I'd found the proper "Mum's wedding" hat at an outdoor store in one of the tiniest villages in England. Wonders never cease. Here's a picture of me and the hat.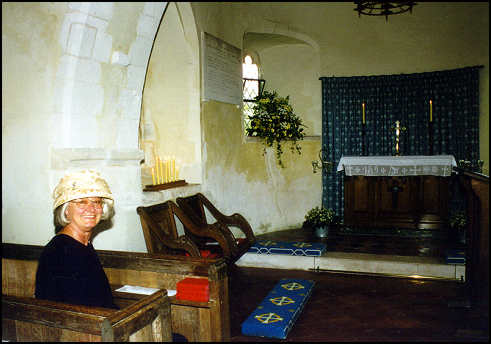 Gideleigh Park Country Estate
After lunch and shopping in Chagford, we made our way to Gidleigh Park, not so easy since this area of Dartmoor National Park is full of tiny hedge lined roads only wide enough for one car and turns into a complete maze! Finally a gracious pair of elderly English ladies pointed the way and we arrived at this perfectly gorgeous 45 acre estate - truly a "gentleman's retreat".

Gidleigh Park is tucked away in one of the most beautiful settings we've seen in England. Lush forests, gorgeous gardens, vine entwined fences, flowers of every kind and sort adorn this vast estate. Add a wonderful wooden bridge over a babbling brook linking the main house with a thatched guest cottage overlooking the huge croquet court. The descriptive word for Gidleigh is "perfect".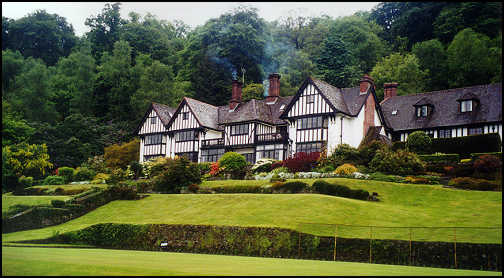 A large manor house, the centerpiece of the retreat, is surrounded in colorful gardens and tall trees. The house holds 14 elegant bedrooms, two dining rooms, a large living room (properly called a "drawing room"), and a library with a sun room and bar. Tennis courts are located nearby.

We stayed in Gidleigh's lovely thatched roofed cottage overlooking the croquet court – two bedrooms with a cozy living room, fireplace, and small kitchen - perfect for two couples or a family of four.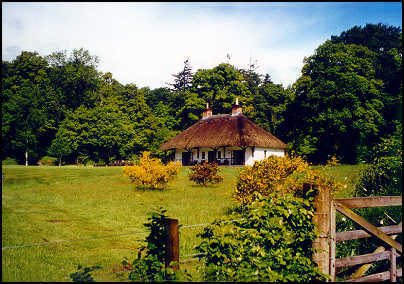 After playing a round of croquet, we discovered a gate at the side of the grounds which led to a perfectly landscaped putting green designed around a pretty pond edged with flowering gardens - an enchanting setting to practice your stroke.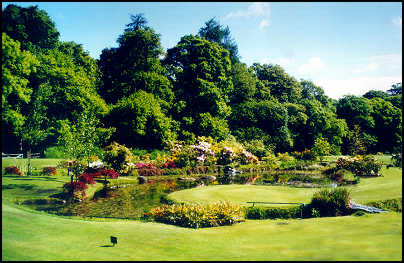 All being lovers of the great outdoors, we spent some time exploring the grounds. A small trail followed the stream, while another meandered along tall forest trees. My favorite was near the big house - stone steps led downward to a pond pathway lined with flowering trees and plants.



It would be easy to stay here for days taking walks in gorgeous woods and enjoying all that Gidleigh Park offers. They suggest two walks, a 45 minute one around the estate and a longer 2 hour one to see the Moors. The entire property is like an English wonderland.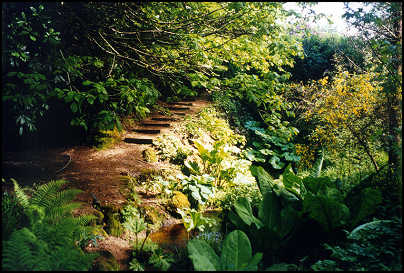 Guests will find plenty to do including horseback riding, fishing and hunting which can be arranged by the staff.

Gidleigh Park has one of the highest cuisine ratings in England and an endless wine list. Owner Paul takes great pride in searching for some of the finest wines in the world and having them available for his guests.

This is a marvelous country manor to spend a few days in total relaxation surrounded in the beauties of nature.

Stonehenge

Our kids stopped at Stonehenge on their way from London to Bath. It's also near Salisbury for those who have time to see both.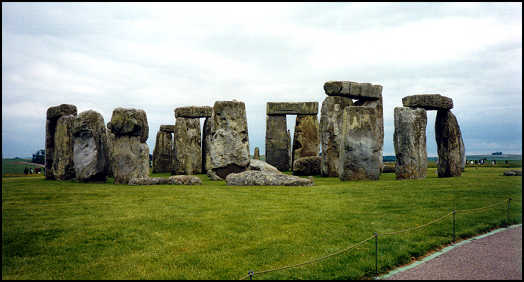 It's now fenced off, restricting all the visitors who come to see this ancient monument, but portable phone-recorders are available to tell the history and points of interest. Son Jeff must need two - one for each ear so he won't miss anything!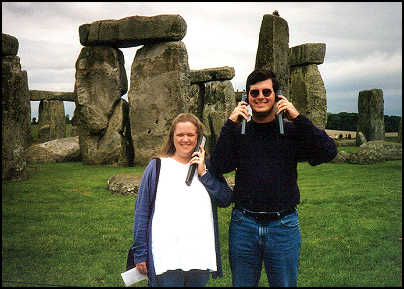 Dartmoor to Salisbury
Our last driving day would be the longest of the trip - 4 1/2 hours from Dartmoor National Park to Midhurst. We decided to stop in Salisbury to view the famous Cathedral and eat lunch at the Old Mill Hotel and Pub, located across a river from city center.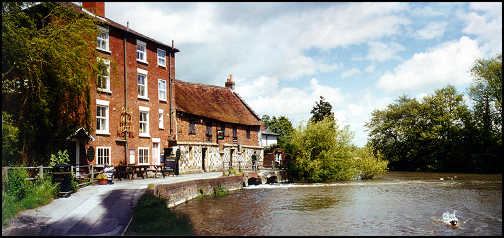 It had a nice selection of bar meals which were served inside or in the riverside garden. We were entertained by a young man and his retriever doggie - he'd throw a ball in the river and the dog would go get it. You can see the dog swimming in the picture above.

A pathway behind the hotel crossed the river and meandered all the way to the Cathedral - a lovely walk. We snapped a picture of this magnificent church which towers above everything in Salisbury and can be seen for miles.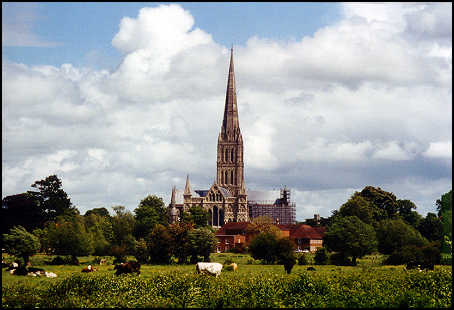 Go to Wales
wonderful countryside, castles & inns
Travel to Northern England & Scotland
Yorkshire, Lakes District, and Edinburg
Visit London and Kew Gardens
Information about Richmond-upon-Thames too
Go to ScubaMom's England Introduction
Trip tips & driving info
~~~ ScubaMom's England Links ~~~
used to plan our trips
Read about Midhurst and our daughters
English Country Wedding in a 12 century chapel.
~~~~~~~~~~~~~~~~~~~~~~~~~~~~~~~~~~~~~~~
RETURN to ScubaMom's TRAVEL INDEX
Go to ScubaMom's Main Index
Email Lynn McKamey
Copyright 2000 Lynn McKamey (ScubaMom)
Photos by Lynn and Kenneth McKamey
All rights reserved.