May 18, 2000: Manchester airport to North Wales
We landed in Manchester at 8:00 am and were through immigration by 8:30 – very nice mid-sized airport. Our Europcar four door, 6 cylinder, automatic shift Rover 720 was ready (truly a fun car with lots of ZIP!) and we easily navigated our way to M56 westward to link with A55 at Chester on our way to the "castle city" of Conwy. While I had estimated that the trip might take 2 hours, we were at Conwy shortly after 10 am and decided to go ahead and drop some of our luggage at the delightful Groes Inn 2 miles south of the city. Of all the small inns we visited, Groes Inn was our hands-down favorite (and our 30 something kids thought so too).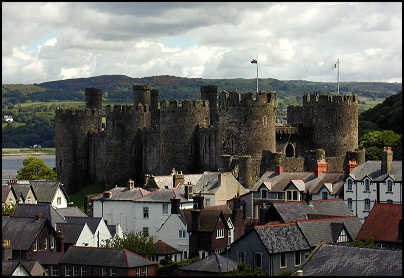 Conwy is a "must see" in the north part of Wales – the Castle, built in the 1200's was a massive fortress with ¾ mile of walls and 22 towers encompassing the town – and still does today. The four of us spent over an hour exploring the Castle – one tower holding the Chapel has been somewhat restored – and walking the walls to experience panoramic views of the city, nearby mountains, and seacoast. Since we planned to see several of the CADW historic sites and castles, we purchased a 3 day "Heritage in Wales" pass which would allow us free entry to member sites.

The town has many places to eat – the Coach House had a nice lunch menu, as did the Georg and Dragon. Lots of shops with outdoor wear, antiques, pastries, and sweets lined the tiny streets and made for a pleasant afternoon in this historic town.

The Groes Inn is located on a quiet country road in a gorgeous countryside setting and features a historic pub and restaurant which traces its beginnings back to being the First Licensed House in Wales in 1573.



It oozes 400 years of charm and the gracious staff is happy to make your stay a memorable one. We enjoyed a pub dinner of fresh poached Salmon accompanied with boiled potatoes and garden vegetables.

Fourteen accommodations are in a separate house and feature comfortable bedrooms each with a fully equipped, modern bathroom. We had a superior room that overlooked peaceful fields of sheep and gently rolling hills.



A full Welsh breakfast was included in the fares which started with a huge assortment of cereals and yogurts, juices, and fresh pasteurized milk. Our cost for one nights lodging including breakfast, plus dinner and drinks was 115 pounds. I highly recommend it as a comfortable and historic place to stay in North Wales.

The next day, we left Conwy and the Groes Inn at 9:30 on our way to Betws-y-coed via route B5106 – a charming winding "B" road following a river surrounded by emerald green pastures and rolling hills. As with many back country roads in Wales, rock walls edge both sides of the road and takes some getting used to for staying on your side of the lane, yet not scraping the entire side of your car – somewhat precarious for divers not used to being "fenced in" while meeting a wide vehicle coming your way!

Trefriw Woolen Mill

The kids stopped at Trefriw Woolen Mill and saw the traditional process of carding, spinning, dying, and weaving wool into finished clothing.

Katherine reported that "It was very interesting to walk through a working mill. They showed the "raw wool" before it was dyed and then took us up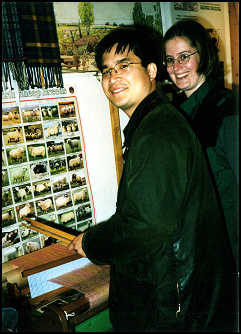 three floors through the entire process from dying to weaving on huge looms. It was a real treat to walk through it. The power is supplied by water turbines - a whole river was diverted just to provide the power necessary to run the mill. They also had a very nice store where they sold sweaters and blankets and such that had been woven in their mills. I bought a very warm cardigan sweater that I wore the rest of the trip. I am pretty sure that the town we visited was a company town. Everyone either worked in the mill or had a member of the family that worked there - it is a big operation."
Koko and Max were both biology majors, so they probably liked the sheep pictures more than the process! <grin>

A pretty waterfall was near the woolen mill parking lot - a good example of the beautiful woods in this area of Wales. Lots of great walking trails here too.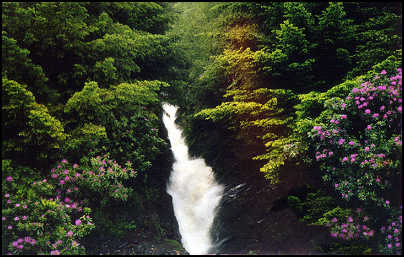 Gwydir Castle
Just west of Llanrwst and before reaching Betws-y-coed, we stopped at Gwydir Castle – a historical and furnished Tudor mansion with 10 acres of walks and gardens. The cost was 3 pounds each and well worth it.

Betws-y-coed to Caernarfon

We took A5 west toward Bangor for a few miles, then turned on A4086 to cut through Snowdonia on our way to Caernarfon. The terrain went from lush green pastures to stark mountains steeply rising from valleys, all dotted with herds of sheep clinging to the slopes. We arrived in Caernarfon just after 11 am.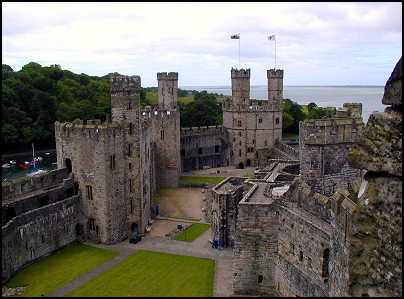 Caernarfon is well known for its 13th century castle, one of the largest and most impressive in North Wales. One can spend several hours climbing the tiny circular stone stairways to reach the highest towers, walking along protected interior hallways lined with bow holes where warriors of the 13th century defended the fortress from intruders, and visiting several reconstructed rooms which tell the history of the Welsh people, the castles, and wars fought during the 8 centuries to the present. We had lunch at Macsen on Castle Square which offered a wide array of lunches from soup du jour (vegetable that day), salads, sandwiches, and huge hamburgers. Plus desserts to die for! Great little place for a light lunch.

[On our last trip to Wales, we visited Beaumaris Castle, well worth a visit if you have time. It was the last of the castles built by Edward I in North Wales, but was never finished.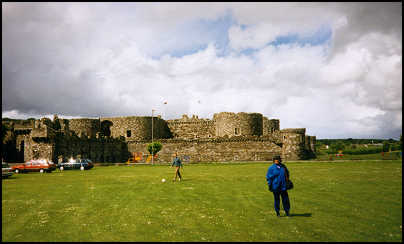 It differs from the other Wales castles in that it has concentric design and both inner and outer walls, and it truly sits in a moat. The Ole Bull Inn has a historic pub highly recommended for lunch and is a popular place to stay too.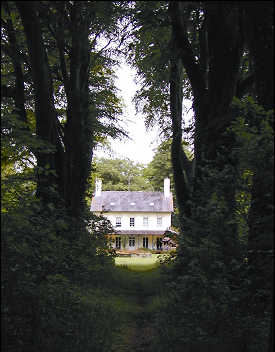 We left Caernarfon and drove along the coast on our way to Pwllheli and the Plas Bodegroes Inn – known as a "restaurant with rooms" – highly recommended by my friend John in London who loves to spend long weekends with his wife at quaint country inns with outstanding cuisine.

It was a wonderful choice, being just outside of Pwllheli in a remote country setting surrounded with lovely gardens. Small pathways around the estate led to flower lined walks, a water lily pond, and one trail lead through a pretty little forest of huge, towering trees. My husband couldn't resist snapping a photo on one of his walks.

Plas Bodegroes has a variety of rooms from cozy ones in the attic to spacious 2nd floor rooms with adjoining or small sitting areas. Our corner room overlooked the grounds and we were delighted to find that our bathroom featured both a long soaking tub and a separate shower.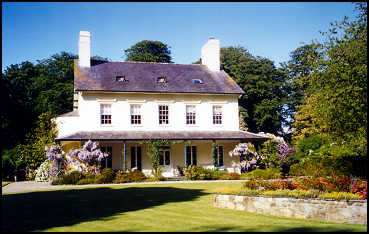 The Inn has a wide verandah overlooking a pretty lawn full of flowering plants and trees - a wonderful spot to sit and soak up nature. Dinner was a three course affair plus starting with Hors D'Oeuvres served in the living room or verandah (where your order is taken) - and after being seated, we were served a chef's special treat, appetizer, main course, and dessert. All were excellent and fine examples why Plas Bodegroes holds a 3 rosette rating. Pwllheli was only a couple miles away and our group walked to town several times during our two night stay.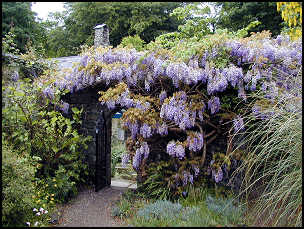 We spent the next day driving around the Llyn Peninsula which has hills, windswept pastures, long white sand beaches, and quaint villages dotting its countryside. Aberdaron has a sailing club and two beaches plus some charming shops. We drove up to Morfa Nefyn and had lunch at The Cliffs Inn – cute pub with wonderful bar lunches and a sun room overlooking the bay and nearby beaches. We drove back to Pwllheli and toured the marina and town. Then back to the Inn for late afternoon cocktail hour before enjoying another lovely dinner.

Llechwedd Slate Caverns Tour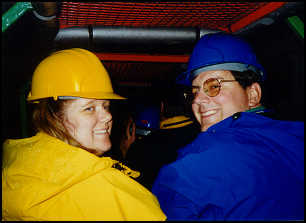 Not far from Porthmadog and on the way to Betws-y-Coed on A470 is the popular Llechwedd Slate Caverns Tour. During their Wales tour, our kids stopped here and boarded a small train to explore an underground slate mine, complete with an underground lake and Victorian village with a pub. It made several stops to see tunnels and caverns on foot. Train riders must wear a hat, furnished by the railway - it's easy to see that Katherine likes bright yellow and Jeff likes blue!
North Wales to Ludlow
We left Pwllheli at 9:30 on Sunday on our way to Ludlow via Welshpool. Following the coastline, through Portmadog, Kenny turned on the scenic A496 to Harlech for a castle stop – the location of this castle is one of the most dramatic settings of all.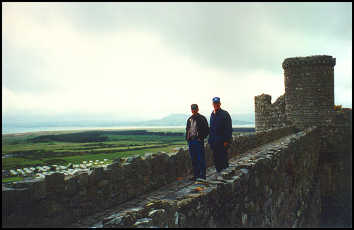 This rather small (in comparison to others) compact, concentric castle was built high on a sheer cliff to make it almost impregnable – views of the bays and country side are outstanding. It was Bill and Chris Ann's favorite castle.

Note: On our last visit to Wales, we stayed at the Maes-y-Neuadd hotel located in Talsarnau just a few miles north of Harlech. It is a 14 century Manor House set in the woods at the top of a steep hill.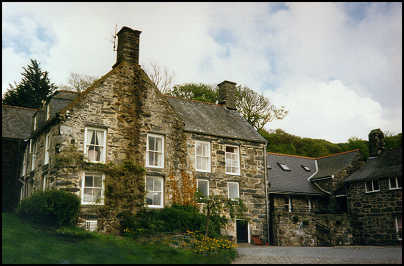 Maes-y-Neuadd has 16 rooms, all different including small cozy ones in the oldest section to large suites ones in the Coach House. The restaurant has a 3 Rosette rating and serves elegant 5 course dinners made from local seafoods, meats, and vegetables. I highly recommend this as a historic place to stay in North Wales.

Lion Hotel & Pub at Berriew, near Welshpool
We almost stayed at this inn, but it didn't work well with our driving route - we had to move onward to Ludlow from North Wales. However, it DID work for our kids motor trip as an overnight stop between Bath and Conry.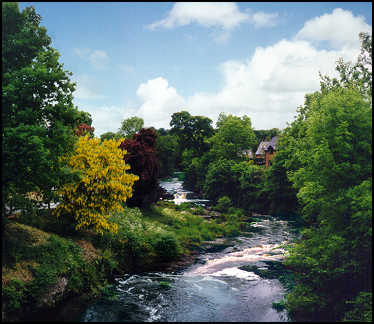 It is one of the Welsh Rarebits and seemed to be the perfect village inn complete with pub/dining room, comfortable accommodations, and next to a historic little church. Our kids really liked it, and found lots of pretty walks in the area. Jeff and Katherine discovered an ancient aquaduct which ran for miles and crossed a rushing river. As you will read, our foursome decided it would be a good lunch stop.

We followed A496 to Dolgellau on our way across Wales to Welshpool. Powis Castle, a "modern" castle still being lived in and fully furnished opens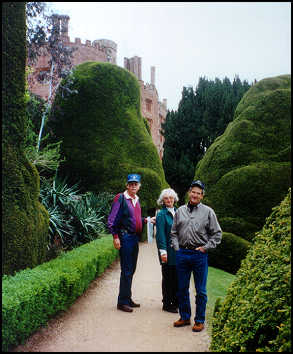 at 1 pm, so we stopped to each lunch at The Lion Inn in Berriew and had perfect salmon and roast beef with a huge assortment of fresh vegetables – new potatoes, cottage fries, parsnip, peas, and cabbage. Our kids stayed here one night and gave it a "thumbs up" rating – great food, nice rooms, and lots of country walks nearby. So, eight of us, aged 28 to 58 highly recommend it as a place to stay or dine.

Upon arriving at the Powis Castle, part of the National Trust, we joined a special annual membership which allows up to 7 family members access to any of the properties which are part of the Trust for only 57 pounds. This historic castle manor has heirloom furnishings and outstanding 17th century gardens in a vast estate. We spent almost three hours touring the manor and wandering through the spectacular grounds.

Ludlow and Number Twenty Eight

We arrived in Ludlow at 5 p.m. and found everything closed! Highlights would be the St. Laurence Parish Church and the 12th century Ludlow castle, plus markets and shopping. Lots to do in Ludlow (but not on a Sunday).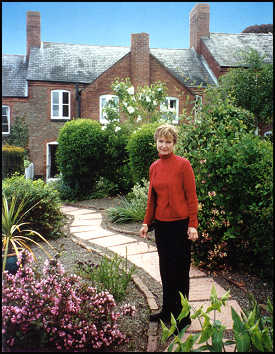 Rather than overnighting in a hotel, we stayed with Number Twenty Eight in their "Westview House" - a cute Victorian townhouse with two bedrooms and ensuite bathrooms plus a wonderful little backyard garden (Chris Ann is posing in it). The Browns bathroom had a footed tub with a view through the window. The townhouse was perfectly charming and beautifully furnished.

The owners, Patricia and Phillip Ross have three units along a pretty street near the city center - all with two bedrooms, a living room, and a garden. An delicious breakfast is included in the daily rate.

Ludlow is known to have more "Five Star" restaurants than any other town of its size, and Patricia will happily arrange dinner reservation for guests at one of the outstanding establishments nearby.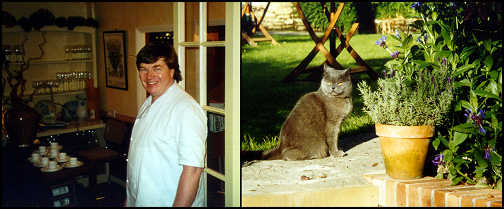 She made a booking for us at Mr. Underhill's restaurant located on the river (it also has rooms for rent). We arrived before it opened, but the owner served us cocktails outside by the babbling stream. By the way, the restaurant is named for the gray resident cat; Chris Bradley, the owner was a delight and his cuisine was excellent!

The next day we drove south toward Bath on A49 and A466 which turns into the wonderful curvy riverside road through the breathtaking Wye Valley. We stopped to tour the Tintern Abby ruins.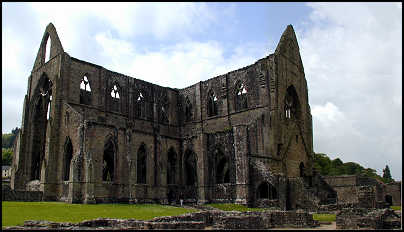 Note: On our 1997 trip, we were driving north from Bath and missed the route to A466 and the Wye Valley - the trick is to take the M48 (this splits off the M4) when you pass Bristol and are preparing to cross the River Severn.

South Wales

Before we leave my Wales travelogue (and move on to the next part in this series), I'd like to include additional information from our 1997 trip.

We drove from London to Bath and THEN north through Wales. The very first castle we saw was Ragland which is a perfect introduction to the subject and is not like any other we saw . It isn't the largest nor the most strategic, but has everything you'd expect in medieval design - towers, a moat, gatehouse, and an unique hexagonal shape for the Great Tower. It remains our most favorite Welsh castle of all and our kids agreed.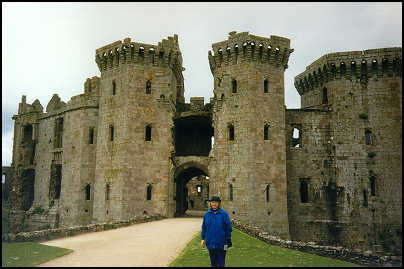 After spending a couple hours at Ragland, we drove on to Crickhowell and had a wonderful lunch at the Bear Hotel pub & restaurant.

Three miles further up the road is Tretower Court and Castle - another good introduction to the Medieval age. The 13th century castle remained a fortress for the ruling family, but they built a 15th century manor house nearby as a more "modern" abode. A visit to Tretower takes you through several hundred years of historic lifestyles of yesteryear. Don't miss stopping here!

We drove on to Builth Wells and spent the night at the Lake Hotel, one of the more "upscale" of the Welsh Rarebits consortium of inns and hotels. It offers "some of the best of country living", and while the hotel and grounds were perfectly gorgeous, it had an pretentious air, unlike many of the relaxed friendly inns we enjoyed in Wales. We'd been much happier at the historic Bear Hotel in Crickhowell (also one of the Welsh Rarebits and where we had lunch - see above).

Obviously, we enjoyed Wales so much on our 1997 trip that we returned in 2000, and no doubt we'll go back again someday.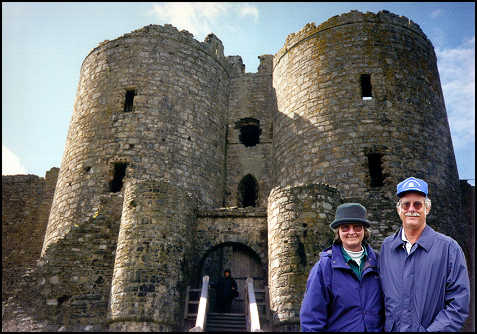 Travel south to Bath & the West Country
Somerset, Devon, and Cornwall
Travel to Northern England & Scotland
Yorkshire, Lakes District, and Edinburg
Visit London and Kew Gardens
Information about Richmond-upon-Thames too
Go to ScubaMom's England Introduction
~~~ ScubaMom's England Links ~~~
used to plan our trips
Read about Midhurst and our daughters
English Country Wedding in a 12 century chapel.
~~~~~~~~~~~~~~~~~~~~~~~~~~~~~~~~~~~~~~~
RETURN to ScubaMom's TRAVEL INDEX
Go to ScubaMom's Main Index
Email Lynn McKamey
Copyright 2000 Lynn McKamey (ScubaMom)
Photos by Lynn and Kenneth McKamey
All rights reserved.