The Carleton's location is one of the best in Whistler. Just steps from both mountain gondolas, it is convenient to skiers. Guests will also find that everything in Whistler Village is within a 10 minute walk.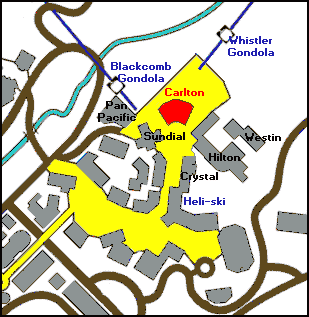 Below is a floor plan of the units location
according to number. Floors 3 and 4 follow
somewhat the same system, however, top
floor 5 has less units and different numbers.
(condo map not to scale)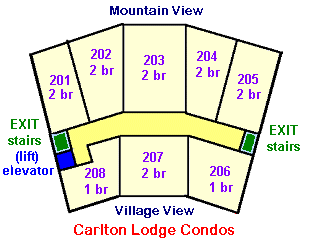 One bedroom units have Village Views along with a two bedroom condo on each floor - these do not have decks. Mountain View units have two bedrooms and two baths - most have decks large enough for a table and chairs - a great place to sit and watch all the ski activity (or in summer watch the mountain biking).

Those staying in slopeside units will have panoramic views of both Blackcomb and Whistler. The photo below was taken from a 2nd story unit.


During our four visits, I saw many of the units. Decor varies according to the owner, however all are nicely decorated and have fully equipped kitchens, fireplaces, full bathrooms, and spaciousness. Most also have a deep Jacuzzi whirlpool tub. They also have washers and dryers - handy for families or lengthy stays.


Here's some photos of the various units:
304 Two Bedroom Unit

Mountain View


This two bedroom unit (also 204 and 404) have about 900 square feet of space - nice sized plus a balcony and two bathrooms, one with a deep Jacuzzi tub.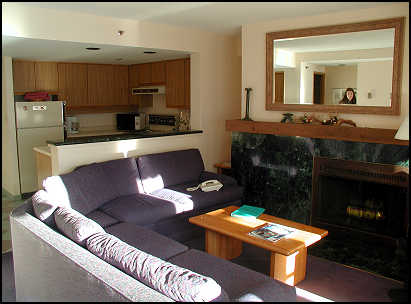 305 Two Bedroom Unit

Mountain View


This is a corner unit with about 1050 square feet of space with a balcony and two bathrooms, one with a deep Jacuzzi tub.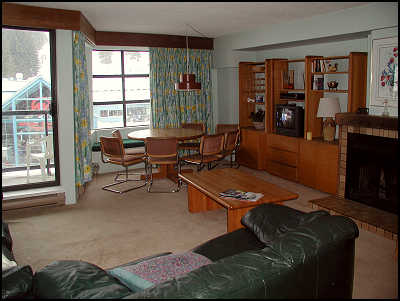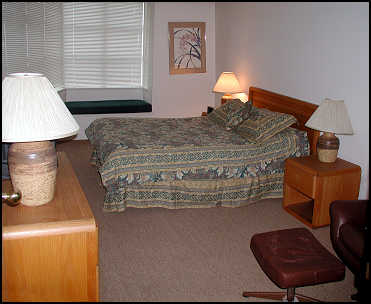 504 Top Floor

2 Bedroom Loft - Mountain View

This is an interesting two level unit with 1300 square feet of space. The main floor has a large living and dining area, plus master bedroom and two bathrooms. A circular metal staircase leads to the 2nd floor "bedroom" that is HUGE and holds two twin beds, a big wrap around sofa, TV, and third bathroom. It would be perfect for a large family or even a couple who want fabulous views of the mountain beyond the red curtains. (Sorry about not snapping a picture of the view, but it was a cloudy day.)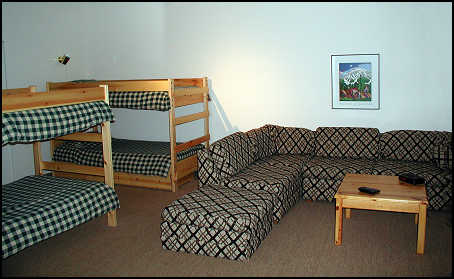 506 Top Floor

2 bedroom plus mid-loft twins - Village View

This one has a very interesting "three level" floorplan with over 1000 square feet of space. The main level has a living room with dining table and free standing fireplace, plus a bedroom and bath. A stairs leads upward to a large landing that holds a bunk bed. The stairs continues up to a bedroom and bathroom. Perfect for a family of 5 or 6.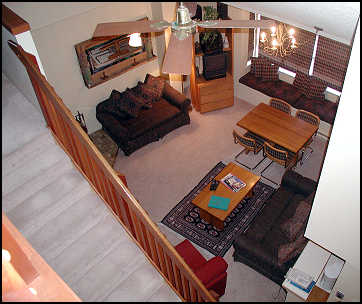 405 Two Bedroom Corner Unit

2 Bedrooms ~ Mountain View


Alan Lande owns and rents three condos on the 4th level - very convenient for anyone needing more than one unit and wanting them on the same floor. A one bedroom and 2 two bedroom units are available. I saw all of them and took photos of 405 - he has decorated them beautifully and all have a spacious open floor plan.

Unit 405 is on a corner facing the mountain and unlike the middle units at the Carlton, it has a big window on the living room side as well as a wall of glass doors and windows facing the mountain. It features a wood burning fireplace and large fully equipped kitchen.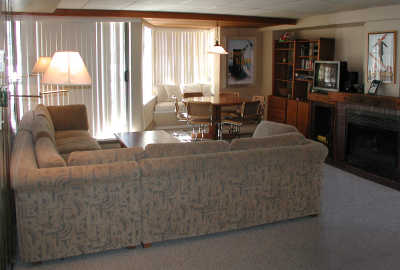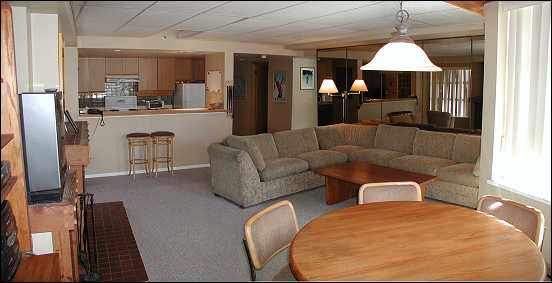 The master bedroom has a queen bed and two big windows with a view of Whistler mountain - an ensuite bathroom is attached. The second bedroom is on the side with a window seat and holds a twin bed plus a bunk bed with a double mattress below and single above. A large bathroom with a deep Jacuzzi tub is between the kitchen and second bedroom. At 1100 sq.ft. this gives lots of room for a couple or family. You can see the floor plan below on the right.

Alan also has a mountainside condo in TalsWood in Creekside Village. If you are looking for an accommodation with two bedrooms, two baths and a gorgeous valley view (ski in and ski out too!), go to my Summer Review and you'll find some photos and a description of it.

Alan is his own concierge and is happy to assist his guests in planning their trip to Whistler and also making suggestions for activities, restaurants, and providing a world of information.

Some Floorplan Examples


The floorplans below are examples of two bedroom units. Each floorplan varies a little, but most have two full bathrooms, one with a deep Jacuzzi tub. Mountain View units have decks or balconies, Village Views do not.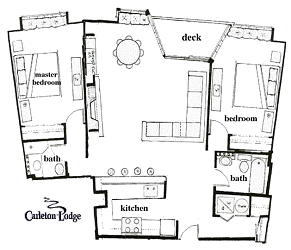 The Carleton does not have a lobby, pool, or hot tub. The Longhorn Saloon (a bar and grill) is located on the first floor along with a ski shop. Each unit is allocated one parking spot in the basement level, but remember, you probably won't need a car if you stay at the Carleton since most everything is within walking distance.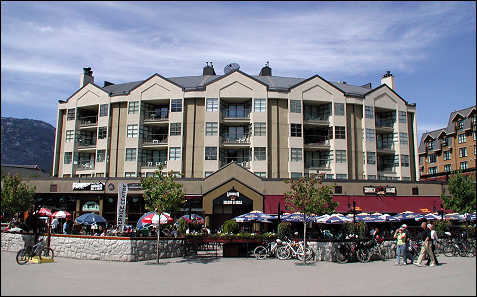 Carleton in the summer from the mountain side
Longhorn Saloon entry in the center on first floor.
The Sundial Hotel which provides services for the
Carleton is the brown building to the right - very convenient.
Reservations


The Sundial Boutique Hotel in Whistler can arrange reservations for sixteen Carlton units 202, 204, 206, 207, and 208 on the second floor, plus 303, 304, 305, 306, 404, 406, 407, and the large top floor units 502, 504, 506 and 507. The bedding varies with each unit, so check the Carleton Lodge website for more details (and photos of each unit) or give them a call at (604) 932-2321 or (800) 661-2321 from 8:30 am to 10:00 pm Pacific Time. The units managed by the Sundial have daily housekeeping service and the Sundial front desk is happy to provide services. Since it is located right next to the Carlton, this proves very convenient.

Alan Lande, a private owner, has three units available in the Carleton - 402, 405, and 408. Unit 402 is a 2 bedroom with Queen bed + 2 twins; 405 is a 2 bedroom corner unit with a King and bunk beds - both have mountain views; 408 is a 1 bedroom corner unit with a Queen and two twin sofa beds which has a town view. Take the link to his website or contact him at (800) 256-4559 or (604) 932-1966. Daily housekeeping is not provided but can be arranged by request at additional fee.