The Jackson Hole area is a huge valley, 15 miles wide and 40 miles long, surrounded by the majestic mountains of Grand Teton National Park. (The name "Hole" means "valley" and obviously this one is one BIG hole in the mountains!)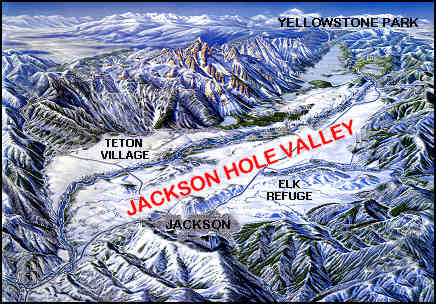 The town of Jackson is located near the southern end of the valley; the airport is 8 miles north of Jackson and Teton Village is 12 miles northwest of the town. An elk refuge and related museum is between the airport and Jackson and offers sleigh rides through the elk herds from mid-December to mid-March for $12 a person. The south entrance of Yellowstone National Park is 66 miles north and Old Faithful is 46 miles further. The wilderness areas of the Parks can be toured by snowmobile or snowcoach.

Three different ski mountains are in the area. Jackson Hole's Rendezvous Mountain is the largest and has the steepest vertical rise of any ski resort in the U.S. - 4,139' from top to bottom. With lots of sheer drops and narrow chutes, it long ago gained the reputation of being for experts only. However, 40% of the runs are for intermediate skiers and are scattered over two-thirds of the mountain; 10% of the runs are for beginners. A tram takes experts to the top of Rendezvous Mountain at 10,450', while nine lifts provide access to lower parts and Apres Vous Mountain at 8,481'. An average of 400" of dry powder snow falls annually and the resort has snow making equipment. The photo at the top of this page shows the mountain range holding Jackson Ski Mountain.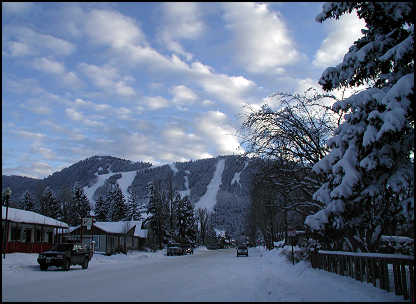 Snow King Ski Area is located in the town of Jackson and has 400 acres of terrain. It has a vertical rise of 1,571', 3 lifts, and offers 15% beginner trails, 25% intermediate slopes, and 60% advanced runs. Snow King is popular with the locals and can be seen from most streets in Jackson. This photo was taken while standing in front of the Alpine House inn.
Grand Targhee Mountain is located on the west side of the Tetons, about an hours drive or express bus ride from Jackson. With 500" of snow each year and 70% intermediate runs, it is a family favorite. It has a vertical rise of 2,200' with 1,500 acres of terrain and four lifts on one mountain, plus another 1,500 acres on an adjoining mountain which features powder skiing accessible by snowcats!
The city of Jackson is centered around a landmark town square, anchored at each corner with huge walk-through arches of intertwined elk horns. A good selection of gift shops, clothing stores, art galleries, bars, and restaurants surround the square.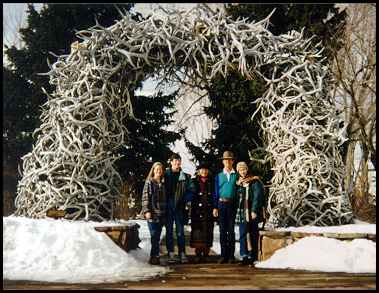 Don't be surprised to see deer wandering the streets at night or hanging out in Miller Park just two blocks from Jackson Square. One night when we just finished having dinner at the Rusty Parrot Lodge, a small deer wandered up and looked in the big glass windows. We stepped outside and I fed her a muffin that the chef gave me.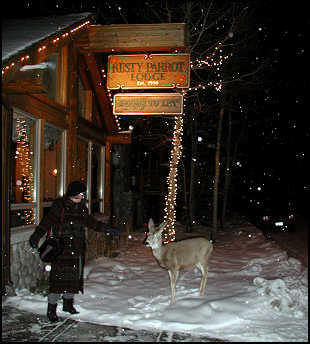 In-town lodging consists of mostly hotels or motels in every price range imaginable, with a few condos available at the edge of Jackson at the Snow King Resort. In comparison, most of the condos are located at the base of Jackson Hole Mountain in Teton Village, or between the town and mountain. An interesting assortment of Bed and Breakfast inns are also in the area.

Restaurants range from nationally known fast food, pizza, chicken and hamburger joints to elegant establishments serving continental selections. All kinds of Mexican food from Tex-Mex to New Mexican style are around town as are Cajun and Bar-B-Q places. I was pleasantly surprised to find all these dining choices! Here's some of the places we've enjoyed during our trips:


PLACES TO EAT - RESTAURANTS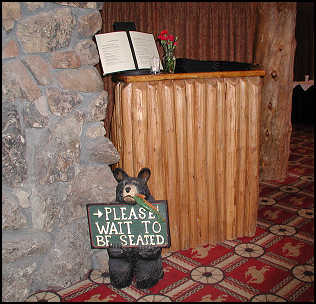 <><><> In the town of Jackson <><><>
Locals hang out at the Sidewinders Sports Grill and Tavern which has pool tables, TVs tuned to sports every which way you look, lots of beer on tap, and nice tasty "diner food" at very reasonable prices. It's located on Broadway on your way out of town going toward Teton Village.
Nearby is Bubba's Bar-B-Que, an area favorite - it's open for breakfast too.
The Blue Lion is one of Jackson's prettiest restaurants, next to Miller Park, a couple blocks from the square. The "creative cuisine" includes appetizers such as "havarti en croute" and entrees like "trout cafe paris", "smoked chicken crepes", "tournedos au blue", plus pasta and vegetarian selections. Service was spotty on our last visit and the quality can vary.
The Rusty Parrot Lodge is now serving dinner with a small, but very nice menu of fish and meats. The Caesar salad was one the best we've had in Jackson.

The Silver Dollar Bar & Grill at the Wort Hotel is a great place for lunch or dinner. The Grill room is a favorite for business meetings or quiet intimate dining -- more casual dining can be found right next door as part of the bar. And yes, the long curving bar has silver dollars embedded in it.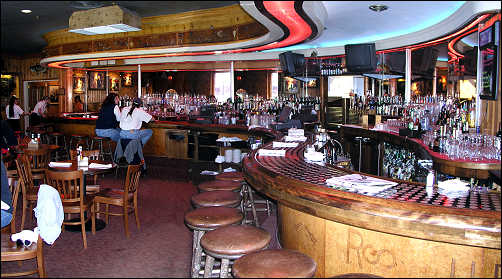 For a smaller, more intimate dinner, we like Nani's Genuine Pasta House that specializes in Italian regional dishes. It is directly across from the Alpine House inn.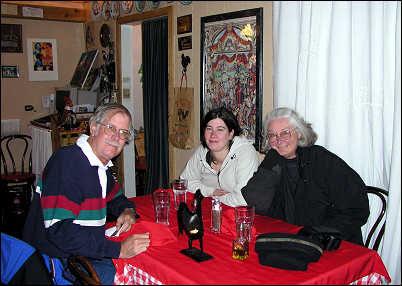 <><><> Teton Village Area Restaurants <><><>


Mangy Moose at Teton Village serves dinner (as well as lunch in their bar) - see the listing below - and was one of our favorite places to eat in the Village. A huge salad bar started each dinner, followed by perfectly grilled steaks, chicken, and seafood. We loved the fun, casual atmosphere.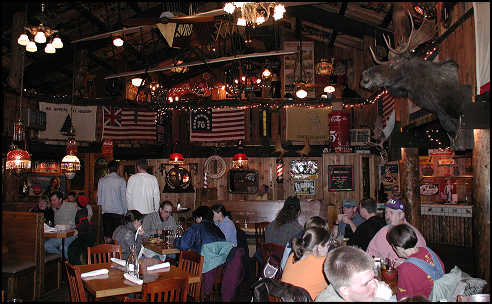 The Gamefish at the Snake River Lodge had one of the most interesting menus in Jackson - fish, game, and buffalo! Kenny had the elk, Max had the buffalo -- both excellent.

Alpenhof Dining room has elegant selections of fowl and game; the Bistro offers lighter fare and features "Wild Game Loaf" as one of the most popular items. It also has Swiss Raclette and Fondues which our family loves. Several went and enjoyed dinner at the Alpenrose, especially finishing up with the heavenly Chocolate Fondue!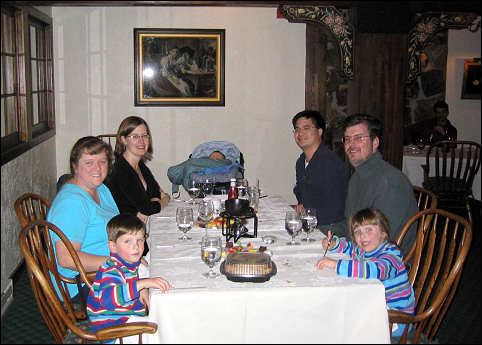 Stieglers Restaurant and Bar located at the Jackson Hole Racquet Club on Teton Village Road should not be missed. It serves wonderful Austrian Continental dining with attentive service in lovely surroundings. A fireplace sets the dining mood in both the bar and restaurant.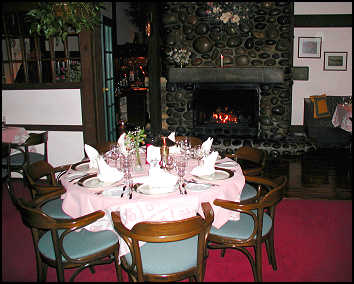 Calico Italian Restaurant & Bar on Teton Village Road has super pizzas and all types of Italian specialties. We ate here twice since Kara, the vegetarian, proclaimed it as having some of the best meatless selections in the area.

The Pines Restaurant in Teton Pines Resort has a nice selection of beef, chicken, fish, and lamb dishes plus pasta specialties.

<><><> Teton Village Heat & Serve in your Condo <><><>
Our family grew to 12 of us including our 3 kids and 6 grandkids. This somewhat limited our dining out at restaurants, however, we discovered an even better option - ordering a full meal at the Aspens Market located at the Racquet Club on Teton Village Road. We would place the order the day before, then pick it up at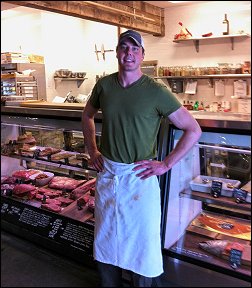 5pm, take it back to the condo for a quick heat and serve. We saved hundreds of dining dollars doing this several times during our 10 day stay. (Note: Aspens Market is located in the same place that West End Deli used to be.)

Best of all, these were delicious meals, some far better than the best restaurants in Jackson. Orders must be placed the day before and they have suggested menus, but will fix almost anything you might want. Jason, shown at right, helped with meal planning.

We also had Lasagna with salad and some of the deli's wonderful bread. We couldn't resist ordering a spiral ham, scalloped potatoes, and veggie casserole another night. The Market also has a large selection of grocery items - everything we needed for our vacation stay. Go by to pick up a list of their meals or give them a call at (307) 200-6140. They also serve breakfast and lunch which can be eaten at a row of tables near the windows. You can purchase a couple bottles of wine or beer at the liquor store right next door.

SHOPPING: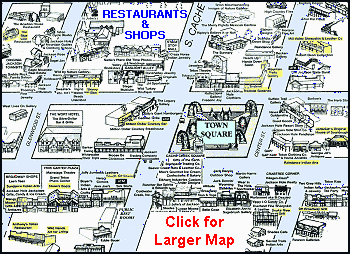 To open a separate map to view, click here.


Downtown Jackson near the Square has an interesting assortment of stores, including some excellent art galleries. Our two favorites are the Trailside Americana Fine Art Gallery and Images of Nature which features Tom Mangelson's astounding, award winning wildlife photographs, greeting cards, and calendars. Other shops offer clothing, jewelry, western gift items, and almost anything you can think of. Fortunately it is devoid of those horrid "elegant name brand stores" such as Gucci, Dior, and Fendi that have taken over Aspen.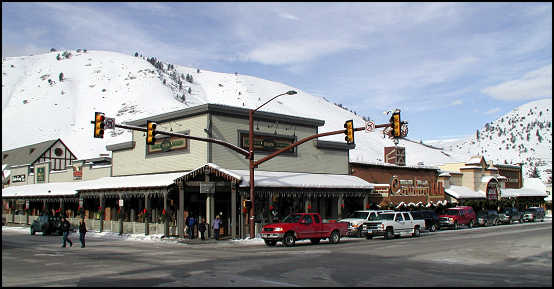 Most stores are within a two block area around the Square. I'll share some of my favorites with you -- realize that I've shopped Aspen, Taos, and Santa Fe (for comparison) and most of these listed in Jackson are quite unique.

Teton Kids is the perfect shop for kid's wear, cute hats, and toys.

A Touch of Class near the Square has wonderful collectibles, including some darling crystal moose in three sizes. It also has one of the largest selections of Swarovski crystal found anywhere, including the owner's private collection - many no longer produced and quite rare.

Boyers Indian Arts & Crafts is a must see if you like Native American gifts, jewelry, and trinkets! John Boyer on the left below will happily show you the huge array of goods; the store was started by his parents in early 1960.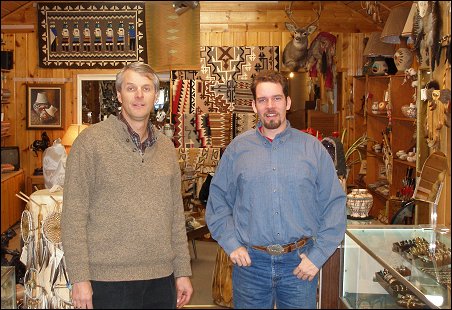 Stone's Boots can keep you browsing for hours for footwear, belts, and other leather goods.

Mangy Moose Gifts is a complete hoot! You'll find moose in every shape and form imaginable. Hubby Kenny found two cute backpacks for our twin grandchildren there.

Raindance Indian Arts has wonderful selections of Native Indian jewelry and handcrafts, western collectibles, and other delights. They also have Filmo Creations which is a collection of whimsical animals and creatures.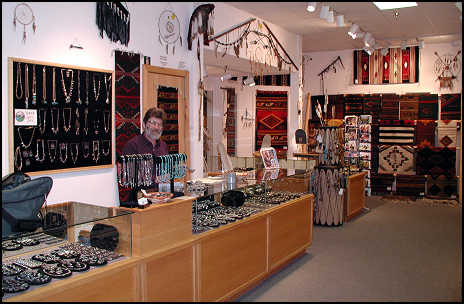 Wild Hands for Living has wonderful hand-crafted arts and gifts.

On our 2004 trip to Jackson, we discovered that C.J. had bought the Jackson Hole Hat Company which has "cowboy hats" of every kind and color anyone could imagine! Kara and Nick spent several hours trying on what seemed like the entire store of hats and choose two great ones! Nick's is sporting a rattlesnake skin hatband, Kara's has a concho band. They are with Dusty who waves his magic wands and makes all the custom hats!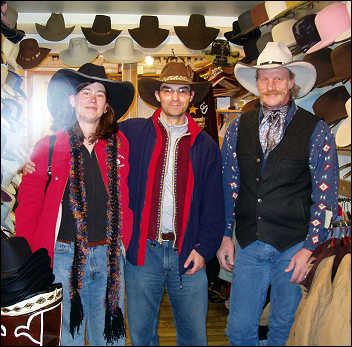 Many, many other stores are in Jackson and will provide hours of shopping, browsing, and poking around. Some of the best and most interesting, including these listed above, are locally and family owned.


NIGHTLIFE:

Jackson doesn't have a LOT of night spots, but here are a few fun places to go:



Million Dollar Cowboy Bar on the town square has live country music
and country swing dance lessons along with pool tables and a restaurant. We could hardly wait to get my British son in law Nick to this place! Sit on a saddle and drink a cold one!

Shady Lady Saloon at the Snow King Resort in Jackson has live entertainment and an intimate atmosphere.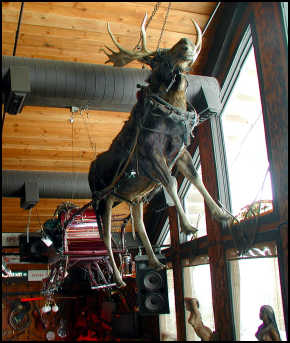 The Mangy Moose Saloon is Teton Village's favorite hangout and apres ski bar. This massive building has three places to eat, a liquor store, ski shop, Llama Lou's Snowmobile Tours, and a huge bar which features ski movies, national entertainment, and dancing. An outrageous stuffed moose (the whole thing) pulling a sled hangs from the rafters and observes all the party people below.

The Moose's Belly (downstairs) serves breakfast, lunch, and dinner - place your order at the counter and they'll bring your food. The bar serves drinks & bar snacks and opens at 11 am and rocks & rolls until after midnight.

The Mangy Moose restaurant opens for dinner and serves a tasty selection of steaks, chicken, seafood, and vegetarian entrees.


"A to Z" OTHER INFORMATION


AIRLINES: Jackson is served by American Airlines, Delta, and United. American Airlines has a flight each day from Dallas and Chicago; Delta flies to Jackson from Salt Lake City, and United has connections from Denver. On arrival, be sure to browse through the visitor information and brochures located near the luggage pick-up area.

AIRPORT TRANSPORATION: Several hotels and lodges provide a ride if you arrange this in advance. Otherwise, call ALLTRANS which meets all departures and arrivals and can handle individuals as well as groups. 307-733-3135

BUSES & GETTING AROUND: Jackson has a very reliable bus system which links the town of Jackson to Teton Village at the base of the ski mountain. The rate is $2 one way and $1 for trips around town.

CAR RENTALS: You will probably need to rent a car if you are staying at Teton Village, or even in town if you don't want to use the bus system. The airport has all the major rental companies, but beware Hertz if you need a big Suburban sized car that will hold at least 6 people and a load of luggage! We reserved two for our family of 12 and ended up with two Infinity "luxury" SUVs the size of a Chevy Tahoe plus they had bucket seats in the second row... this meant that we could really only fit 6 and NO luggage in, or four with luggage. End result... we had to rent a third SUV and it was not from Hertz! Both Budget and Alamo had what we wanted. My advice is to avoid Hertz in Jackson and go with Avis, Budget or Alamo.

CHIROPRACTIC: We all liked Christopher Koch, DC, PC located at 230 North Glenwood Street located right across from the Alpine House. (307) 733-5559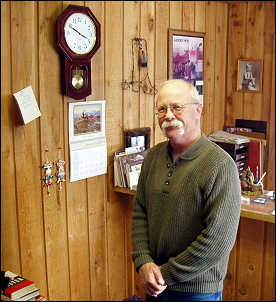 DELI & MEAT DEPARTMENT: At this time, the village has only a few restaurants serving breakfast, lunch, and/or dinner. We ate breakfast each day in the condo and the "ski gang" usually dropped by for lunch too. As usual when staying in a condo near the mountain, we first load up at the big Albertson's in town, then fill in with more food as needed at the Aspens Market at the Jackson Hole Racquet Club about 4 miles down the road.

The deli is a delight! Everything imaginable from fresh seafood to custom cut meats is available. They will be happy to prepare special entrees you can take home and pop in the condo oven. See my review about this above under Dining - Heat & Serve in your Condo. (307) 200-6140.

GROCERY SHOPPING and DELIVERY SERVICE: After spending the beginning of several trips arriving at the condo, running to the store and spending several hours shopping for food (after a long day of air travel), I decided to try one of the Jackson businesses that would do our shopping and stock the condo on our day of arrival. What a great idea!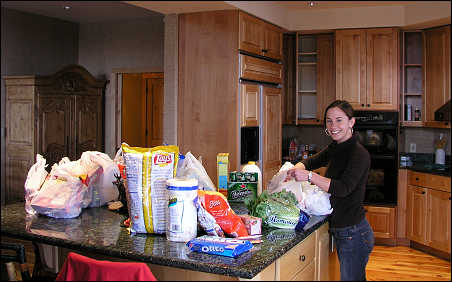 We used Mountains of Groceries and simply FAXED our order to them a week or so before our trip. Contact them at www.mountainsofgroceries.com or call 307-734.1981.

LODGING:

The town of Jackson has a wide range of accommodations from basic hotel rooms to elegant inns. Teton Village at the base of the mountain has all kinds of condominiums and several hotels. Take the links at the bottom of the page to reach my Town of Jackson and Teton Village lodging reviews.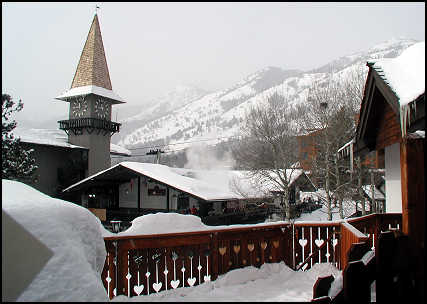 RENTAL CARS: Jackson doesn't plow their roads, so I highly recommend that you rent a four-wheel drive vehicle. If you ski, be sure and tell them you'd like a ski rack with the car. Be sure to make your reservations FAR in advance of your trip - four-wheel drives are limited.

SKI SCHOOL: Jackson Mountain has a full range of lessons for all ages from 3 year olds to adults. Read about the "Kids Ranch" and our 3 year old twins learning to ski for the first time by taking the link below.

SPA & MASSAGE: Massage is at the top of our list during a ski trip! Soothe those achy muscles after a couple days of being on the slopes.

In town, we go to The Body Sage Spa at the Rusty Parrot Lodge which has a full range of spa services and all types of therapeutic massages.

In Teton Village, the Snake River Lodge has full spa and massage facilities.

OTHER THINGS TO DO IN JACKSON:

Take a dog sled trip, a dinner sleigh ride, bowl or play pool, ice skate, visit Idaho's hot pools and olympic swimming complex, snowcat ski, and go on another snowmobile tour! Just call Llama Louie's Day Trips (307) 733-1617 or drop by his office next to the Mangy Moose Saloon at Teton Village to make reservations for snowmobiling, snowcat skiing, and dog sledding.

For complete travel planning including hotel and airline reservations, contact your favorite travel agent or call mine at Olson Travel (800) 525-8090 or (361) 937-1733 or take the link below to his website.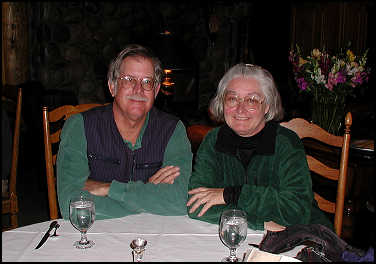 P.S. I "retired" from skiing four years ago... being a late learner at age 30 "back when", I never could catch up in experience with the kids and hubby, plus being a native South Texan, wasn't really excited about standing half frozen at the top of a mountain in zero temperatures and spending the afternoon struggling down a greenish blue slope to reach the bottom. That's O.K., I am a serious winter resort "shopper - diner", and replaced skiing with scuba diving in warm Caribbean waters. The rest of my family are the first ones on the lifts and the last ones down the mountain!


---