Most of the condominiums are "up the hill and over the dale" from Teton Village and located near bus routes for transportation to the lifts. Most of the private homes are "up the mountain" along steep roads above the village.

New for 2004 are quite a few new hotels and lodges which expand the number of available hotel rooms, shopping, and restaurants. A huge Four Seasons luxury hotel is next to Bridger Center and Granite Ridge is adding townhomes. Crystal Springs Lodge is next to the Mangy Moose.

We visited some of the village accommodations which were close to lifts and found an interesting assortment of rooms, suites, and condos. We also viewed two "log cabins" in the new Granite Ridge development that has a surface tow to the lifts, and a town home in Moose Creek which has its own lift for mountain access.


Teton Village

Hotel, Lodge, and Condos

«¤»¥«¤»§«¤»¥«¤»§«¤»¥«¤»§«¤»¥«¤»§«¤»¥«¤»

The Alpenhof Lodge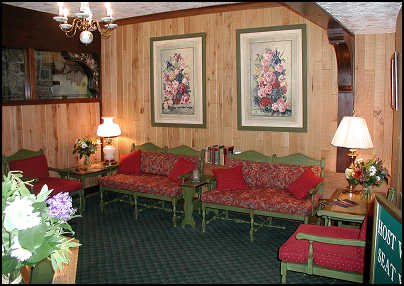 This lovely lodge was the first hotel built in Teton Village during 1965 and reflects the Bavarian owners' heritage. A warm, inviting lobby greets guests along with a friendly staff.

It has two of the most popular restaurants in Teton Village. The casual Bistro is a favorite lunch and apres ski spot featuring a roaring fireplace, fun bar, and outdoor dining when weather is nice. Colorful international flags add to the festive atmosphere.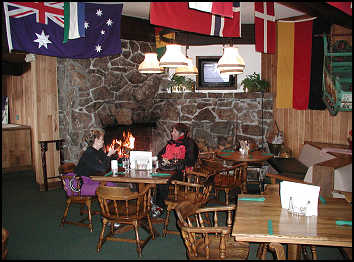 The Alpenhof also has a Four Star dining room featuring wild game dishes and other continental selections. It's known as one of the best restaurants in the Jackson area.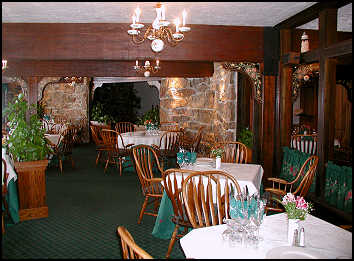 The lodge has 42 rooms and suites all furnished with Tryolean touches. Some have balconies or fireplaces and suites have Jacuzzi tubs. The two bedroom Arlberg Suite includes 2 bathrooms and a separate living room with bar and refrigerator.

Two "feature rooms" are the Edelweiss Room and the Alpine Room both with outstanding furnishing and decor. The spacious Edelweiss is a corner Junior Suite with a king bed, fireplace, 2 balconies, and a wet bar. Just next door and slightly smaller, the Alpine Room has a large balcony, king bed, fireplace with sitting area, and handcrafted wooden beams as shown below for a touch of Bavarian splendor!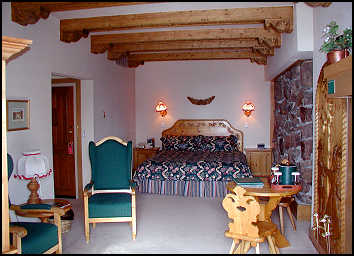 If you are looking for comfortable surroundings with personal service, the Alpenhof would be a great destination.


«¤»¥«¤»§«¤»¥«¤»§«¤»¥«¤»§«¤»¥«¤»§«¤»¥«¤»

Four Seasons Resort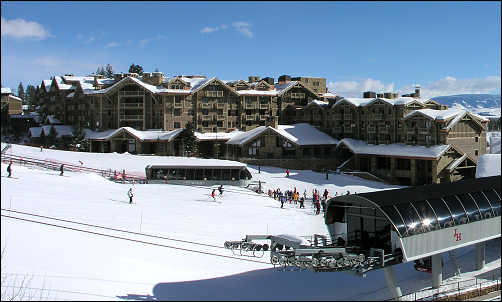 The Four Seasons Resort opened in 2003 with 124 rooms including 17 private residences and 40 resident club units. It is perfectly located at the base of the mountain near the lift and gondola with the ski-in and out section strategically located on the slopes.

The resort features many different lobbies, lounges, and comfortable areas to relax or visit friends or family. Areas facing the mountain have gorgeous views!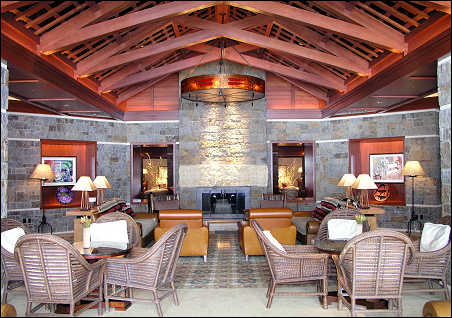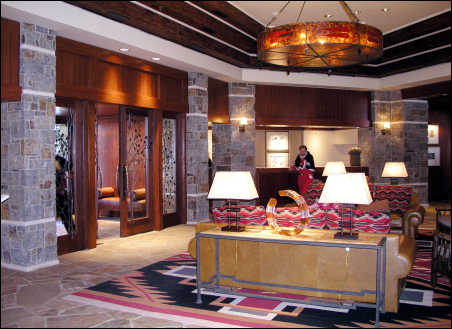 Two restaurants, The Peak for casual cuisine and The West Bank Grill for a fine dining experience, provide a wide array of menu selections.



All guest rooms and suites have a balcony or terrace with either valley or mountain views. Decor and interiors are in warm southwestern tones with touches of the west. Most also feature a fireplace.



The Suites are handsome and quite spacious. Some of the larger ones include a full kitchen, dining area, and large living room in addition to the bedrooms.



The hotel also has a full service spa, Ski and Summer Activities Concierge, outdoor pool, whirlpools and fitness center. Supervised children's activities can be arranged.

If you are looking for an elegant resort with all the services you might want during a mountain vacation, the Four Seasons would be an excellent choice.


«¤»¥«¤»§«¤»¥«¤»§«¤»¥«¤»§«¤»¥«¤»§«¤»¥«¤»

Snake River Lodge & Spa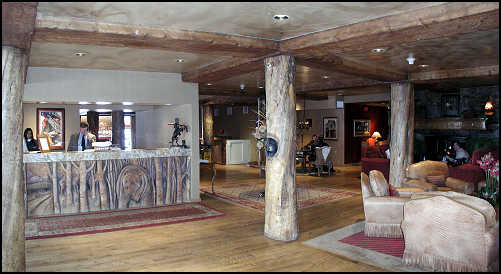 Previously known as the Renaissance Hotel, this large full service resort has now become the "Snake River Lodge & Spa" as part of Vail Resorts consortium. With 101 rooms and 43 condominium units, it is far larger than a "lodge"!

The decor is elegant "western" with massive posts and beams throughout. Two restaurants offer fine dining with regional cuisine while a wine bar serves aperitifs in the lobby.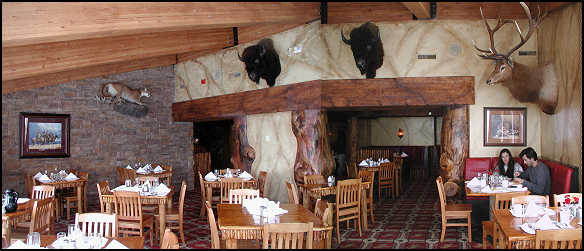 A huge spa, fitness center, and pool facility has been added for guests' enjoyment. The heated indoor pool leads to an outdoor pool surrounded with boulders. I was ready to jump in!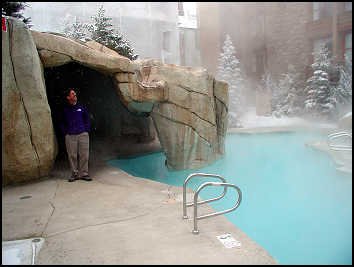 The Snake River Lodge and Spa is one of Jackson's largest full service hotels.


«¤»¥«¤»§«¤»¥«¤»§«¤»¥«¤»§«¤»¥«¤»§«¤»¥«¤»

Cody House


Cody House is a 4 unit condominium located right next to the Bridger Gondola and above the "Kids Ranch" daycare center. Units A through D are on the top floor.

We stayed in a 2 bedroom, 2 1/2 bathroom unit (B) managed by Rendezvous Mountain Rentals and were impressed with the spaciousness of the rooms and interesting layout. A kitchen and bar overlooked a large living room and dining area decorated with comfortable furnishings. Wrap around floor to ceiling windows had 120 degree views of the entire mountain and across the nearby lifts to the Four Seasons Hotel. It doesn't get any better than this!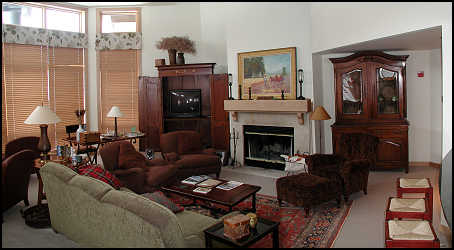 Both massive bedrooms included sitting areas large enough for a sofa and chair plus en suite bathrooms. A half bath was along the hallway.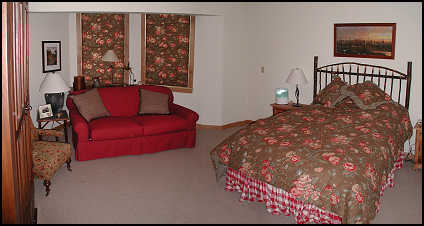 A large deck overlooking the ski slopes held a huge hot tub with wonderful views of the mountain, ski school, gondola, and activities below.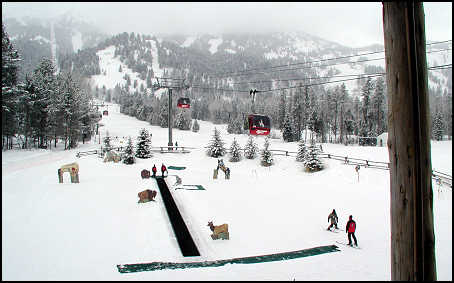 We also stayed in the other condominiums and each are large and comfortable - perfect for couples or families wanting luxury just a few steps from the gondola and slopes. Large families like ours can rent all three and just be steps down the interior hallway from each other.


«¤»¥«¤»§«¤»¥«¤»§«¤»¥«¤»§«¤»¥«¤»§«¤»¥«¤»

Crystal Springs Lodge


This ski-in and ski-out condominum is next to the Mangy Moose and in addition to having luxury accommodations also has outstanding views of Jackson Mountain and the valley. It is right next to the Arial Tram.

One, two, and three bedroom condos are available and feature hardwood floors, fireplaces, gorgeous kitchens, and luxury furnishings.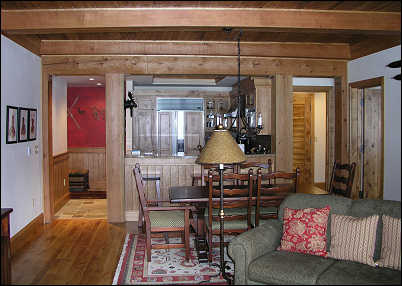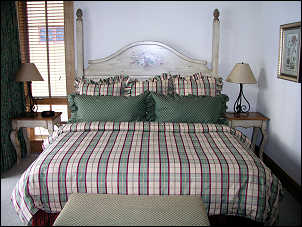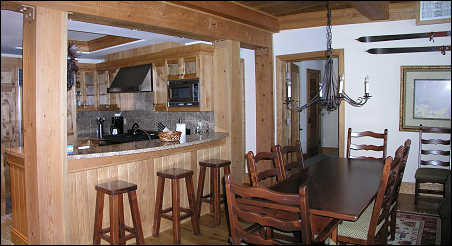 The master bedroom is very spacious and has a large ensuite bathroom with an oversized jacuzzi and walk-in shower.

Guests with cars will appreciate the underground parking garage. If you are looking for centrally located condos with lots of features and amenties, the Crystal Springs Lodge units would be perfect.


«¤»¥«¤»§«¤»¥«¤»§«¤»¥«¤»§«¤»¥«¤»§«¤»¥«¤»

Teton Club


Right next to Cody House (just a few more steps from the lifts) is Teton Club, a fractional ownership condominium resort, also available for vacation rentals to non-owners. Frankly, I'm pleased to see this new development since it signals that growth is finally starting to happen to Teton Village and will add more places to stay and dine.

It is decorated with the finest in furnishings - elegant western rustic, as I call it. The large, rambling lounge is accented with a huge stone fireplace and log posts two stories tall.