Town of Jackson
Inns, Guest Houses, and Lodges
Accommodations in the town of Jackson consists of motels, hotels, inns, lodges, and B&Bs... there's very few condominiums - most of those are out at Teton Mountain. Visitors will find a wide range of choices from basic motel rooms to luxury suites.
Kenny and I spent a few days visiting some of the most upscale inns while looking for a place for our family of 10 to vacation (4 couples plus twin grandchildren) and also for a couple looking for a romantic hideaway.

«¤»¥«¤»§«¤»¥«¤»§«¤»¥«¤»§«¤»¥«¤»§«¤»¥«¤»
ALPINE HOUSE
Alpine House started with 6 rooms ten years ago and since added 15 deluxe rooms and suites in a lovely new wing, giving a wide choice of accommodations from cozy bedrooms (some with a loft) to a 1 bedroom suite with a separate living room.
The Inn is one of the most cheerful places we've stayed both in decor and hospitality of the owners and staff. An abundance of big french glass doors and windows bring in lots of sunshine and light.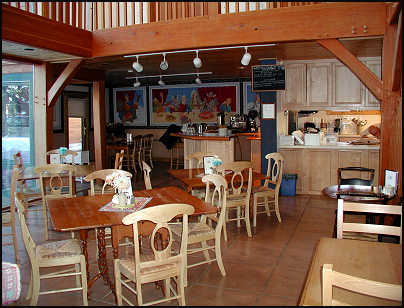 The main room of the House holds a sitting area near the entry plus tables and chairs for guest breakfasts, a "expresso bar" room, and long tile counter next to the kitchen where guests will find breakfast goodies each morning and snacks every afternoon.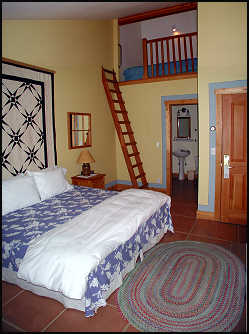 The 6 original rooms are on a second floor mezzanine - three on each side. Two (101 and 106) are large rooms with queen beds and a private balcony; two (102 & 105) are standard rooms with queen beds; and two (103 & 104) are unique loft rooms - one with a king bed and the other with a queen bed both with ladders to a loft holding a double bed - see the side photo. These rooms would be perfect for a family of three or four.
The 103 King loft connects to 102 standard queen for those who might want accommodations for up to 6 people. The rooms on this side of the mezzanine all have large french doors opening to a outdoor balcony running past all three rooms to a stairs conveniently leading to the parking area below. All are decorated bright colors and scandinavian furnishings.

The main downstairs area connects to a long hallway leading to a pretty library room in the new section - a place to relax and enjoy a cracking fire and view the front yard through large french doors (I saw three deer wandering down the street one night!).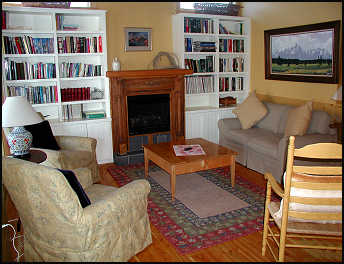 The new bedrooms and suites are on the 2nd and 3rd levels. The 2nd floor holds 5 bedrooms - on one side of the hall is 109 and 110 - both Standard Queen rooms and 111 which is a large King Deluxe room. The other side of the hall has 113, a King Deluxe (can accommodate handicapped people - a small elevator is right next to the room) that features a twin size sofa chair (for a 3rd person) and large bathroom with a Jacuzzi... plus 112 a one bedroom suite - King bed in the bedroom with a sofa and fireplace in the living room and Jacuzzi tub in the bathroom. All rooms have large french doors that open onto a 12" wide balcony only large enough to stand on. In summer, the doors can be opened to the breezes and cool mountain air.

The third level holds a variety of rooms and suites - one in the front corner is a large Grand King with small sitting area, fireplace, large balcony, and wonderful view of Snow King mountain.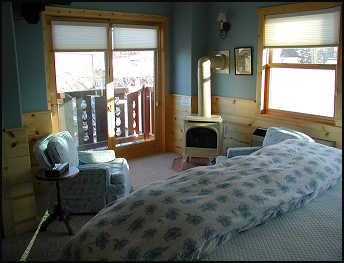 The staff is friendly and makes guests feel right at home in a relaxed, bright and cheery atmosphere. MJ (Mary Jane) is one of the receptionists and often the one who answers when you call to make reservations. The chef is busy all day long - making wonderful breakfasts in the morning and delightful cookies or snacks each afternoon.

A full gourmet breakfast is included in the rates and starts with a smorgasbord of cereals, fruit, juices, and breads presented on a long serving bar. Orders are then taken for a hot breakfast which varies each day. We enjoyed a southwest breakfast burrito one morning and feasted on eggs benedict another day. The chalkboard below shows a menu of "Blackberry pancakes with pure Vermont maple syrup" and "Rustic Frittata with country sausage, portabella mushrooms, roma tomatoes, and chevre cheese". YES, it was good!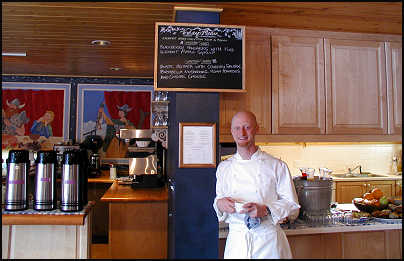 Chef Eric also prepares an "afternoon delight" at 4 pm which can be anything from fresh baked cookies to freshly made salsa & chips or a selection of cheeses and crackers. Wine and beer is available during happy hour.

The Inn has a sauna downstairs and outdoor hot tub for guests' enjoyment, and also a massage room. The only amenity missing was a washer & dryer for guests which would make a long stay much easier than walking 2 blocks in either direction to a public laundromat.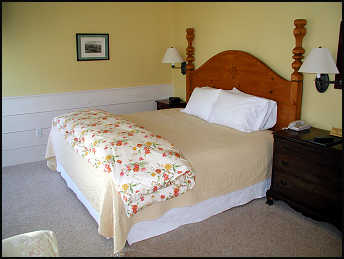 During our visit, lots of honeymoon couples were staying at Alpine House and several families too. Children of all ages are welcome and cribs are available. Guests will enjoy the spaciousness of the inn, the friendly staff, and the perfect location on a quiet street in Jackson only 3 blocks from the square.

The Alpine has one of the largest common areas of the inns in Jackson, giving guests lots of lounging room. Overall, I give the Alpine House a high rating for "best value" in the upscale inn and B&B department. (and kudos to Chef Eric for some delightful breakfasts and afternoon creations!)


«¤»¥«¤»§«¤»¥«¤»§«¤»¥«¤»§«¤»¥«¤»§«¤»¥«¤»

RUSTY PARROT LODGE

The Rusty Parrot is Jackson's only 4 star accommodation and is pure luxury. Built in 1990, the owners created one of the most desirable "hideaways" in Jackson. A western decor is evident throughout with log beams, western art and accents. The main area has a big sofa and chairs in front of a massive fireplace with dining tables and chairs scattered nearby. The open kitchen has a long serving bar for breakfast, afternoon snacks, and refreshments.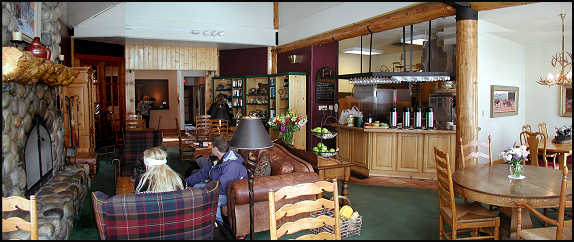 Three levels of 31 bedrooms provide lots of accommodation choices from spacious Garden level rooms to some with a double whirlpool bath and fireplace. It has one luxury suite. Each room has handcrafted furniture, down comforters, oversized bathrooms, and television.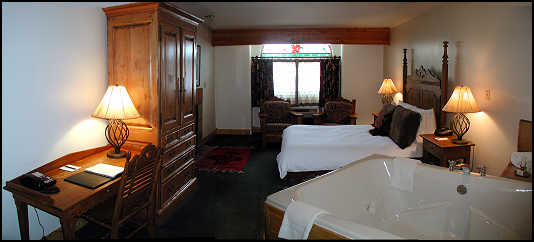 The location is only four blocks from Jackson Square and next to a large park, giving an atmosphere of being in the country, rather than in the middle of Jackson. Many times during our visits, we've seen deer wandering through the park. The second floor has a large hot tub for guests and overlooks the park and Snow King Mountain.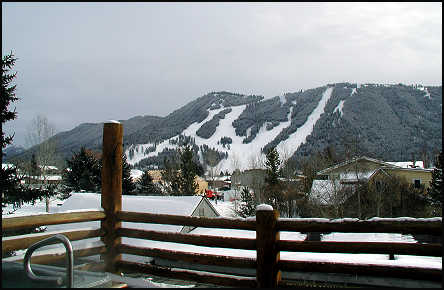 The Body Sage is located in the Rusty Parrot and provides spa treatments of every type plus massage therapists ready to relax those tired muscles after a long day of skiing. Same day laundry service is available for those with an extensive stay.

Guests will enjoy gastronomic breakfasts created by talented chef Jason such as "Boursin scramble with roasted potatoes, seared beef tenderloin, a poached egg with hollandaise" or "Citrus spiced French toast with pure Vermont maple syrup", OR "Rustic rolled oats with golden raisins and brown sugar".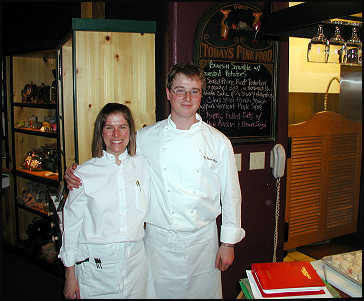 The Rusty Parrot is now serving dinner, a good addition for an inn this size. We started with Seafood Saffron Chowder, followed by Fresh Sea Bass and Smoked Salmon Fish Cake appetizer, and then feasted on a Seared Beef Tenderloin with Roasted Garlic Mashed Potatoes, Fresh Asparagus, and drizzled with a Bernaise sauce - all excellent. Right after dinner, a curious deer showed up at the glass doors much to the delight of guests!

The Rusty Parrot is a wonderful destination for those who love romantic getaways, luxurious surroundings, superb breakfasts, elegant dinners, and a full service lodge.


«¤»¥«¤»§«¤»¥«¤»§«¤»¥«¤»§«¤»¥«¤»§«¤»¥«¤»

INN ON THE CREEK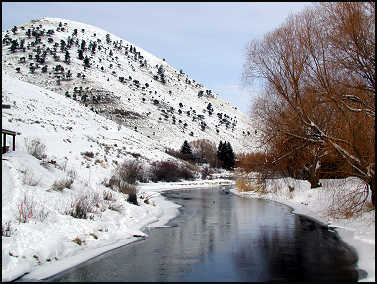 As its name implies, this inn sits at the edge of Jackson next to a delightful little creek, often full of ducks floating by. It is located 5 blocks from Jackson Square in a very secluded part of town. It has nine rooms, six in the main inn and three located in an adjacent building with a different entry and access.

A living area with adjoining breakfast and refreshment bar greets guests upon entering the inn. A Continental breakfast of hot drinks, juice, and breakfast breads is served to guests every morning and is included in rates.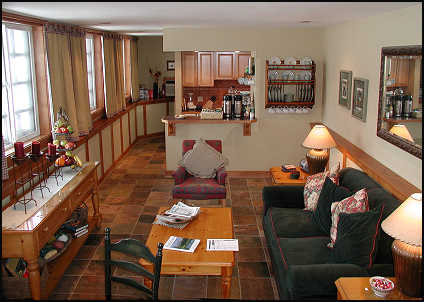 The rooms provide deluxe choices for guests, ranging from cozy standard rooms at $159 a night in winter to some with an in-room Jacuzzi and fireplace for $239. Interestingly, the fireplace is located JUST above the Jacuzzi in this room!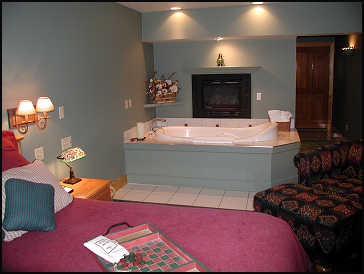 Inn on the Creek also has a big beautiful Grand Suite with a large living-dining area complete with full kitchen, plus bedroom and oversized Jacuzzi. This first floor unit overlooks the creek and provides one of the most spacious one bedroom accommodations found in Jackson.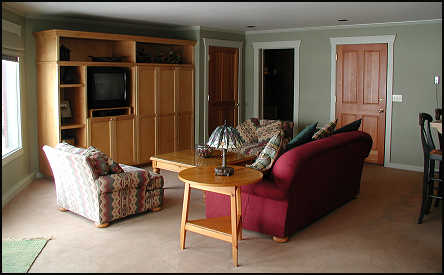 The dining area is next to a fireplace with two wing chairs. The door leads to a spacious bedroom and the full sized kitchen is just to the right of the table and includes a breakfast bar with four chairs.



The Inn has a hot tub for guests and also laundry facilities. Reception will be happy to suggest places for dinner or arrange day trips.

If you are looking for deluxe accommodations in a lovely and quiet location, then Inn on the Creek would be a good choice. It might also be perfect for small groups or large families with older children.


«¤»¥«¤»§«¤»¥«¤»§«¤»¥«¤»§«¤»¥«¤»§«¤»¥«¤»

WORT HOTEL


We loved staying in this full service hotel conveniently located next to Jackson Square. We stayed in two different rooms, one a bit larger than the other, but both quite spacious and very comfortable. The location made shopping easy and just a few steps away.

We had lunch in the Grill and enjoyed every bite. For dinner, we visited the Silver Dollar Bar and found their menu extensive (for a bar). The room uniquely has a serpentine shaped bar embedded with real silver dollars!

This AAA four-diamond hotel has an indoor Jacuzzi, fitness room, and internet service. We'll definitely stay here again!

«¤»¥«¤»§«¤»¥«¤»§«¤»¥«¤»§«¤»¥«¤»§«¤»¥«¤»

OTHER ACCOMMODATIONS

IN JACKSON


Jackson has lots of other accommodations - many motels are located all over town, and one of the largest is the Wagon Wheel Village next to the National Elk Refuge (about a 5 block walk to the Square). It is a self-contained motel complex with a restaurant, saloon, liquor store, laundry, and gift shop. Rates are very reasonable and start at $89.

Jackson Hole Lodge has lodge rooms plus one and two bedroom condominiums and is a 4 block walk from the Square.

Snow King Resort is at the base of Snow King mountain and a good place to stay ONLY if you plan to ski that mountain. Be aware that it's a long walk to the Square, but bus service provides a ride to there and also to Teton Village.


---