We returned to Jackson Hole again in January 2002, 2004, 2006, and 2007. Six family members made our group in 2002 and ten in 2004 when our son's family with 3 year old grandchildren joined us. (you'll read in my other Jackson trip reviews where we had up to 15 on one of our previous trips!). By 2006 we were up to 12 family members with the addition of two new grandchildren.

We were flying from all parts of the country - Boston, Albany, and South Texas. Our arrival dates varied, so Kenny and I first stayed at the Alpine House in the town of Jackson for a few days until all could arrive. At that point, we moved to several condos at the base of Jackson Mountain.


Town of Jackson

We enjoyed spending part of our trip in Jackson and part in Teton Village since the town of Jackson has lots to do and see - shop, bar-hop, galleries, museums, and lots of restaurants. The "skiers" went to the mountain every day, while the non-skiers browsed around town.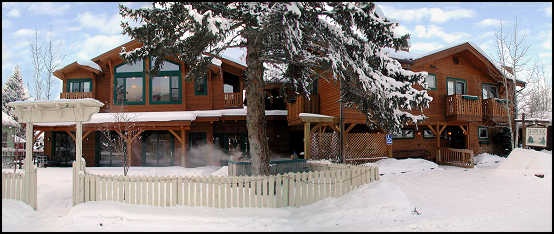 Last year, Kenny and I came to Jackson for a few days and stayed at the Alpine House in town. He wanted to ski and I wanted to shop. I also visited quite a few places to stay both in town and at Teton Village and wrote reviews on all we saw. You'll find links at the bottom of this page to the articles. We returned to the Alpine House this year since it wins our award for lovely accommodations combined with great hospitality. It's starting to feel like our "second home"!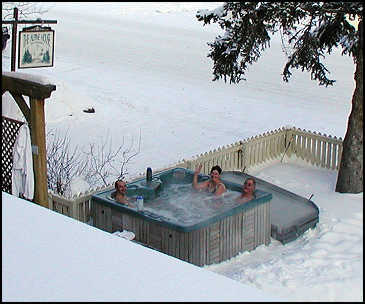 Plus, The Alpine House is a delightful place to stay. The location is perfect - only a couple blocks from the square - the rooms are bright and spacious, and Eric the chef starts each day with wonderful breakfasts and treats guests each afternoon to gourmet snacks. Kenny, Kara, and Nick loved the big hot tub in the front yard - alas, I forgot my bathing suit, so the closest I came to warming up was standing in the steam rolling off the bubbling waters.

Kara and I had fun showing her British husband around the town - we shopped for leather coats, browsed all the "cowboy" gear, looked at boots and hats. But the best part was taking him into the Million Dollar Cowboy Bar and pulling up a saddle to have a cold brew!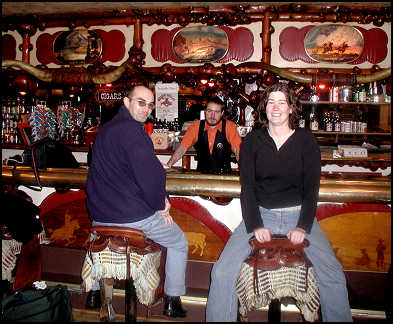 [Side story since we are on the subject of "cowboy stuff". Both Nick and our other son-in-law Max from Boston have been dying for cowboy boots since they are both married to Texas gals. Kenny found an ad in a magazine for some very special boots called Tony Lama's Tennie Lama boots. We bought a pair for both guys and brought them on the trip. Here they are proudly (with tongue in cheeks) showing off their new footwear. Alas, they are no longer made, but I'd suggest we all call Tony Lama's factory and tell them we would like to see them back in the boot stores!]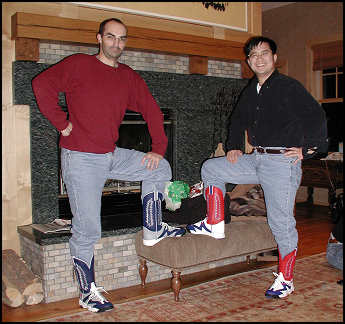 One thing I've noticed about Jackson - some of the nicest, friendliest people in the world live there! Everyone is in good spirits (despite the sometimes minus zero temperatures!) and has a smile for you. And this is pretty much everywhere - the shops, restaurants, ski mountain, hotels. I'll share an example with you...

Nick and I both wanted a leather coat. I'd bought my last one in Jackson years ago and it was frazzled - Nick had lost a favorite one of his and never found a replacement. We went in and out of all the leather stores in Jackson - and there's quite a few! One of the last stores we found was Mill Valley Sheepskin and Leather Company about a block from the Square down Center Street. What a huge selection they had! Every color, every style were available. I was amazed to lift a coat or jacket off the rack, expecting the typical heavyweight, and find many of them light as a feather! Owner Kevin explained that fine baby shearling coats weigh hardly anything. I found the perfect jacket and so did Nick. Here we are in front of the store with Kevin and C.J. - be sure to stop by on your next trip to Jackson for the hospitality as well as some of the nicest selections found anywhere.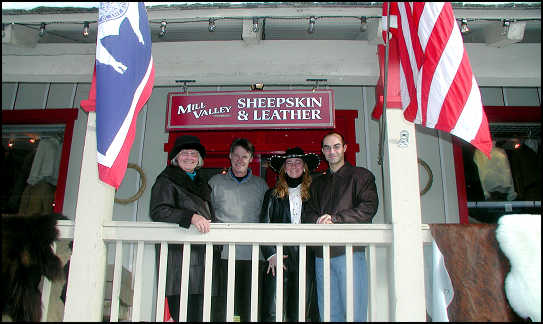 We had dinner at several places in town - the Blue Lion was good as always, as was the cuisine at the Rusty Parrot Lodge (chef Jason has a small, but outstanding menu).

Nick (the beef eater) and Kara (the vegetarian) enjoyed the Merry Piglets Mexican Cantina and the Teton Steakhouse before Kenny and I arrived.

We particularly liked Antony's Italian Restaurant which had a huge menu of tasty dishes and fresh baked, crusty garlic bread.

As always, Jedediah's Original House of Sourdough was our favorite spot for lunch (and we had breakfast there the day we left too)!


Teton Village at Jackson Mountain


We moved to a couple of Teton Village condos to gain a complete "mountain experience" -- a nice change from staying in town and much more convenient for the skiers. For those of you who have been to Jackson before, you'll have a big surprise on your next trip there! The mountain village is exploding with new construction and development -- giant cranes are everywhere and holiday homes and condos now dot the hillside up the mountain and at the edge of lifts. This is a view from the Cody House just above the Gondola looking back toward the village.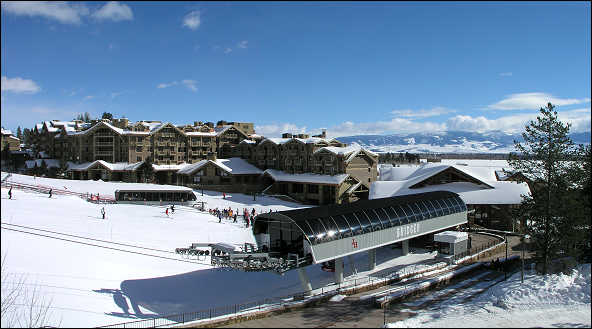 The Four Seasons Resort is next to the lift and Gondola. The Snake River Lodge finished adding condominiums to the hotel section and also features a huge indoor/outdoor pool, spa, and fitness room. The Mangy Moose has added a wine and cheese store section to its building.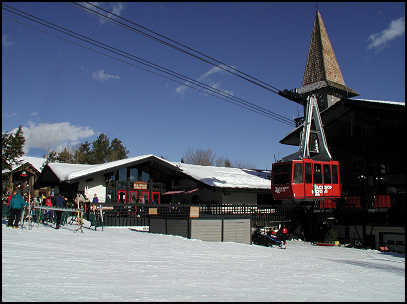 The problem with Jackson in the past has been that it is a "divided destination" - things to do and places to shop and eat are in town; the skiing is 12 miles away on the mountain with only a few ski shops, four restaurants, and one night club! This is starting to change as new hotels are added and no doubt it will help generate more shops, restaurants, and night life at the mountain. A welcome change!



Our condo was directly above the Kids Ranch which provides children's care, ski school for ages 3 to 17, and lessons for beginners through extreme skiers.

Skies alternated clear, sunny days with snow falling now and then - overall fairly good "ski" weather for the Rockies in early January.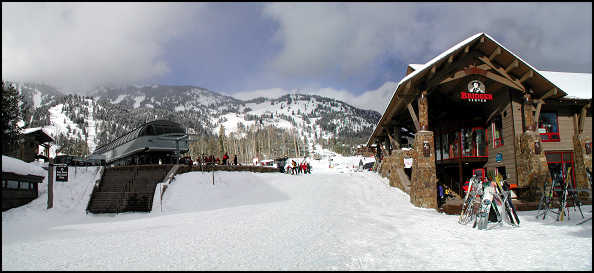 Koko, Max, and Kenny took a day off from skiing and went on a wilderness tour through the Teton Valley. As always when planning a day trip, we call Llama Louie for suggestions and reservations. To read about their adventure, click HERE for Corinne's review.

We had rental cars for the entire trip - a good thing since presently there's only a few restaurants which serve dinner in the village. A couple nights we drove 4 miles down Teton Road to dine at the Calico Italian Restaurant. As always on our trips, we also went to Stieglers Restaurant, well known for some of the finest cuisine in Jackson Hole.

The Gamefish at the Snake River Lodge (only a short walk from the condo) had some interesting specialties - Max had the Buffalo Rib-eye, I had the Wyoming Strip Steak, and Kenny tried the Wapiti grilled Elk Chop! Kara had the vegetarian's special.

Alpenhof was a delight! The Bisto upstairs has a casual fun atmosphere with a always busy bar and tasty menu. Downstairs is the fine dining restaurant which features one of the best menus in Teton Village. I especially liked the Jagerschnitzel, whereas most of the family orders the many varities of Fondue specials.

Our overall favorite place was the Mangy Moose - Kara loved the huge salad bar and the rest of us loved the menu - a nice selection of steaks, chicken, and fresh seafood. We liked the fun atmosphere too!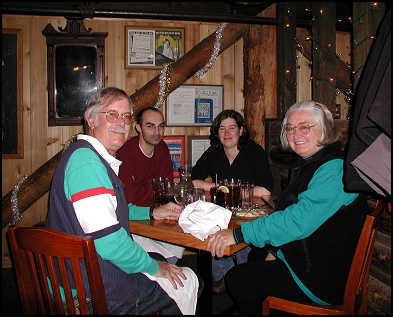 And so ended another great trip to Jackson Hole! We plan to return each year, so watch for more reviews and updates as they happen.

Other things to do in Jackson Hole:

Take a dog sled trip, a dinner sleigh ride, bowl or play pool, ice skate, visit Idaho's hot pools and olympic swimming complex, snowcat ski, and go on another snowmobile tour!


---