The Skiing at Jackson Mountain


Jackson Mountain is awesome in several ways. It has the steepest vertical rise of any ski resort in the U.S. - 4,139' from top to bottom. With lots of sheer drops and narrow chutes on double black slopes, it long ago gained the reputation of being for experts only. However, 40% of the runs are for intermediate skiers and are scattered over two-thirds of the mountain; 10% of the runs are for beginners near the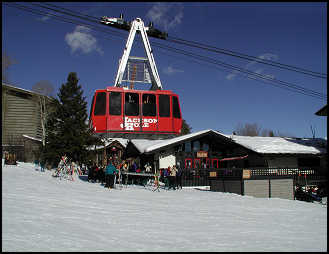 base of the mountain. A tram takes experts to the top of Rendezvous Mountain at 10,450', while nine lifts and a gondola provide access to Apres Vous Mountain at 8,481'. An average of 400" of dry powder snow falls annually and the resort has snow making equipment.

The mountain has three sections with something for all levels from first time on skis to absolute extreme. Standing at the base and looking upwards, the left section (Corbets Cabin - top of the Tram) is mostly for extreme skiers and experts, the center section (Gondola Summit) is mostly for intermediates to experts, the right section (Apres Vous) has some nice intermediate runs, and a lower slope area near the base of Teewinot is the beginners section. Black slopes are scattered throughout the mountain, but a good intermediate can ski all areas as you can see from the runs we've highlighted in bright green below.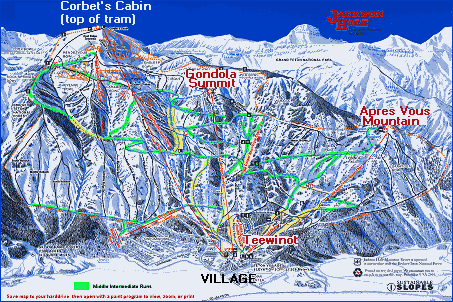 For large Map with Intermediate Runs highlighted in bright green, click here.

Warning! maps are 400K!

For large Map (no highlights) click here.


The intermediate runs marked above tend to draw a large crowd. The high intermediate (some blues and double blues) and expert runs are not usually crowded. The gondola and tram do not have "mid-stations", so everyone must ski all the way to the bottom and the lower runs can be quite icy (be careful) and also very "high traffic" at the end of the day.

If you get to the top of Corbet's Cabin on the Tram and the slopes seem too steep, you can ride the Tram back down.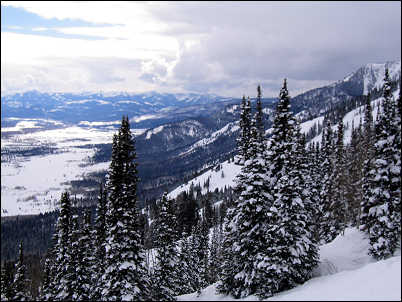 We've heard many stories about Jackson being for experts only. Not true, however, the ski map can be deceiving and may be the cause of some people starting down what they thought was a "blue run" (when compared to Colorado) and it's actually a "double blue" or in some people's minds - a black slope! Some of the double blacks have a cliff you'll have to jump off to reach the "black run" below. Intermediate level skiers might want to hire a guide to show them around the first day ... OR join one of the Mountain Hosts who offer complimentary tours starting at the Crystal Springs pond above the Mangy Moose at 9:30 each morning. Beginners should definitely start with a lesson!


Kids Ranch Ski School

Conveniently located in Cody House and next to the Gondola in Teton Village, the Kids Ranch has age specific activities for children aged 2 months to 17 years.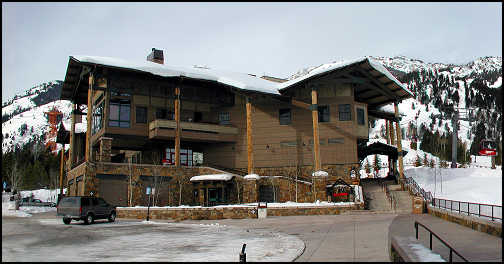 WRANGLERS are for kids ages 6 months to 2 years and combines indoor activities with outdoor snow play. Times are 8:30 am to 4:30 for a full day program with lunch; half-day (no lunch) starts at 12:30 pm.

PIONEERS are for first time skiers ages 3 and 4.
ROUGH RIDERS are for children ages 3 to 6 and includes ski lessons, lift tickets, and lunch with a full day from 9:00 to 3:30; morning or afternoon half days are also available.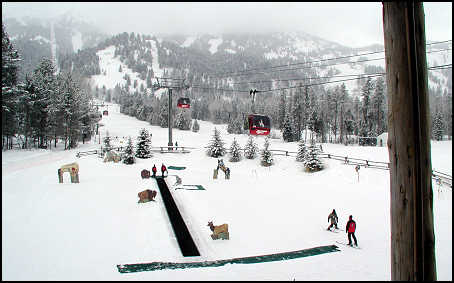 EXPLORERS for ages 7 to 14 includes ski and snowboard lessons with life ticket, and lunch; half-day is available.

For more information, call the Kids Ranch at 307-739-2691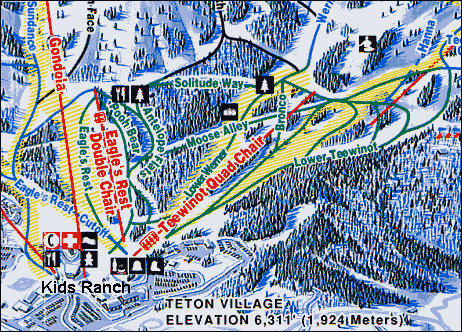 The map above shows the beginner slopes area and location of the Kids Ranch at the base of the mountain om Teton Village. To read about our experience of our 3 year old twin grandchildren learning to ski at the Kids Ranch, take the link below.

Many ski and snowboarding programs are available for adults at the Jackson Mountain Sports School from beginner level to Full Day advanced lessons.