Our big event of the year is the "annual family ski trip", a tradition which started more than 20 years ago when the kids were tiny tots and ski resorts were just coming into popularity. My husband learned to ski while attending college in upstate New York and fell in love with the sport. After he returned to warm, sunny, and snowless South Texas, ski vacations were at the top of his list of things to do.

When the kids were young, we went to Snowmass, Vail, and Breckenridge - all excellent destinations for families. As the kids and their daddy became better skiers, we stayed in Aspen where Ajax (Aspen Mountain) provided a challenge, and Snowmass was just down the road for a relaxing day (apres Ajax?) on the slopes. We then visited Park City, another good family resort, and wandered over to Snowbird and Alta on day trips just to see what they were all about.

Along the way, two other families began to travel with us, bringing the group total to over 15 people, ranging from low intermediate to almost expert level. Since I was the "trip planner", my job became quite interesting to find new places for all to shop, eat, ski, and enjoy winter activities. The kids became twenty-ish year olds looking for all kinds of things to do besides "just ski"! Plus our group consisted of a farmer, two lawyers, a real estate developer, an engineer, art majors, an Air Force U2 pilot, science and math teachers, a drummer in a rock and roll band, business majors, and a psychologist... talk about an assorted group of people and interests!

Last year at Christmas, we all went to Lake Tahoe which dumped more rain than snow on the slopes. The casinos were fun, the lake drives were lovely, but the skiing was not the best. So, we decided to venture as far north as possible this year and hopefully catch some flakes. Jackson Hole seemed a good choice, although friends of ours had endured temperatures of 40 BELOW four years ago during the holidays - lots of snow and super cooled temperatures to go with it! We kept our fingers crossed and hoped for good weather.

After skiing mostly in Colorado all these years, we found that Jackson Hole provided a totally different experience. Our American Airlines plane descended into the snow covered vast valley, surrounded by awesome mountains and peaks. Tiny dots below became hundreds of elk as we dropped closer. The noon sun shined down on a perfect winter wonderland with a temperature of 7 degrees! Surprisingly, it DIDNíT feel that cold as we debarked the plane, but it didnít take me long to start thinking about shopping for a full length wool coat, warmer gloves, and lambs wool hat!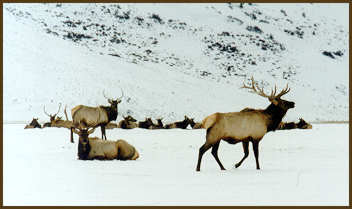 We picked up our Ford Explorers from Hertz (four wheel drive necessary since the roads are not plowed here) and passed by the elk refuge. After driving through town we took the turn to the Jackson Hole Racquet Club condominiums. This resort is located in a picturesque meadow halfway between the town of Jackson and Teton Village at the base of the mountain. Two families had three bedroom units with spacious living/dining room areas, fully equipped kitchens, two and a half baths. The other family had a roomy 2 bedroom/2 bathroom with loft condominium. All had a washer and dryer, big fireplaces with plenty of wood stacked nearby, and pretty views of the mountains and surrounding landscape.

A small, but well stocked grocery-deli plus liquor store was located next to the resort office, as was a complex with ski rental shop, health club with hot tub, exercise machines, and racquetball courts. Even better (as far as I was concerned) was one of the best restaurants in Jackson Hole - Stieglers with Austrian Continental cuisine on par with 4 star places in New York City. If you only eat one elegant meal while in Jackson, go to Stieglers! The Racquet Club provided complimentary transportation to and from the mountain, and city buses came by at regularly scheduled times for $2 trips into town. With three rental cars and the bus systems, our group of 15 had no problem coming and going in 15 different directions.

Those needing to rent ski equipment went to Pepi Stiegler Sports at Teton Village; the rest of us went to Albertson's Grocery in Jackson to load up on food and snacks. We then settled in and spent our first evening reading through all the activities brochures to plan our week of winter fun. Needless to say, everyone found plenty of things to do!

Our group of mostly intermediate skiers enjoyed Grand Targhee, and discovered plenty of good runs on Jackson Hole Mountain. The experts happily found some powder and attacked the black diamond runs with vigor; they took only one wrong turn and ended up at the edge of a double diamond cliff with no way out but DOWN - fortunately, they survived the leap of faith and slid down intact. Five took snowboard lessons - those who were experienced South Texas windsurfers, like Reagan shown below, did quite well, while some of the others spent most of the day falling one way or another and had plenty of bruises to show for it!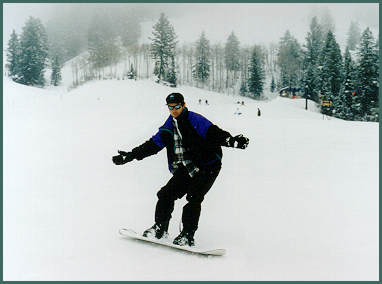 The biggest challenge was trying to decide which of the umpteen million snowmobile trips to take - the one to Yellowstone or Granite Hot Springs, Gros Ventre area, or Togwotee Pass? Unguided or guided? Which outfit, which machine - a double for two or a single with or without hand warmers built in? Some trips amounted to blasting down a tree lined road at 45 m.p.h. for several hours to eventually reach a scenic destination, while others offered a leisurely ride down winding paths full of wildlife. Most of our group wanted a scenic trip and after calling a zillion snowmobile outfits, we discovered Llama Louieís Day Trip Reservations - more or less the local travel broker for anything and everything there is to do in Jackson! We loved it, with one call, Lou suggested all kinds options.

Four decided to do an all day Yellowstone trip to Old Faithful. Their trip started with a pickup at the resort at 6:30. They were taken to a full breakfast with other members of the party, followed by a stop to be outfitted with warm snowmobile suits, boots, helmets. After an hour drive to Yellowstone, their group of seven people embarked on a two hour ride with several stops at waterfalls and a bison herd before reaching Old Faithful. After spending an hour exploring the area, eating lunch, and visiting a ranger station, they snowmobiled back to the starting point and made several stops along the way to see the scenery.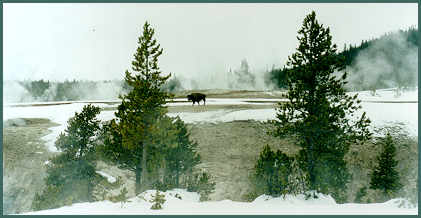 Unfortunately, our family procrastinated just long enough for most of the trips to become booked up, but no problem since LLama Lou managed to find my husband and daughter two snowmobiles for a trip to Gros Ventre Wilderness Area - a guided "big game" adventure. Kenny and Kara were picked up at the resort at 8:15 A.M., stopped to be outfitted, and then spent a great day puttering along scenic trails amongst all kinds of critters - otters, bison, elk, deer, and eagles. They had lunch (including Karaís specially ordered veggie meal) at the Goosewing Ranch, and returned to the condo by 4 p.m.

Interestingly, the same guide, Daryl, lead the Yellowstone group AND my husband and daughter's trip... all reported that Daryl was great fun and very knowledgeable about the area; he's a fishing guide during summer. So, do yourself a favor... don't spend all day calling bunches of snowmobile outfits, just call Llama Louie at (307) 733-1617 and let him help you decide which trip is right for you. Lou used to lead summer hiking trips through the National Parks and llamas carry the gear, not YOU! All in all, our diverse group had a great time, some say the "best ever"!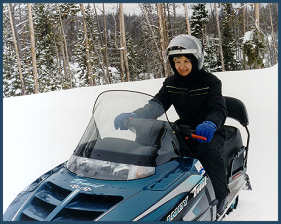 Temperatures were mostly comfortable - 20s and 30s F during the day with dips to around zero at night. We had enough new snow to make skiing enjoyable and the busy holiday crowd didnít really show up until after Christmas when we were all beginning to leave. You will find the cost of accommodations and lift tickets quite reasonable. And, if you love the great outdoors and big game adventures, Jackson Hole might be your best ski vacation destination ever.

~~~~~~~~~~~~~~~~~~~~~~~~~~~~~~~~~~~~~~~~~~~~~~~~~~~~~~~

Photo credits: Jackson Square and town photos by Lynn & Kenneth McKamey; outdoor and wilderness photos by Henry Nuss shown below while relaxing on a snowmobile after taking the Yellowstone trip.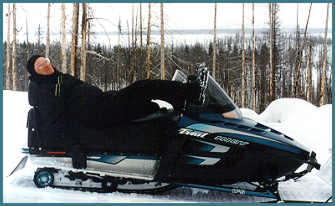 ---