Ten of us (two families of five) returned to Jackson Hole since the Teton Mountain area provides one of the most enjoyable and scenic settings in the U.S. to spend our winter vacation. Fifteen of us made the trip last year and I posted a report of our adventure in PART ONE for those of you who want an overview of the town, accommodations, restaurants, skiing, and snowmobiling. This report will provide an update to that one, plus "all about" our exciting snowmobile trip.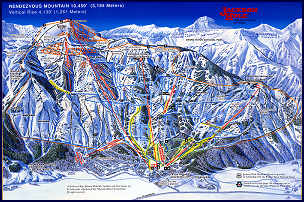 Click map for larger image


Most of us were flying to Jackson from several South Texas cities and one was coming from Chicago. While making airline reservations for everyone, I noticed that American Airlines had only one flight from both Dallas and Chicago. Fortunately, Delta airlines had quite a few flights from Salt Lake to Jackson, and United provided connections via Denver. Some of us spent all day traveling or switching airlines to reach Jackson. Oh well, as they say, some of the best destinations aren't always easy to reach!

As on our last trip, we stayed in huge, deluxe 3 bedroom, 2 ½ bath condominiums at the Jackson Hole Racquet Club Resort which is 8 miles from town and only 4 miles from Teton Village at Jackson Hole Ski Area. In case you are wondering... there is a reason we stay here -- most of the accommodations in Jackson are hotel rooms, and our family of five prefers to stay in a condo plus we like views of the mountains instead of city streets. Most of the accommodations at the Jackson ski mountain are very expensive condos, many quite a walk from the ski runs or on a shuttle bus run. The Jackson Hole Racquet Club has a full service grocery store & deli, liquor store, excellent dinner restaurant called Stieglers, day care center, athletic club, and is on the main bus route to town... in other words, everything anyone might want for a convenient vacation and ski trip! The Club also has studios, 1 or 2 bedroom condos and lovely three bedroom houses available. Those visiting Jackson usually rent a car and we did, however, since our group of ten are known to scatter ten different ways on any one day, I wanted to stay somewhere so that each and all had easy access to the ski mountains and the town by car, bus, and/or shuttle.

If only my husband and I were visiting Jackson, we'd probably stay at one of the romantic inns with whirlpool tubs and fireplaces in some rooms, or if our children were still "tiny tots", we'd probably stay at Teton Village in a ski-in ski-out condo.

Those wanting a economical vacation can stay downtown (without a rental car) in one of the many budget motels and ride the very efficient, reliable shuttle buses to the ski areas.

Our group of intermediate to expert skiers spent most days skiing or snowboarding at Jackson Hole Mountain. A weather "dry high" settled over the area during our visit and gave us absolutely breath-taking blue skies and endless vistas, but no new snow! Fortunately, earlier weather systems had dumped lots of white stuff at the top of the mountain, so the skiing was good. A couple of days, we went to Grand Targhee, a little over an hours drive or express bus ride away, and found (as usual) more snow than at Jackson. But our "big event" happened on the last day of our vacation....
Snowmobiling! Jackson Hole offers LOTS of different trips... to name a few, try an all day, 12 hour tour to Yellowstone Park to see Old Faithful and experience the power and glory of one of Americas most overwhelming National Parks.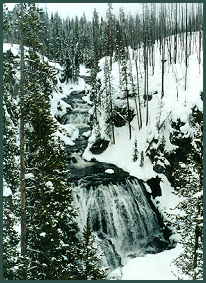 A Gros Ventre (pronounced grow-vont) 8:00 to 4:00 trip is one of the best for back trail scenery and wildlife viewing. The Granite Hot Springs trip from 9:00 to 4:00 takes snowmobilers on 11 miles of groomed trails to a 105 degree hot pool (don't forget your bathing suit and towel!) Or maybe do the 8 hour Togwotee trip which features spectacular mountain scenery rather than wildlife. Most day trips include lunch. Many half-day afternoon trips are available too for those who don't want to see daylight before noon.

Problem was... most of our group had done one or the other of the above, so we were hunting for a NEW adventure, something different, just for the 10 of us with no crowds. Our "gang" also wanted off-trail back country snow riding, wildlife, AND great vistas... a big order! I called Llama Louie's Day Trip Reservations, the area adventure "broker and knower" of ALL kinds of day trips. As expected, Lou came up with the perfect snowmobile trip for us - called the "Exclusive Trapper Cabin Cookout". This tour is for a small group of 2 to 10 people (who are either family or friends) and offers gorgeous out-back snowmobile rides to a very secluded, turn of the century "trappers cabin" and features a grilled steak or chicken lunch with all the trimmings. Sounded great to us! But, then, you never know when you have a group of ten, ages 21 to 52!

While this trip offers pick-up and delivery between Jackson and the "jumping off point", we decided to drive ourselves. We left the Racquet Club at 8:45 and drove 30 miles (45 minutes) through gorgeous mountain and valley scenery to the Elkhorn Texaco station and adjoining western style bar in Bondurant, WY - southeast of Jackson. However, our bunch of "warm blooded, native south Texans" watched the digital thermometers in our Ford Explorers drop one degree for every mile we drove! It was 10 F degrees when we left Jackson and dropped to -20 F when we arrived! No problem, they outfitted us with warm boots, one piece snowmobile suits, and helmets with visors... plus assured us that it would be warmer where we were going.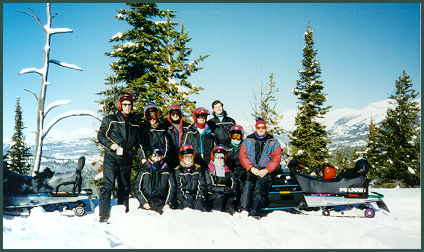 Fully attired, we drove a few miles farther, parked, settled onto our snowmobiles and started our venture into the wilderness!

We had booked eight snowmobiles - the two moms (my friend and I) rode double with our hubbies and each "kid" had their own sleek machine. Bill Webb, owner of the Trappers Cabin and Camp, streaked out ahead of us to fire up wood stoves in the cabin, while his assistant, Mike Jaskolski, led our merry little troupe of winter adventurers down incredible off-trail paths, over log bridges, and up ridges with outstanding vistas. Within an hour, we arrived at the historic, fully equipped cabin - something out of a picture book! Mike took the group out for more snowmobiling, while Bill stoked the wood burning stoves and cooked lunch. I stayed behind with him, mainly to find out more about his turn-of-the-century cabin and campgrounds!

Bill grew up in Colorado with a love of the great outdoors and back country adventures. He left his home state to find "a place with less people" and landed in Jackson almost 20 years ago. Bill eventually discovered the remote trappers cabin and campgrounds, and in 1982 purchased it with the idea of having a secluded, rustic summer camp for those who want a REAL get away. Since that time, Bill has been hosting small groups of families or friends traveling together in his "rustic bed and breakfast" and has several packages - overnight cookouts and trail rides on horses, 2 nights/3 days with fishing, hiking, horseback riding, panning for gold, and opportunities for wildlife photography, 7 day pack trips, or whatever the guests want to do for as long as they want! Unlike many big "dude ranches", Bill's operation offers small, personalized adventures, tailored to whatever the guests want to do - stay at the cabin each night, or strike out into the wilderness and camp for a few days.

Three years ago, after leading all day snowmobile trips to Yellowstone, Bill decided to open his cabin in the winter as a base camp for special snowmobile trips or cross-country skiing. He offers the customized day trip that we took, plus half-day "Powder Puff Specials" from 1:00 to 5:00, and "Mountain Holidays" for overnight tours which accommodate up to six people in the Trappers Cabin with all meals included. The camp is surrounded by the Bridger-Teton National Forest and is one of the most scenic destinations imaginable!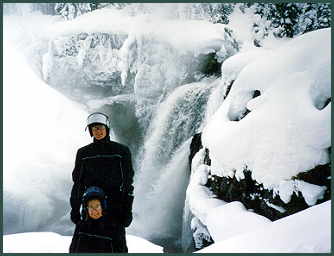 When everyone returned from the "noon" snowmobile ride, we had a delicious lunch. I don't know what Bill uses to season those tender char-broiled steaks and chicken, but if he'd bottle it, he'd make a fortune!

After lunch, our group visited with each other around the wood stoves for awhile and all too soon, headed back to "civilization". Along the way, Mike found a big meadow so everyone could snowmobile and play in deep fluffy snow. After returning to the parking area, we dropped off our gear, had a drink and played pool at the Elkhorn Bar, then reluctantly drove back to town. Everyone agreed that this was one of the best snowmobile adventures we've had in Jackson Hole! There's lots of "outback" snowmobile trips like this one, just call Llama Lou and let him suggest one for you.

FOR MORE INFORMATION:

The town of Jackson has a wide range of accommodations from basic hotel rooms to elegant inns. Teton Village at the base of the ski mountain has all kinds of condominiums and several hotels. Take the links at the bottom of this page for some of my current hotel and lodging reviews.

Jackson Hole Information at 1-800-443-6931 or 307-733-4005 or (Fax) 307-733-1286

Rendezvous Mountain Rentals at 1-888-729-2565 or 307-739-9050 or FAX 307-734-2677

For complete travel planning including hotel and airline reservations, contact your travel agent or call my favorite one - Olson Travel (800) 525-8090 or (361) 643-4555 or FAX (361) 643-6975. He's been putting our ski trips together for years!
---